Some previously-extended Hilton free night certificates are set to expire this Friday, July 1st. My wife just called to use two certificates that were set to expire. I had written her a script for the phone call, but after initially inquiring about the properties and dates we had chosen, she went totally off-script and asked if these certificates could be extended. I was standing in the background waving my arms like a crazed third base coach telling the runner to stop. at. third. Didn't I look silly a few minutes later when we used those July 1st-expiring certificates for a stay in late July. It seems they can be extended after all (at least with a friendly agent? YMMV).
Hilton free night certificates usually need to be used by their expiration date. That typically means that you need to complete your stay by the expiration date — Hilton free night certificates can't be used to book a room after the expiration date and Hilton typically doesn't extend certificates on an individual basis.
That's been the conventional wisdom as I've known it. Before the pandemic, I never had a Hilton certificate last long enough to worry about expiration.
However, as the clock ran down on these certificates, we hurried to make use of them. Stephen Pepper reminded me that I had previously written that Hilton free night certificates can be transferred to another member (and indeed the Hilton terms do suggest this to be the case), so I found a friend who could make use of one free night certificate. My wife and I decided to use the other one later this week where we wouldn't actually need the room for the night but the room might come in handy for a place to touch base after sightseeing in the area during the day.
My wife called to book those two reservations. She understands the basic mechanics of these things, but I wrote her out a basic script to make the whole call easy, complete with certificate numbers (which are difficult to find in your email but it turned out to be totally unnecessary to have them). She called and said that she had a free night certificate that she'd like to transfer to a friend. The agent told her that it couldn't be done as the Amex free night certificates have to be used for personal consumption. She was still going to book the room and see if a second call might help in transferring the certificate, but then the agent offered something interesting: he said that as a one-time exception for a loyal Hilton Diamond member, he could extend the certificate by 2 weeks if that would help. We talked it out for a couple of seconds before realizing that the next 2 weeks is basically all booked up, so she said that wouldn't actually help but thank you anyway.
At that point, the agent asked if it would help if he could extend the certificates for one month. That did help because we have an event coming up in late July and hadn't yet booked a room (we actually ended up reserving two different hotels for one night each). My wife asked if he could extend the certificates and we could call back to book, but the Hilton rep told us that he could only extend them as an exception on that call to make a booking. We went ahead and made a late July booking using certificates that had a July 1st expiration date.
I was a bit skeptical when the emails that came in for the reservations showed a number of points being redeemed rather than a free night certificate:
However, the agent seemed to anticipate that question. He confidently explained that the way this works on the back end is that the room actually gets paid for in points, but the free night certificate pays the points rather than the member's points balance. He confirmed that my wife's points balance had not decreased. Furthermore, I helped her log out and back in to her Hilton account to see both that her points balance was untouched and that her two July 1st-expiring free night certificates had indeed been removed.
After closing out the call, my wife looked at me and said with a wry smile, "And you were waving me off!". Touché.
All of this was pretty interesting to me. The way the agent started at a 2 week extension and moved to a month suggested that he had some latitude; I'm not sure how far out it could have been pushed. I wonder if we could have pushed these out to use on a longer stay later this year with a couple more certificates we have, but I didn't want to book something speculative since I do have a good use in the near-term with firm plans.
I also thought the accounting explanation was interesting. I'd have thought that Amex and Hilton had some sort of set compensation worked out for the certificates, but based on what the agent explained it sounds like maybe Amex buys the points to cover the hotel you reserve (surely at a massive discount). I should be clear that I only have about 22% faith in a front-line customer service representative knowing how this works on the back end, but it made some sense as I've heard of people running into problems booking free night certificates when they had 0 Hilton points (not insurmountable problems, I just remember at least a few people reporting that it seemed to take the agent a while to figure out how to do it even though it wouldn't be taking any points to book with a certificate). Again I stress that I am far from certain or even reasonably confident that the agent was correct, I just find the explanation plausible and interesting. That makes me wonder whether Hilton or Amex has been behind the difficulty in redeeming these certs (in the sense that, until sometime last year, you couldn't see these certificates online and you still can't book them online).
Still, overall, I was very pleasantly surprised to find out that these certificates could be extended. I don't know for sure whether this was a completely one-off one-time exception, whether it had something to do with my wife's elite status (which comes from having the Aspire card), or whether this will be more widely available, but if you have a free night certificate that is expiring without use it is probably worth making a phone call sooner rather than later to inquire. The worst they will say is no — and despite my flailing arms and mouthing "no, no no", the answer just might be yes.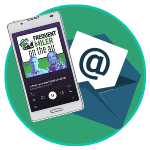 Want to learn more about miles and points?
Subscribe to email updates
 or check out 
our podcast
 on your favorite podcast platform.