Hello from Las Vegas, where I have been on an unexpectedly extended stay all week long. While I didn't intend to spend quite so much time in Las Vegas, my stay this week made me realize just how rusty my Vegas game had become. As I worked on oiling the machine a bit, I came upon some realizations that were either new to me or that I think I have never put into a dedicated post. Here are a tips with regard to hacking Las Vegas with points, benefits, and small tricks.
You can book The Signature at MGM via Airbnb
If you watched my Instagram stories last week, you've known this for only about a day less than I have and you were likely as surprised about it as I was: You can book a stay at The Signature at MGM via Airbnb.
For those unfamiliar, The Signature at MGM is an all-suites* property that encompasses 3 towers behind the MGM Grand in Las Vegas. That asterisk is because calling them "all-suites" is, in my opinion, a bit misleading. Some of the rooms at The Signature are studio suites, which by the pictures remind me of a Hyatt Place room (hotel companies: can we please stop referring to a slightly bigish room as being a suite?). But they also have full one-bedroom suites and all rooms have a kitchen / kitchenette area. The following pictures were our room:
Since my wife and I travel with young kids, we really value the extra space of a suite (I am typing this from the living room of our suite at Delano while my wife watches a video on the couch next to me and the kids are asleep in the bedroom!). Delano is ordinarily my go-to Las Vegas property, but weekends in Las Vegas can be ridiculously expensive. Delano was either unavailable or out of our price range.
The Signature, booked direct via MGM Gold last weekend, would have cost around $760 for two-nights in a one-bedroom suite for four people at the time that I booked my stay. That was more than I had wanted to spend, so I was looking at booking a studio suite with World of Hyatt points (which would have cost me 40,000 points for two nights).
I should note that I specified "for four people" because I noticed that almost all Las Vegas properties seem to charge more for the third and fourth person in your room (even children).
I accidentally stumbled on a review that mentioned something about the reviewer's room at The Signature being a vacation rental and I was instantly intrigued. I came to find out that some of the suites at The Signature are independently owned and rented out as vacation rentals. I went straight to Vacasa, but came up empty there (with no properties at all in Las Vegas). My next stop was Airbnb and voilà! The same exact room that MGM wanted like $750 for was $365 with all taxes & fees for the same two nights (and I used a discounted Airbnb gift card to make the purchase). You pay no resort fees when booking through an owner and you get access to all of the MGM amenities (including the MGM Grand pools).
Owner rooms typically do not earn MGM credit and I therefore wouldn't expect to receive World of Hyatt credit for the nights (and my stay was before the Bilt / Hyatt fast track promotion began). However, I found that the MGM Resorts app will let you "find" a reservation that doesn't automatically populate under your profile by entering your name and confirmation number. And since The Signature collects the security / incidental deposit and distributes room keys, the Airbnb host had provided me with a confirmation number. I didn't expect that the app would find it, but what harm would there be in trying?
Sure enough, it found the reservation and added it to my MGM profile.
Willing to poke the bear in the name of science, I stopped by the front desk late at night and asked if they could confirm whether my MGM Gold number was attached to my reservation because I was hoping to earn points on some incidentals that I had charged to the room (I had made a couple of minor room charges intentionally to see if any of this might work). The desk agent confirmed that he saw my MGM Gold number associated with my reservation but he seemed confused and mentioned that Owners rooms are usually blocked from being connected to MGM Rewards. I pushed a step further and asked if he could make sure that my World of Hyatt number was attached to the reservation. He indicated that it wasn't, but he added it. Let me be clear: I don't expect to get World of Hyatt credit for my stay. But I did notice my MGM Tier Credits jump by a decent little sum…and I hadn't done any gambling. We'll see. Like I said, I'd never count on this to work, but if it does, you won't hear me complain.
Book MGM properties with World of Hyatt points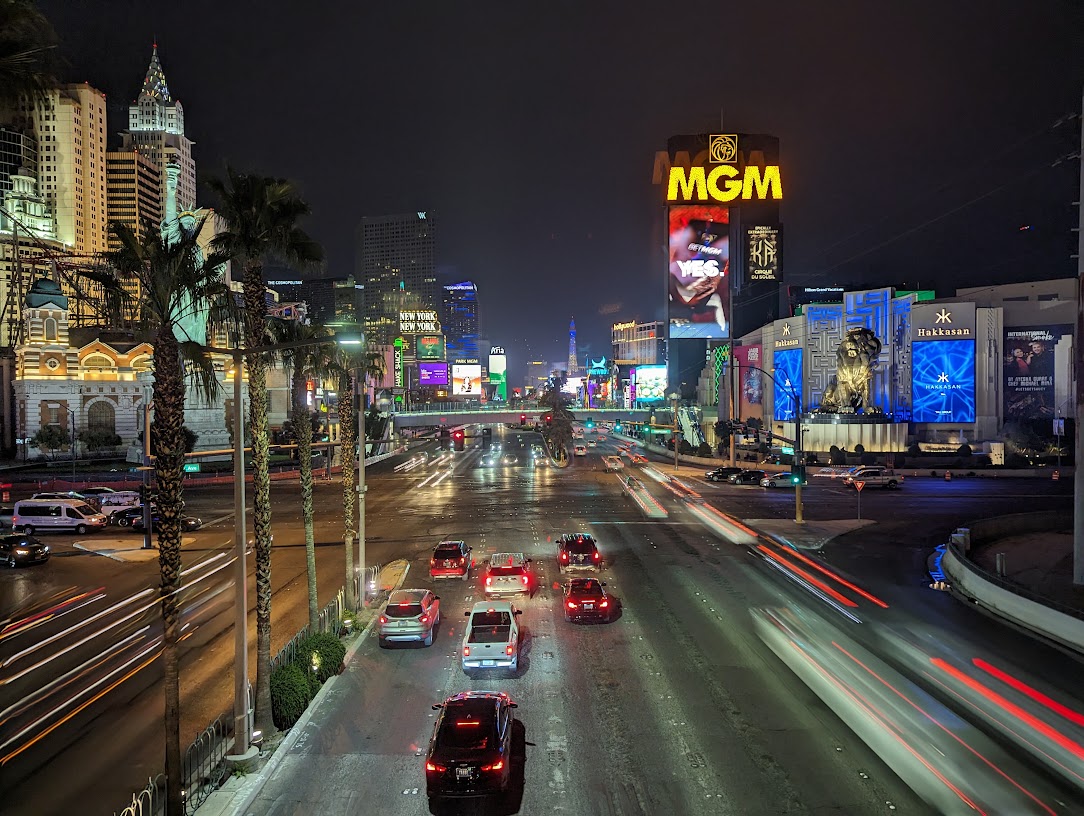 This is something I knew well, but it's worth a mention given the other things I'll include in this post: you can book the various MGM properties with World of Hyatt points. On weekdays, this often isn't a good deal at all since daily rates can be really low. But on weekends and/or at special event times like fight nights or major concerts, this can represent great value.
Here are the MGM properties you can book along with category and point prices off-peak / standard / peak
Excalibur: Category 3 (9K /12K / 15K)
Luxor: Category 3 (9K /12K / 15K)
MGM Grand: Category 4 (12K /15K / 18K)
Park MGM: Category 4 (12K / 15K / 18K)
New York-New York: Category 4 (12K / 15K. 18K)
Mandalay Bay: Category 5 (17K / 20K / 23K)
The Signature at MGM: Category 5 (17K / 20K / 23K)
Vdara: Category 5 (17K / 20K / 23K)
NoMad: Category 5 (17K / 20K / 23K)
Delano: Category 6 (21K / 25K / 29K)
Aria: Category 6 (21K / 25K / 29K)
Bellagio: Category 6 (21K / 25K / 29K)
Book Treasure Island with Radisson points
Yup, TI is a Radisson property! If you have been sitting on Radisson points that you're not sure you want to convert to Choice points or you've been sitting on Citi points that you can convert 1:4 to Radisson (that's by converting Citi 1:2 to Choice and then Choice 2:4 to Radisson), this can represent phenomenal value for Radisson points. Note the end of that previous sentence: I said phenomenal value for Radisson points. Keep in mind that our Reasonable Redemption Value for Radisson points is 0.34c per point, so you might otherwise expect 90,000 Radisson points (enough for two free nights at Treasure Island) to be worth around $306. I found that you can do slightly better on a weekend at Treasure Island (based on inflated weekend rates).
Keep in mind that during the week the value proposition tanks (the nightly rate goes from $373 on Friday and Saturday night to just $71 on Sunday night). This is just something to keep in mind if you get stuck in Las Vegas on an otherwise expensive night(s).
Book Circus Circus with Choice Privileges points
Would you believe that Circus Circus is an Ascend Collection property within the Choice Privileges ecosystem? Strange but true.
Circus Circus used to be an MGM property in a past life, but they sold it years ago and it sits semi-isolated north of most other places you'll probably want to visit. However, it can be fun enough with kids. And at 12,000-16,000 Choice Privileges points (or 6-8,000 Citi ThankYou points converted 1:2 to Choice) it can be a good enough deal when prices are high. While I haven't seen a suite available with points, they do seem to make a variety of room types available when booking with Choice Privileges points.
Book Five Different Casino Hotels with Hilton points
This wasn't news to me, but it could be useful for those sitting on a lot of Hilton Honors points and/or free night certificates and/or resort credits from the Hilton Aspire card: Hilton has a number of resort hotels with casinos in Las Vegas. You have five options:
I haven't actually made it up to Resorts World yet, but it certainly does look nice enough in pictures. Similarly, I have never been to the Virgin Hotel location, though I read that their casino is operated by Mohegan Sun. The Tropicana has apparently been bought out by Bally's and I can report that they are not matching status (I tried). The Trop doesn't even have a Players Club desk — you have to sign up for a players card at the cashier / cage.
Note that the above list only includes properties with a casino attached. Keep in mind that the Waldorf-Astoria is right on the strip but not included in the list.
Book Cosmopolitan through Marriott
Cosmopolitan is a Marriott Autograph Collection property that is owned by MGM. Unfortunately, it usually isn't a very good value on points. Still, on the right night perhaps it could work out.
Get upgraded from Mandalay Bay to Delano using the "$20 sandwich trick" (with more than $20)
The $20 sandwich trick is so old that I used it more than 20 years ago on my first trip to Las Vegas. The idea is that when you check in, you give the front desk agent your ID and a credit card and in between those two pieces of plastic, you sandwich a $20 bill and you ask if there are any complimentary upgrades available.
Given inflation, I would expect that $20 won't work at very many places anymore, but I have used this general concept numerous times in Las Vegas. Most recently, this past week, under my wife's MGM Gold account, we booked 3 nights at Mandalay Bay — two were complimentary and the third night was $72, so I think the all-in total was around $82 for three nights. Mandalay Bay has a nice dedicated check-in area for MGM Gold, Platinum and Noir guests.
At check in, my wife handed her ID and $50 to the agent at the desk and asked if by chance there were any suites available? We learned on a previous trip that the staff at Mandalay Bay can upgrade you to Delano, which is a sort of hotel-within-a-hotel at Mandalay Bay (Delano is connected to Mandalay Bay by an interior hallway and does not have a casino of its own). My better half proactively let the agent know that we'd be happy at Delano (which is our favorite Vegas property when it comes to the rooms given that all rooms are a minimum of a true one-bedroom suite with a sizable living room and bedroom as well as two restrooms (a full-sized bathroom and a half-bath).
Sure enough, $50 did the trick and we were upgraded to Delano. It helped that I had been checking availability and I knew that Delano had a multitude of room types available that weren't all that much more expensive per night than the going nightly rate of rooms at Mandalay Bay. Still, we were thrilled as it was just what we wanted.
Delano is the best-kept secret in Las Vegas
Personal, subjective opinion here: Delano is the best hotel in Las Vegas that most people haven't heard of. It's not that Delano is amazingly luxurious, but the standard rooms are one-bedroom suites with 1.5 bathrooms. It is always very clean despite the white/cream and light grey color scheme.
I constantly find that nobody seems to know about this place, from Uber and DoorDash drivers to the guys I met in the elevator the other night who were going to dinner at the restaurant and mentioning that they'd never heard of this hotel but it looked very nice.
I would say that I don't know why this property doesn't get more love, but that wouldn't be true. It comes down to location, location, location. If Delano were center strip, it would cost far more than it does. Because it is inside Mandalay Bay at the far South end of the strip, an almost annoyingly long walk from center-Strip, it can be a great value for paid stays. I will say this, my step count has been impressed with the location of Delano, even if the bottoms of my feet aren't.
Match Hyatt Explorist to MGM Gold at MGM properties
If you currently have Hyatt Explorist status, you can match to MGM Gold in person at an MGM Rewards desk. Just show them your Hyatt Explorist status in-app and they will match you to MGM Gold. It is also possible for Explorist members with earned status to match online, but the in-person technique may be desirable for those planning to visit Las Vegas.
Bacchanal Buffet can be a good use of Caesars Celebration credit
This is a totally subjective observation, but I'm going to say that the Bacchanal Buffet can be a great use of the Caesars Diamond Celebration dinner credit, particularly if you're playing in two-player mode. While there are plenty of qualifying fancy dining options at the Caesars properties, those looking for a wide range of food choice and a more casual atmosphere, the Bacchanal Buffet is one of the best I've ever visited (I would say it handily beat my recollection of Wicked Spoon at Cosmopolitan for a reference point). Not every dish we tried was excellent, but enough things were that we were thrilled.
Pro tip: the buffet costs $79.99 per adult. Since you can not hang on to residual value on your $100 Celebration Dinner dining credit, that's not ideal. However, if you ask to order drinks from the cashier at the entrance, they can indeed ring up drinks and put them on the receipt so that your server can see them and get them. They didn't charge us for the kids (even though we said that one was 5) and so we got the buffet for the four of us and three total glasses of wine for free (paying nothing out of pocket as it rang up $198.90 and we each used our own Celebration Dinner credit). I should note that the cashier rang up the wrong type of wine for two of the glasses we ordered — I think maybe we should have had to have paid a little bit out of pocket, but we ended up getting the wine we wanted despite what the ticket said.
Also, as a Diamond member, you skip the (long) line to get into the buffet. My wife groaned as soon as we turned the corner and saw the line. I leaned over and said, "Don't worry, we don't have to wait in that". Sure enough, we showed our cards at the hostess stand and the hostess lowered the ropes at the Diamond line so that we could walk directly to the front of the line.
Use Wyndham Rewards points at Caesars properties ($0.01 per point)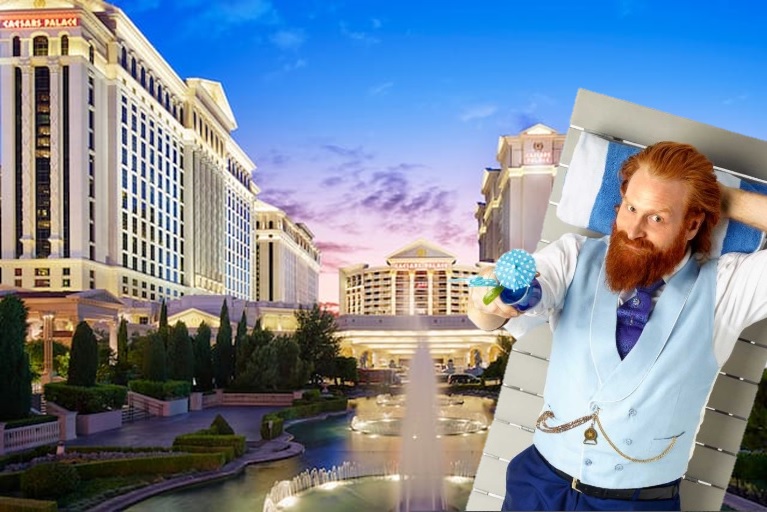 Those who value Wyndham Rewards points more highly than $0.01 per point won't care much about this section, but those with the Wyndham Earner Business card may find that they can replenish Wyndham points rather quickly with 8x at gas stations. In that case, converting points to Caesars Reward Credits and using them at a value of $0.01 per point toward rooms, dining, show tickets, spa treatments, and more may be appealing. The catch here is that you can only transfer 60K Wyndham points to Caesars (per year). Secondary catch: the points immediately come out of your Wyndham account, but the transfer is not instant, so move points from Wyndham several days before you anticipate needing them.
I may send my wife to a spa and book show tickets with Caesars Rewards credits over the next few days.
Note that you can effectively book any of the various Caesars properties with Wyndham points by first transferring them to Caesars Rewards credits and then using them at a value of $0.01 per point. Otherwise, in a number of searches I rarely saw many Caesars properties come up at "go free" rates through Wyndham (though many were sometimes available via "Go Fast" points & cash rates).
Check each person's MGM Gold for different offers
My wife and I both have MGM Gold status. Mine was matched from Hyatt (I've matched back and forth for years) and hers was recently matched at Borgata in Atlantic City.
Interestingly, she and I have different offers in our MGM Gold accounts. She has slightly better pricing and an offer that includes both complimentary nights and also a small nightly resort credit. My offers do not include resort credit — this despite the fact that I have used the BetMGM Sportsbook some at home but she hasn't used it much at all.
The moral of the story is that it's worth checking either player's MGM account when you're shopping Vegas prices.
MyVegas Facebook game for MGM Rewards
Finally, I was surprised to hear in recent months that the MGM Facebook game MyVegas still exists. This is essentially a free slot machine game you play through a Facebook account and if you play enough you can earn things like free nights, dining credits, free or discounted show tickets, and more. I played this game about a decade ago and got some free nights at Luxor and I think I got free tickets to a Cirque show of some sort (I've seen most of them despite not having been to Vegas in years, so I can't remember which one was through MyVegas).
This game probably isn't worth it unless you have a way of repeatedly spinning the machines, but it can be a way to get some freebies.
You can book The Venetian and Palazzo with IHG points
I'm including this last one for completeness. The Venetian and Palazzo can be booked with IHG Rewards points. This is rarely a good deal, but it nonetheless remains an option in a pinch and/or when there is a good sale.
Bottom Line
After nearly a week in Las Vegas, I wanted to summarize some key takeaways regarding various things I have either learned or remembered that might help to enhance your stay. With many readers more interested in Las Vegas than ever given the chance to pick up cheap World of Hyatt qualifying nights at MGM Properties, you may also find yourself on an extended Las Vegas stay — and hopefully some of these tips will come in handy when you do. At the very least, know that you can use points from World of Hyatt, Hilton Honors, Radisson Americas, Choice Privileges, Marriott Bonvoy, IHG One Rewards, and Wyndham Rewards to book properties directly on the Las Vegas strip — meaning that even on an expensive weekend, you should have some options in your points arsenal.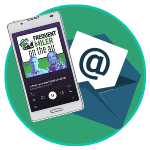 Want to learn more about miles and points?
Subscribe to email updates
 or check out 
our podcast
 on your favorite podcast platform.