The holidays are coming!  This means that marketing teams will be working overtime to capture your holiday shopping dollars.  And, for us, this means better than usual opportunities for earning rewards on spend.  We can expect increased portal rewards, better gift card offers, increased rebates, and more.
Last week I wrote about how I used Extreme Stacking techniques to earn the equivalent of over 60% cash back when purchasing gifts.  The purpose of that post was to give examples of what is possible.  In the end it turned out that one of the "stacks" didn't work out.  I never did receive United miles when buying Nike e-gift cards.  As a result, the post also serves as an example of what can go wrong.
Fortunately, through many years of extreme stacking deals, I've found that things work out more often than not. And, as the holidays approach, stacking opportunities sometimes become absurdly profitable. But, you do need to be prepared in order to take advantage of the best deals when they come along.
Many deals don't require long preparation.  You may need, for example, an eBay account, a portal rewards account, or membership in a merchant rewards program.  Those things can be setup anytime.  But, in my experience, many of the very best deals require certain credit cards.  Specifically I recommend that people make sure to have the following:
Lots of Amex cards
A new Discover it card
A card that offers 5X for office supplies (Chase Ink or Amex SimplyCash Plus)
The following sections detail how to go about getting these cards and why I think it's a good idea.  I'll follow up in a future post with more explicit examples of how to maximize value from these cards.
Get lots of Amex Cards (without hurting your credit)
American Express gives cardholders a long list of "Amex Offers".  These deals are usually setup in the form of "Spend $X, Get $Y Back", like this offer for Lowe's:
There are two advantages to having multiple Amex cards:
Many offers are available only on certain cards. If you only have one or two Amex cards, you might miss out on some great offers.
Most offers only work once per card, and that might not be enough for you.  Suppose, for example, that you intend to buy $600 worth of stuff from Lowes.  With just one credit card enrolled in the above offer, you could save a maximum of $30.  With four cards enrolled in the offer, you can save $120 by splitting your transaction across all four cards.
Get at least one personal and one business card
If you don't already have American Express credit or charge cards, I recommend getting at least one, but preferably two.  Ideally you would get both a personal card and a business card. Sometimes the best Amex Offers appear only on personal accounts or only on business accounts.  By having each type, you can greatly increase your chances of getting the best offers.
To get a business card you do need a business, but you may already have one without knowing it.  If you regularly sell items on eBay, for example, then you have a business.  Similar examples include: consulting, writing (e.g. blog authorship!), handyman services, owning rental property, etc.  In any of these cases, your business is considered a Sole Proprietorship unless you form a corporation of some sort.  When applying for a business credit card you can even use your own name as the business name and your own social security number as the business tax ID.
One side benefit of applying for Amex business cards is that they do not hurt your chance of getting Chase credit cards in the future.  Chase infamously declines many credit card applications for those who have signed up for 5 or more cards in the past 24 months.  Amex business cards do not show up on your credit reports and so they do not affect your "5/24 count".  See: How to count your 5/24 status.
Follow these links to find the best current Amex offers:
Get authorized user cards
Most Amex card accounts let you add authorized users for free.  You can add (with their permission, of course) your spouse, children ages 15 and over, relatives, friends.  Doing so won't affect your own credit report in any way.  That said, it can affect your authorized user's credit report.  In many cases it can be positive (i.e. it can help build a person's credit history), but it can also be negative.  A full discussion of the positives and negatives can be found here: Earn points from authorized users. Is it worth it?
Business cards have another advantage here.  Just like the primary cards, authorized user business cards (employee cards) do not show up on personal credit reports.  Adding your family or friends will not affect their credit in any way.
You'll want to keep the cards to yourself and manage them yourself.  The idea is to use them only for Amex Offers.
Get Bluebird, Serve, and Subaccounts
Bluebird and Serve are prepaid reloadable cards that, among other things, qualify for Amex Offers.  Signing up for these cards has no impact whatsoever on your credit.  Each individual can have one of each: one Bluebird and one Serve account.  And, you can add up to 4 subaccounts to each main account.  Subaccounts are eligible for Amex Offers as well.
In total, you can easily get 10 new Amex cards that each get their own Amex Offers. Unfortunately, sometimes the best Amex Offers bypass Bluebird and Serve.
Learn more about Bluebird and Serve here: Complete guide to Bluebird and Serve.
Consider your personal limit
There is a cost to having many Amex cards: your time and focus.  The more cards you have, the more important it becomes to develop a system to keep track of each card: Which cards are enrolled in which offers? Which offers have already been used? When do the offers expire?
Personally, I find that I can handle about 20 Amex cards for these purposes.  Any more would be too much of a drain on me to be worth my time.  Consider what your threshold might be before ordering too many authorized user cards.
Learn how to add Amex Offers to multiple cards
By default, Amex only intends for each cardholder to add a specific offer to one card. If you log into an account that has multiple Amex cards associated with it and you click to add an offer to one card, the offer will disappear from the other cards.  Fortunately, there are easy ways to load offers to multiple cards.  Please see: Complete guide to Amex Offers.
The approach I usually use is the multiple browser tab method:
Open your American Express account in multiple tabs on the same browser.  Within each tab, pick a different credit card and navigate to the "Amex Offers & Benefits" section. Once all browser tabs show a different credit card, but the same offer, then go one by one to each tab and click "Add to Card".
Get a new Discover It card
Discover has a great signup bonus for their new cards: Double Cash Back for the first year of card membership.  After 12 months, they look at all of the cash back you earned and they match it.
This is really good for their Discover It Miles card.  That card normally earns 1.5% cash back, but in the first year it effectively earns 3% cash back everywhere.
Even better, though, is the regular old Discover It card.  The Discover It card offers:
A $50 signup bonus when you signup through a referral
5% cash back in rotating categories; 1% elsewhere
A great cash back portal, Discover Deals, which offers 5% to 20% cash back at a large selection of stores
(Discover It Miles also offers Discover Deals, but the cash back rebates don't tend to be as good)
All of the above earnings will be matched after your first year of card membership.  This means that the Discover It card really earns the following in the first year:
And, the best part is that Discover Deals frequently increases their cash back rates during the holidays, and the same stores often qualify for Discover's quarterly bonus category at the same time.
Here's a quick example:  Discover Deals usually offers 5% cash back at Macys.com, but during the holidays they often increase the cash back rate on stores like these to 10%.  And, at the same time, Macy's counts as a department store for the Discover It card's quarterly bonus categories:
Assuming Discover Deals does offer 10% cash back at Macys.com this fall, we can earn 30% cash back before accounting for any special discounts or coupons from Macy's itself:
Discover It quarterly bonus: 5%
Discover Deals: 10%
Subtotal: 15%
End of year match: 15%
Total: 30%
That's just one simple example.  To see an extreme example of how I took advantage of overlapping deals in the past, please see: Sears Quintuple Dip Results, and why I should have bet more on Discover.

Get an office supply 5X card
This is more of a general recommendation than a holiday specific one.  Deals on gift cards or free after rebate items are often available through office supply stores, or online stores that code as office supply stores.  Either way, we frequently publish deals that are more worth pursuing when you can pay with a card that offers 5X rewards.
If you already have a Chase Ink or Amex SimplyCash card, then you're ready to go.  Otherwise, go for a Chase Ink card if you're under 5/24 (see: how to get approved for Chase Ink) or go for the Amex SimplyCash Plus card (found here).  Both options require a business of some kind.
Wrap Up
To make the most of expected holiday season deals, I recommend arming yourself with several types of credit cards as described above.  If you don't want to do all three of the recommendations, consider:
Go for the Discover It card if you want to keep things simple
Go for multiple Amex cards if you want to maximize savings and you don't mind the complexity of juggling multiple cards.  Remember that you do not need to open multiple new accounts: you can get extra Amex cards by adding authorized users, or via Bluebird or Serve (if your account hasn't been frozen!).
As deals materialize this coming holiday season, I'll cover more specifics about how to use the cards described here to maximize your rewards.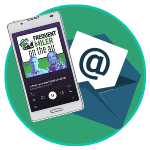 Want to learn more about miles and points?
Subscribe to email updates
 or check out 
our podcast
 on your favorite podcast platform.