Updated: December 20, 2018
Amex Offers is a unique program from American Express that awards bonus points & statement credits for shopping at specific merchants. Since there have been some updates to the program in 2018, we are re-publishing this newly edited and updated guide that talks in great detail about the program, describes how to load offers to your cards, and shows you many different ways to maximize Amex Offers.
For information on the latest offers that you may find available on your accounts right now, see our Current Amex Offers database.
What is Amex Offers?
According to the official FAQ, "Amex Offers is a program that saves you money or earns you points on shopping, dining and more. You can choose offers from brands you love and get discounts in the form of statement credits on your account or as extra points added to your Membership Rewards® account."
In reality there are many uses for Amex Offers. Many of the offers are only good if you frequent a specific merchant often, however others can amount to great discounts and even help with manufacturing spend.
Ways to get the best offers
It used to be possible to load Amex Offers to multiple cards, so it was helpful to have as many American Express cards as possible on hand. Unfortunately, syncing the same offer to multiple cards has been mostly impossible since late summer 2018 (See: Amex Offers multi-tab trick still not dead, but deader than before, though note that this is even "deader" now than when that post was published). A recent exception we found was that an offer for an extra point per dollar at a specific merchant that originally appeared before August 2018 was able to be synced to multiple cards in the same Amex login in December 2018 using the old multi-tab trick (where you open each of your card accounts in a single login using multiple browser tabs simultaneously), but moving forward that possibility appears increasingly unlikely.
Moving forward into 2019 and beyond, the best way to get the most valuable offers is to make yourself eligible to be targeted. Some of the very best Amex Offers are targeted. Some appear on business cards but not consumer ones or vice versa. For more details, see: Awesome Amex Offers and how to get them. Having a variety of the different types of Amex cards is a good way to increase the odds of being targeted for the offers you want.
You can sync a similar (though not identical) offer on two separate cards
Many offers have two distinct versions:  a statement credit version and a second nearly identical version that awards Membership Rewards points. It usually is possible to sync these different offer versions one time each. For example, if you have an offer to get $50 back after spending $250 or more at Saks Fifth Avenue available on one card and an offer for 5,000 points after spending $250 at Saks Fifth Avenue on a different card, you should be able to sync both of those offer versions (one time each).
A couple of things you may consider to increase the likelihood of finding the best offers are:
Sign up for credit cards: One obvious way to get a lot of Amex Offers is to sign up for a lot of cards.  There are, of course, limits to how many Amex will let you open though.  In fact, Amex limits most people to 5 total credit cards where they are the primary account holder (charge cards and prepaid cards are not counted towards that limit).  And, since many cards have annual fees, this is probably not the best way to scale up for Amex Offers. Furthermore, since Amex no longer allows syncing the same offer on many cards, it is less likely that simply having many Amex cards will get you access to the best offers. Instead, having a good variety of the different types of Amex cards (business vs consumer, Membership Rewards vs other rewards vs cash back) is perhaps a better way to ensure that you'll see the greatest breadth of offers.
Add authorized users: For each credit card or charge card account you have, you can add authorized users, often for free. In most cases you will have to provide a valid SSN for that user. Those extra cards can be used for Amex Offers.
What happens when you product change a card?
If you upgrade or downgrade a card, offers you have already added stay added to the card. You will not lose any current offers when upgrading or downgrading.
Options for Adding Offers to your Account
American Express Website: When you log into your Amex account, scroll down to the bottom of the Account Home page and look under "Amex Offers & Benefits".  You will see a few offers and can click "Load More" to see every available offer on that card. Once you've added an offer to your account, it will appear under the "Added to Card" section. Don't do this yet, though!  Once you add an offer to your account, the offer will disappear from other credit cards linked to the same SSN, so first make sure you've chosen the card you want to sync with that offer.
Mobile Apps: The Amex Mobile app and the Bluebird and Serve apps all have the ability to add Amex Offers in-app.
Offer Registration Page: Some non-targeted offers have their own registration page. You can see an example of this with this old Discover L.A. Hotels promotion.
Dedicated page for third party Amex cards: If you have an Amex that is not issued directly by American Express, you can add offers at this link.
Note that not all promotions are available through all channels.  Also note that you cannot register for the same promotion twice through different channels if they are tied to the same Amex card.
Tips for finding and adding the best offers
Some Amex Offers will show up via one sync method rather than another. The best way to make sure you find the best offers is simply to log in to your account via different methods periodically. In addition to your traditional Amex desktop browser login as shown in the image above, consider checking a couple of other options:
The "old" interface.  This is an older version of the Amex site that looks very dated, but has all of your current account information — including Amex Offers at the bottom. You may occasionally find offers that display here but not in the "new" interface (and vice versa)
"Nearby Offers" in the Amex Mobile app. When you log in to the Amex Mobile app on your phone or tablet and go to your Amex Offers, you should see a section that says "Nearby Offers". This section displays offers at merchants in close geographic proximity to you, sometimes including offers you may not otherwise see in the desktop versions of the site. See: Reminder: Check "nearby" Amex Offers (you might find a pleasant surprise).
Multiple Amex Sign-ons
It used to be possible to sync the same offer to many of your cards if those cards had separate Amex logins. This is no longer possible. Today, when you add an offer to one card, it will generally disappear from all other cards registered to your SSN.
Maximizing Your Savings
Once you've learned how to load Amex Offers to multiple cards, you can look to maximize rewards and savings…
Buying Merchandise & Store Gift Cards
One of the best uses for Amex Offers is to purchase merchandise you already need. Since Amex Offers can be combined with coupons, store sales, portal cashback, and card-linked offers from other apps, they provide a fantastic way to save on everyday purchases.
Sometimes there are even multiple Amex Offers that stack for the same merchant. For example, the two Harry & David offers mentioned in this post stacked — one for $20 back on $75 or more and the other for 10% back. It was also possible to link the Amex card to the Dosh app and receive another 10% back for a total of $35 back on $75 and stack all of that with a portal return for big savings.
If you don't have a need for a particular merchant's products right away, you can normally buy their gift cards for use later. For example, when Whole Foods had a $10 off $75 deal, it was possible to purchase one of their gift cards in $75 increments.
See: Maximizing Amex Offers: Extreme Savings for an example of stacking the best deal, portal cashback and an Amex Offer to achieve an almost 40% overall discount.
Shopping Elsewhere
What if you don't shop at a particular store? Thankfully by utilizing one of three "shop elsewhere" techniques you can still take advantage of many Amex Offers.
Buy gift cards in-store
If a store with a good Amex Offer sells gift cards to other merchants, then it's pretty easy to get achieve savings even if you intend to shop elsewhere.  Here are a couple of examples of past Amex Offers in which this would work:
Buy gift cards online
Some merchants sell gift cards to other merchants online.  And, some Amex Offers are valid online only.  Here are a few examples of past Amex Offers in which you could buy gift cards online:
Sam's Club Amex Offer: Spend $50, Get $10: Sam's Club sells a myriad of already-discounted third party gift cards online. Using an offer like this makes it possible to stack even further savings on top of Sam's Club's discounts.
Staples.com, spend $100, get $25 back (Expired, valid online only): Staples sells a large variety of gift cards online.  When buying a $100 gift card online you would receive a $25 statement credit. That amounts to a 25% savings.
Newegg.com, spend $200, get $25 back (Expired, valid online only): Newegg sells a wide variety of gift cards online.  This deal amounted to a 12.5% discount which is decent. It is especially nice since the $200 purchase requirement is a round number, making it fairly easy to hit on the nose.
Buy & upgrade
Sometimes, the best way to get the gift card you really want is to buy a merchant's gift card and then use that gift card to "upgrade" to a different one.  Here is an example of a recent Amex Offer in which this could be done:
Walmart.com, spend $15, get $5 back (valid online only): Buy a $15 Walmart gift card online, then take it in-store to get the gift card(s) you really want or to combine multiple Walmart gift cards into one card.
Make sure to check the Frequent Miler Laboratory for information about which merchants allow buying gift cards with gift cards.
Get Points & Cashback for Free without Shopping
Sometimes it is also possible to find ways to buy things (usually gift cards) to get Amex statement credits and sell or liquidate those things so as to get most of your money back. The benefits of doing this can include:
There are three main ways of doing this which we will talk about.
Buy & sell merchant gift cards
Online gift card resellers will buy merchant gift cards for a percentage of their value in order to sell them to someone else. Depending on the merchant, you can get upwards of 90% of the face value of gift cards from resellers. A good tool to use to find the payouts is GiftCardWiki.com. They compare the payouts from all of the major gift card resellers in one place.
The basic idea of this method is to use Amex Offers to acquire the gift cards at a discount and then sell them for more than you paid. At the very least you will have manufactured some spend and earned some credit card rewards.
Things to look for:
Most gift card resellers require gift card values of $20 or more.
Some resellers pay less for e-gift cards than they do for physical gift cards.
For some merchants, many resellers will not purchase e-gift cards.
Read the Amex Offer terms carefully. Some promos explicitly exclude gift cards, but those exclusions are rarely enforced.
Also, keep in mind that things can go wrong. Resellers can change their payout amounts without notice. Gift cards can get lost in the mail, etc. One popular private gift card resale site went out of business in 2018 without notice, leaving folks empty-handed after selling gift cards and not receiving payment. So, buying and reselling gift cards does incur some risk.
For more information about this method along with a few examples of recent deals see: Get Points & Cash for Free
Buy & liquidate Visa/Mastercard gift cards
Sometimes you can find Amex Offers for stores that sell pin-enabled Visa/Mastercard gift cards. Once purchased it may be possible to load to prepaid cards, to pay bills, or to buy money orders (see: Manufactured Spending Complete Guide).
There are three main ways you can buy & liquidate Visa/Mastercard gift card with Amex Offers:
1. Buy MasterCard/Visa gift card in-store from merchant: For example, in the past Amex ran an Officemax promo for $10 back from a $50 purchase.  Officemax sells Visa gift cards in-store in a variety of denominations, but the best deal is generally a $200 card for $206.95.  While there are many variations on how to take advantage of a deal like that, a simple approach was to go in-store with four synced Amex cards and ask to split the purchase evenly across them. This way, you would have earned $40 back from the $206.95 purchase, for a total profit of $33.05 across four cards. Since Amex Offers can no longer be synced to multiple cards, the split-tender option may be less relevant than it once was, but might still make sense for a couple playing the game in 2-player mode or a family working together to earn rewards.
2. Buy MasterCard/Visa gift card online from merchant: Very few merchants sell Visa or MasterCard gift cards online. Two that do are Staples and Walmart. At Staples.com, for example, you can buy a $100 Visa gift card for $106.95. With past offers such as $25 off $100 at Staples.com, your total cost for this gift card would be $81.95. That's a quick $18.05 profit.
3. Buy merchant gift cards and use to buy MasterCard/Visa gift cards in-store: This approach is tricky because few stores will let you buy gift cards with gift cards. And, of those where the register will allow it, not all cashiers will allow it.
Credit Posting
The terms of most Amex Offers state that the credit should post within 90 days, however in reality it normally posts within a few days. If you have not received a credit, verify that you properly saved the offer to your card and then contact American Express.
For more, see: Amex Offer Not Posting, What to Do?
Cumulative purchases normally count
Most Amex Offers are triggered whether you reach the spending threshold in a single purchase or cumulatively over multiple purchases. Offer terms generally specify "in one or more purchases", but sometimes do not say specifically. Most of the time, unless an offer's terms explicitly state that you must meet the spending requirement "in a single purchase", making multiple smaller purchases will be fine.
Additional Resources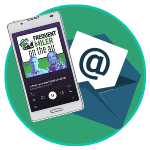 Want to learn more about miles and points?
Subscribe to email updates
 or check out 
our podcast
 on your favorite podcast platform.