My wife and I flew to Seattle a couple of weeks ago to surprise a friend for his birthday. We all stayed at the Hyatt Regency Seattle as we had quite a few Hyatt free night certificates to burn, with my Globalist status meaning we could book our friends' room as a Guest of Honor stay too.
We all really enjoyed our stay and it's definitely somewhere I'd be interested in staying again when we visit Seattle properly on our road trip in the future.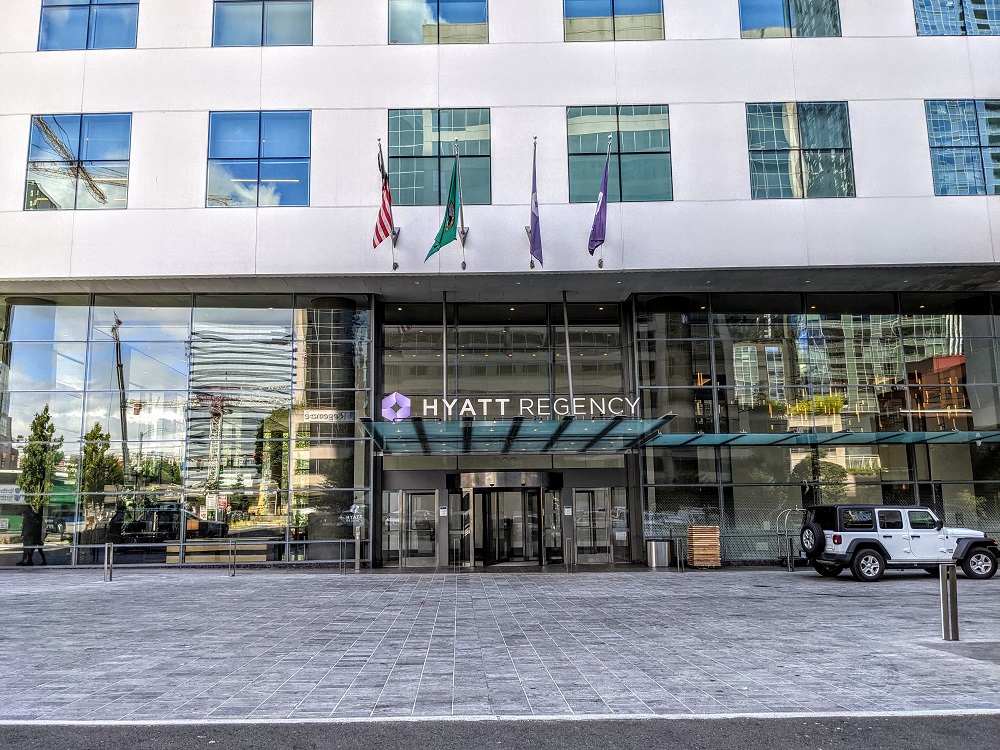 Hyatt Regency Seattle Bottom Line Review
Bottom line: It's in a great location downtown, has excellent staff and can be good value for category 1-4 free night certificates. The club lounge still isn't back to full service, so bear that in mind if you're considering a stay in the coming months.
Points Price: Category 4, 15K points per night.
Cash Price: Varies. I think the base king room was ~$200 per night including tax during our dates.
Points Value: Potentially good, although that'll depend on the cash price during your dates. I felt better using our category 1-4 free night certificates to book most of our nights than I would have redeeming 15,000 points per night though. (n.b. One of our nights was booked using a category 1-7 certificate; I know that seems like a waste, but it was about to expire).
Resort Fee: None.
Parking: $40 per night and includes in & out privileges. There might normally be valet service, but it wasn't offered when we stayed – presumably due to COVID.
Turndown service: Not that I'm aware of.
Housekeeping: Only provided upon request at this time.
Internet: Good – the speed seemed fine and the connection never dropped. I was able to do a Zoom call from the club lounge without any issues.
Dining

Breakfast: Pretty good. Club lounge isn't offering breakfast right now, so Market is the only place serving breakfast. Globalist members get $25 per person to spend which we found to be sufficient to get more than enough food and drink. The food was good and breakfast is available until 11am.
Lunch & Dinner: Available from Andare Kitchen & Bar from 11am for eat-in, to-go and room service. We didn't get food from there, so I'm not sure of its price and quality.

Spa: None
Fitness Room: They have a good-sized fitness room with lots of equipment including a few Peloton bikes.
Hyatt Elite Benefits: I have Globalist status, so these were the benefits we were eligible for, although we weren't able to take advantage of all of them.

Suite Upgrade: We stayed four nights and there weren't any suites available the first night. The next day there was a Regency Suite available, so we got that for our friends instead as they arrived the day after us and we booked their room as a Guest of Honor reservation. An Executive Suite was due to become available later that evening, but we'd have had to be out fairly early on our final day as someone had booked straight into it. We therefore decided to stay in our standard King room as we wanted a 4pm late checkout.
Club Lounge: Both our room and our friends' room had access to the club lounge on the 8th floor. It's a very nice, spacious lounge with additional outdoor seating, but service is very limited right now due to COVID. No breakfast, no evening drinks or hors d'oeuvres and no soft drinks other than water bottles and a coffee maker. Snacks were limited to packages of nuts and granola bars.
Free Breakfast: With the lounge not offering breakfast, Globalist members get $25 per person per room to spend at Market.
4PM Late Checkout: We were asked when checking in if we wanted to take advantage of this benefit, which we did.
Free Parking: We flew in to Seattle and took the Sound Transit light rail from the airport to the hotel. Our friends drove from Portland, OR and so they got free parking which would otherwise have cost a total of $120.

Would I stay again? Definitely. It's in a good location, staff members are excellent and breakfast was good. Although it was a shame that the lounge wasn't back to normal, COVID hopefully won't be affecting things by the time we return to Seattle on our road trip.
Pros:

Good location downtown within a mile of Pike Place Market, the first Starbucks, Starbucks Reserve Roastery, Space Needle and more.
Rooms were in good condition and didn't feel at all dated.
Incredibly friendly, helpful and competent staff. Our friend's room was booked as a paid stay under my name for the first night and a Guest of Honor stay under my friend's account using my free night certificates for their second and third nights. Checking in for the two separate reservations and getting upgraded to a suite for their entire stay was therefore a little convoluted, but Marisol didn't seem fazed and didn't make me feel like I was a pain in the backside.
No extra fees for free night reservations (i.e. $0 resort fee, free parking).
Decent breakfast selection at Market.
Very good fitness room.

Cons:

Club lounge only offering coffee, water, nuts and granola bars right now.
You have to pay 40c per minute if you need to use a business center if you don't have access to their club lounge which has its own business center.
Only ice machine is on the 8th floor.
King Room
This was our room.
Regency Suite
This was the suite our friends were upgraded to.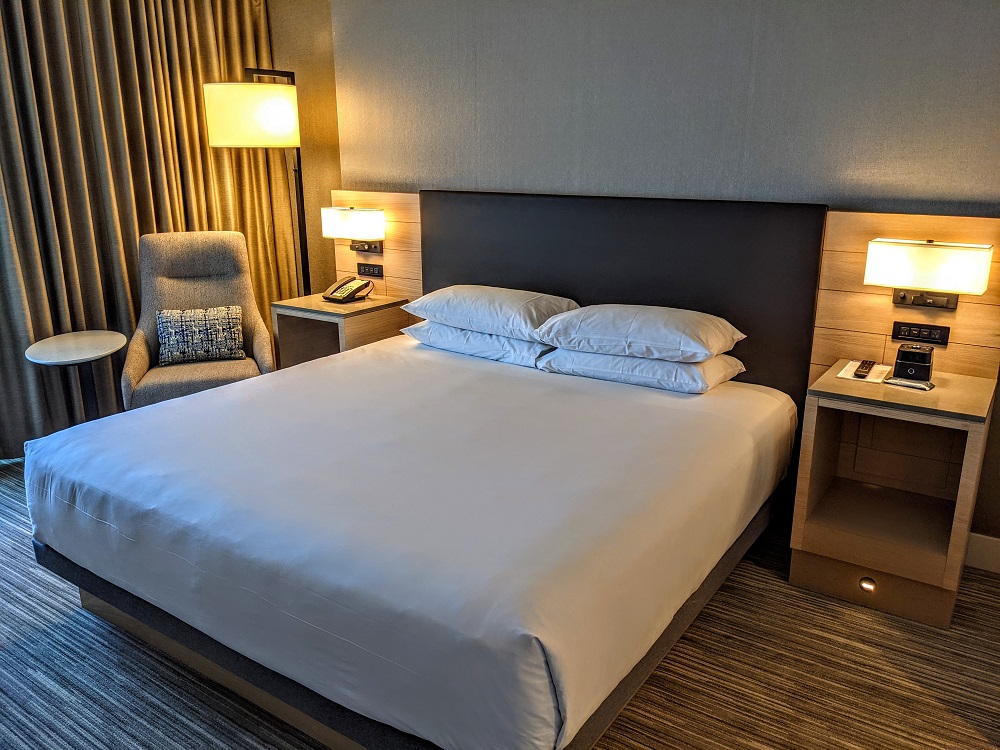 Market (breakfast)
Globalist members get $25 per person to spend here for breakfast while the club lounge isn't offering breakfast.
Club Lounge
Fitness Room
Bonus Tip
If you're flying to Seattle from the east, sit on the left hand side of the plane so that you can hopefully see Mount Rainier as you get closer to Seattle.