During our Party of 5 Challenge, at the end of Team Tokyo's half of the trip we stayed one night at the Hyatt Regency Tokyo Bay. This isn't necessarily the best Hyatt option in Tokyo, but it's in a good location if you're wanting to visit Tokyo Disneyland and other Tokyo Bay-based activities, plus it can be good value.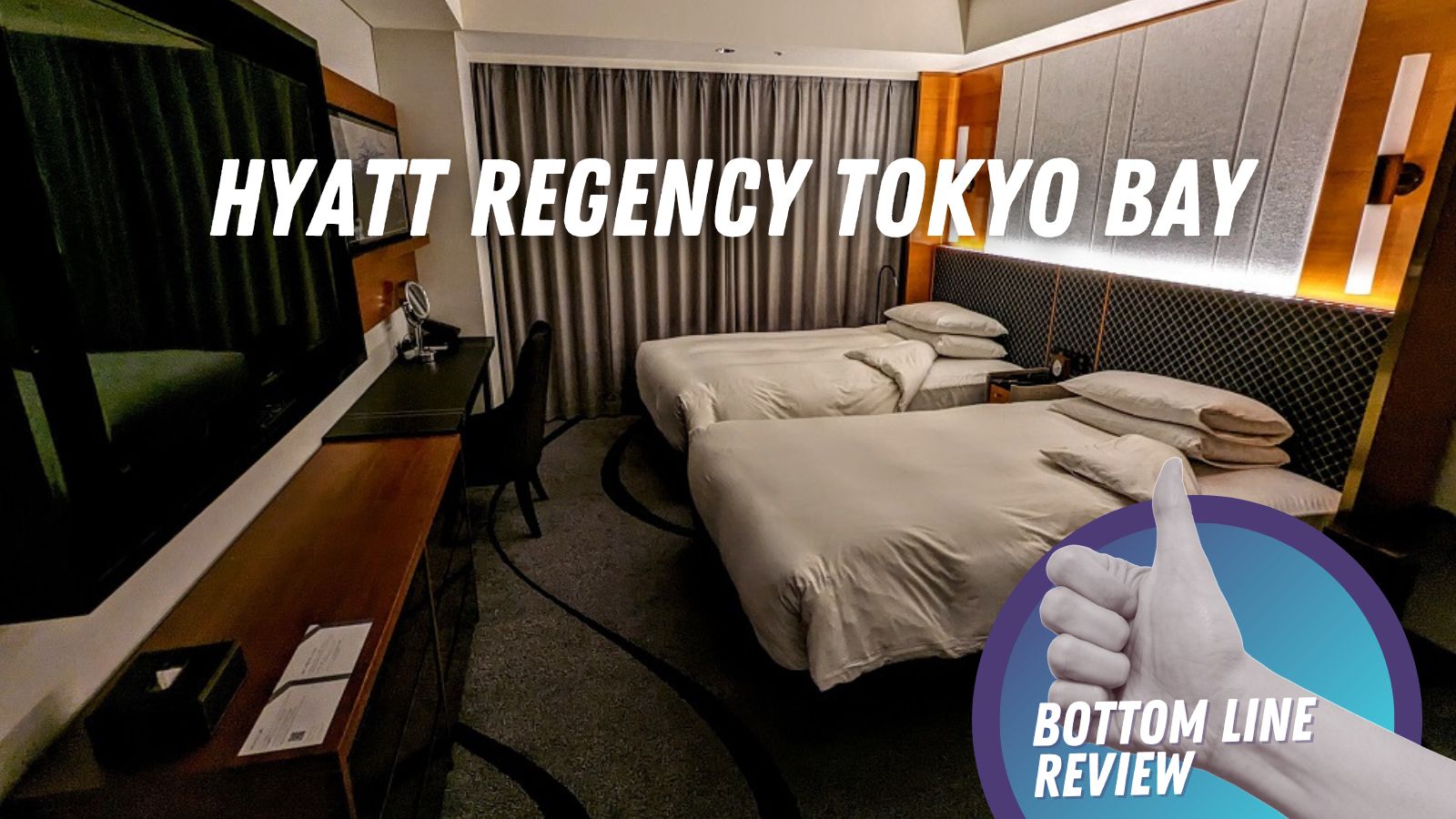 Hyatt Regency Tokyo Bay Bottom Line Review
Tokyo has almost a dozen different properties you can book with World of Hyatt points. There's a Park Hyatt, the highly rated category 4 Hyatt Regency Tokyo (not to be confused with the Hyatt Regency Tokyo Bay which this review is about), a Grand Hyatt, Andaz, a couple of SLH properties and more.
For our stay though we booked the Hyatt Regency Tokyo Bay. I'd hoped to book the Hyatt Regency Tokyo as I'd heard such good things about it, but there wasn't any award availability the night we'd be there. The property in Tokyo Bay on the other hand gave us a chance to showcase an oft-overlooked booking technique – using Cash + Points. In this instance, it was a little different to the Cash + Points options offered by many hotel chains as we paid cash for a standard room and used points to upgrade to a suite – more about that shortly.
In terms of the stay itself, it was a perfectly good, albeit unmemorable, stay. Our suites were a good size, there was a Club Lounge, breakfast was extensive but not blow-you-away-amazing like at the Four Seasons Macau we stayed at during the trip and service was professional and friendly without being impeccable like at the Grand Hyatt Macau.
If you're looking for a property in Tokyo that can be good value with cash and/or points and is near Tokyo Disneyland, this could be a good option for you. Would I be happy if I ended up staying here again? Absolutely. Would I specifically look to book this hotel on a future stay in Tokyo? Probably not.
Points Price: The Hyatt Regency Tokyo Bay is a category 4 property which means it costs 12,000, 15,000 or 18,000 points per night for a standard room depending on if it's at off-peak, standard or peak pricing. Award pricing was off-peak for our night there which means that a standard room would've cost 12,000 points, while the standard suite we booked would've cost 21,000 points.
Cash Price: To ensure comfort for the five of us, I wanted to book us two suites with two twin beds, with the 5th person (myself) sleeping on a sofabed. The hotel had 2 Twin Beds Regency Terrace Suites bookable with points for 21,000 points, while the cash cost was ~$625.
Cash + Suite Upgrade Cost: While redeeming 21,000 points for a room costing ~$625 would've been good value for the points, we had a better option. The cash rate for a standard room was fairly low – $165.73 including taxes and fees. We therefore booked the 'Lp Suite Pts Upgr' rate which is where you pay for a standard room and redeem x,xxx points to upgrade to a suite. In this case the points copay was only 6,000 points. Paying $165.73 to save 15,000 points was therefore worthwhile as redeeming those 15,000 points would've been at a 1.1cpp value in comparison.
Points Value: As you can see above, you can get good value with award bookings versus the cash rate. However, be sure to check the cash + points options as that can get you better value for your points at times.
Resort or Destination Fee: Not as such. However, if booking a cash rate they charge what appears to be a 13% fee which is listed as "Service Charge" which is in addition to other taxes and fees.
Parking: Parking costs ¥1,800 (~$12.50) per night, although this is waived on award stays for Globalists.
Standard Suite: The standard suites we booked were two 2 Twin Beds Regency Terrace Suites. These had living rooms and bedrooms that were a good size, but not enormous. There was a walk-in closet of sorts which led through to the master bathroom.
One of the suite's best features was a full second bathroom. There was a half-bath with just a toilet at the entrance to the suite, with a bathroom just off the living room. This was smartly designed as it could be closed off with two perpendicular sliding doors, but which increased the living room's square footage when open.
I don't know about the shower in the master bathroom, but the rainfall shower in the second bathroom had incredible water pressure – one of the best hotel showers I've ever had.
The other notable feature of the suite was its outdoor terrace. It was nice having this extra space, but its design felt a little weird as there were three large potted shrubs blocking off much of its view when sitting down out there. That said, our suite mostly overlooked other apartments or hotels, so I guess they're there to help provide a little privacy, although there was a nicer view when standing up out there.
Housekeeping: We only stayed one night and so didn't have any need for housekeeping. The room was very clean when we arrived though.
Turndown service: Perhaps this was an option, but I don't think we received it.
Internet: This worked very well. So well in fact that we were able to livestream that month's Ask Us Anything from one of our suites.
Dining: The Hyatt Regency Tokyo Bay has several dining options:

The Garden Brasserie & Bar – Breakfast, lunch, tea and dinner are all served here
Sushi Ema – Lunch and dinner is available here
Teppanyaki Fukitei – Lunch and dinner is available here too
Rooftop Bar – Tea time is 2pm-5pm, while bar time is 5pm-10pm. It's only open from Friday-Sunday, on public holidays and the day before public holidays
Garden Market – This serves to-go food

Club Lounge: Breakfast is served in The Garden Brasserie & Bar rather than in the lounge for Globalists and those with Club access. During the day there are light snacks and drinks available; we arrived too late in the evening to see what kind of spread they provide at night.
Spa: None
Fitness Room: Yes. This is open 24/7 and has both cardio equipment and weights available
Pool: No.
Welcome Amenity: This was the most stingy welcome amenity I've ever received. There was what, strictly speaking, could be classed as a fruit bowl considering it was a bowl with fruit in it. However, the "fruit bowl" consisted of seven grapes. I suppose that's better than nothing, but I'm not sure it's worth them providing something so sparse as in some ways it's worse than providing nothing at all.
Service: We didn't have too many interactions with staff beyond checking in and out and arriving at breakfast. They were all professional and friendly, but service didn't stand out like it had at the Grand Hyatt Macau.
Location: As the name of the property suggests, the Hyatt Regency Tokyo Bay is located in Tokyo Bay. That puts it a fairly good distance from central Tokyo considering how large the city is, but does put it close to other attractions in Tokyo Bay such as Tokyo Disneyland. Tokyo Disneyland is too far for most people to want to walk (it takes about an hour), but it's only a ~20 minute drive or 25-40 minutes by bus.
To get from Tokyo Haneda airport we took the Haneda-Airport Limousine Bus to the Mitsui Garden Hotel Prana Tokyo Bay stop which was only a block or two from our hotel. This cost 1,100 Yen (~$7.75) per person which was much cheaper than an Uber was due to be (I think that was pricing at ~$120).
Elite Benefits: We booked one suite on my account and one on Greg's as we both have Globalist status. Seeing as we'd booked straight into a suite, we didn't get an upgrade. Breakfast was complimentary thanks to our status and the third person in one of our rooms was included (I think) rather than having to pay for a separate breakfast for them. Our status also provided Club Lounge access, so some of us worked in there before heading off to TeamLabs.
Would I stay again? Potentially. It was a nice enough stay without anything being wrong with it, but there also wasn't anything that stood out as making me specifically want to stay at this hotel again.
Pros & Cons
Pros
Value – Can be good value booking with points as well as with cash and upgrading with points.
Breakfast – There was a good spread, plus if you like getting marshmallows in your omelet, this is the place for you!
Suite – Having two full bathrooms in a one bedroom suite is excellent as it means the person sleeping on the couch doesn't have to disturb people in the bedroom in order to use the bathroom.
Cons
Welcome amenity – I know, first world problems and all that, but providing a welcome amenity of seven grapes just doesn't seem worth it.
Location – To be fair, this could be a pro or a con depending on what you want to do in Tokyo. If you want to visit Central Tokyo though, the hotel is a bit of a distance from there.
Image Gallery
Standard Suite
Living Room
Bedroom
Master Bathroom
Second Bathroom
Hyatt Regency Tokyo Bay Club Lounge
Breakfast in The Garden Brasserie & Bar
Amenities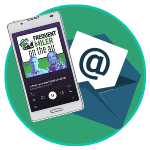 Want to learn more about miles and points?
Subscribe to email updates
 or check out 
our podcast
 on your favorite podcast platform.