Wow, what a trip!  Or, should I say "two" trips?  Over a two week span, the Frequent Miler team travelled through Asia and southern South America.  And we had an incredible time.  On Monday, Stephen published an overview and accounting of the trip organized by Team Tokyo (Philippines, Macau, and Tokyo).  And on Tuesday, Tim published the same for Team SFO (San Francisco, Santiago Chile, Buenos Aires, and Iguazu Falls).  And now for the hard part… I've decided which team won the Party of 5 Challenge…
In the original publication of this post on Wednesday June 21 2023, I declared that the challenge was a tie, but I invited readers to convince me I was wrong.  Jump to the section titled "
Who won? Final Answer
" to see the final results.
The Party of 5 Team. Clockwise from top-left: Greg, Tim, Nick, Carrie, Stephen.  This was our attempt to arrange ourselves like in the drawing on the hat.  This photo (actually a still clip from a video) was taken in San Francisco on the day that the whole challenge began.  Over the next two weeks, those smiles and laughs continued nearly nonstop.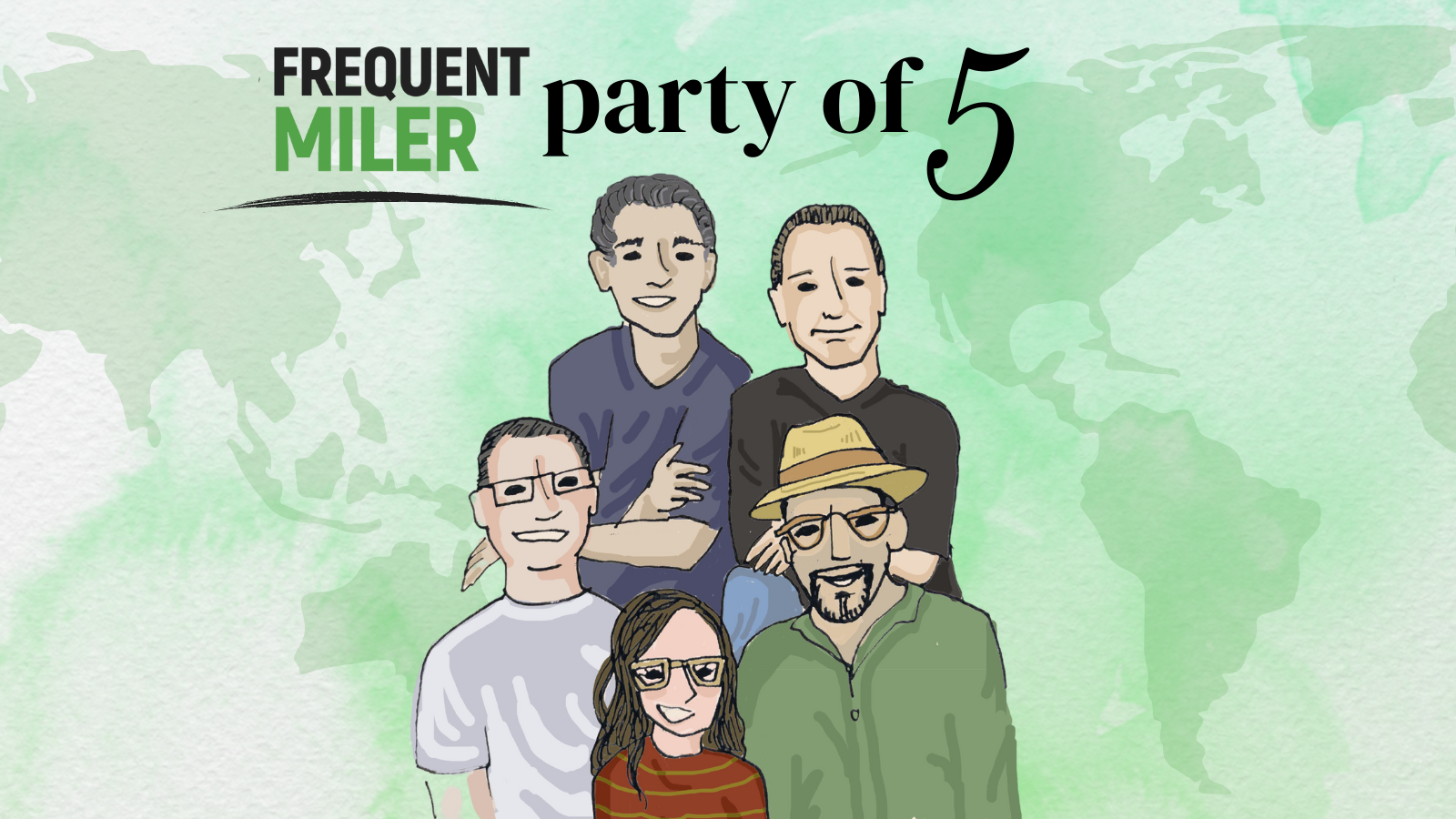 Background
Each year the Frequent Miler team does a challenge to see who can stretch the value of points and miles the farthest.  In the past, we've competed against each other on our own individual trips.  This year, we shook things up by traveling together as a party of 5.  Team Tokyo (Stephen and Carrie) were tasked with building an awesome trip that began and ended in Tokyo, while Team SFO (Nick and Tim) were tasked with building a trip that began in San Francisco.  My task was to award points to each team based on how well they accomplished the many goals I laid out in this post: Party of 5! Frequent Miler's 2023 team challenge.
If things had gone to plan, we would already know who won.  For the first 4 days or so, I awarded points every day to Team Tokyo based on where we stayed, how we traveled, what we ate, and what we did.  Then, I fell behind.  We were simply too busy or I was too tired to keep it up.  But, I did continue to record notes every day.  Then, my backpack was stolen, along with all of my notes.  That was it.  I gave up on awarding points along the way.  This post, then, is a reset.  Rather than awarding points for every little thing as I had been doing before, I'll award points in big buckets.
Lodging
One of the hardest things about traveling with a party of 5 is finding a way to house everyone comfortably and economically.  Using hotel points can be problematic since many hotel rooms are limited to 2 or 3 people and so it can cost double or triple the points to put up 5 people in a hotel.  We know that using Wyndham points to book Vacasa Vacation Rentals is a great way around this issue, but Vacasa doesn't have much going on outside of the U.S.  I had hoped that this challenge would lead us to find more opportunities like Wyndham-Vacasa: where we could use hotel points at reasonable rates to book homes or multi-bedroom apartments.  Unfortunately, neither team uncovered anything new in that area.  But we did stay in some fantastic lodgings…
Both teams booked two nights of luxury by booking us into two or three rooms at a time.  Team Tokyo booked two rooms at the Four Seasons Macau and three rooms at the Grand Hyatt Macau.  Team SFO booked two rooms at the Ritz-Carlton Santiago and two rooms at the Park Tower Buenos Aires.  Outside of those luxury nights, team Tokyo booked us into a fantastic Airbnb for two nights, a nice Holiday Inn Express for one night, and a very nice Hyatt Regency for another night.  Meanwhile, for the non-luxury nights, team SFO put us in a not-so-nice Holiday Inn for one night and a spooky Wyndham hotel for another.  We also had an overnight flight on LATAM business class.  Team SFO also succeeded in using expiring free nights and credits to good value.  This included IHG 40K non-top-offable certs, a Marriott 50K cert expiring within a week, and a $50 Sapphire Preferred credit.
Lodging Scores
Team Tokyo: 40,000
For providing a great deal of privacy and comfort throughout the trip, and for putting us up for two nights in the crazy-amazing Airbnb in the Philippines.
Team SFO: 15,000
For making great use of expiring credits and certificates.  Additionally, the LATAM flight provided reasonably comfortable overnight lodging one night.
Flights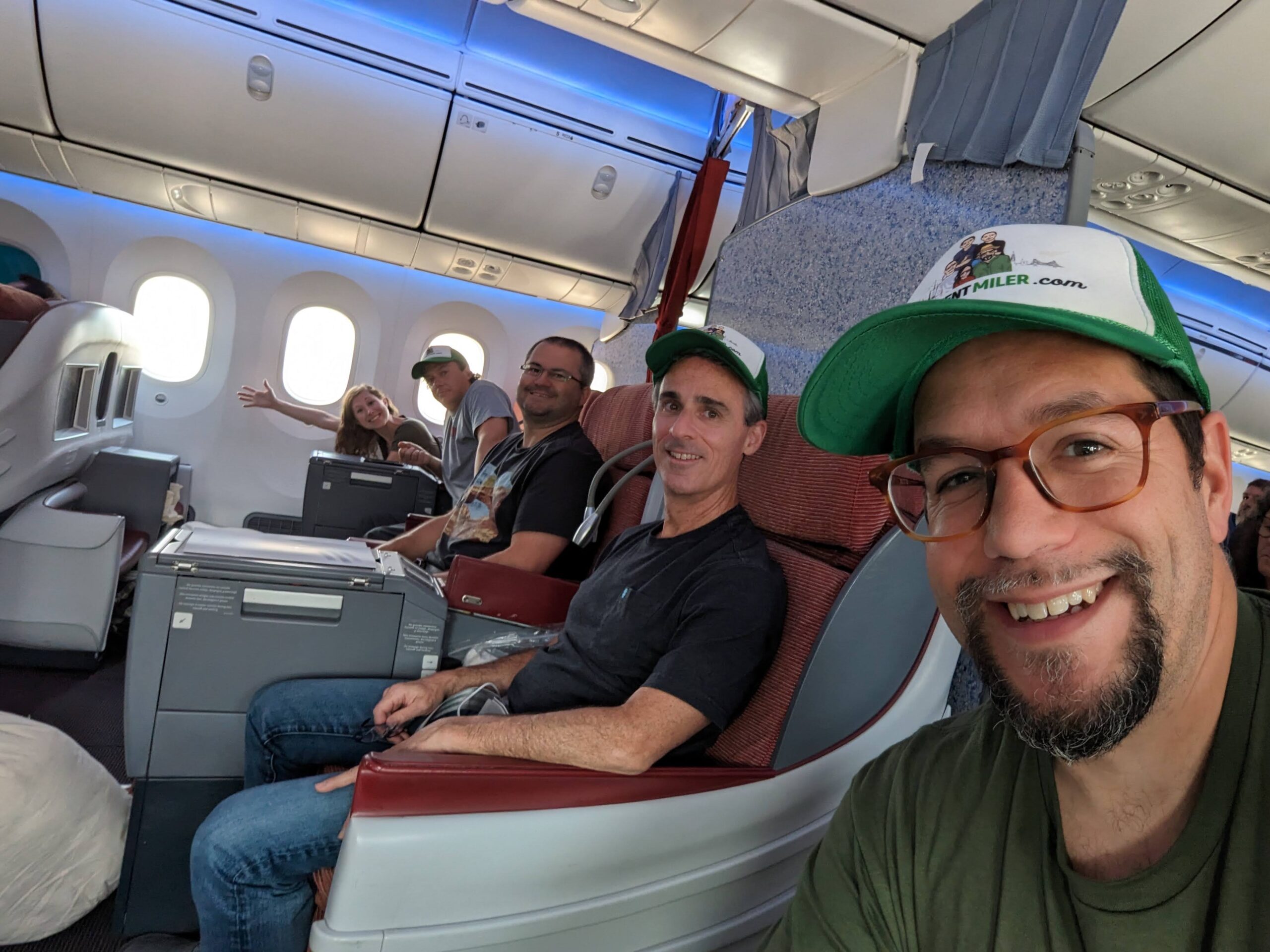 Finding award flights for 5 can be really challenging, but both teams managed it.  Team Tokyo put us in business class for 2 out of 3 short flights, and Team SFO put us all in business class for their one very long flight (Los Angeles to Santiago) and in economy for several short flights.  For the Team Tokyo business class flights, I personally would have opted to save miles and money by booking economy since these were short flights, but as it happened I very much appreciated the more comfortable naps I was able to manage in business class.
Flight scores
Team Tokyo: 15,000
For finding award space for 5 on all flights, and for finding reasonably priced business class awards on two out of three flights.
Team SFO: 30,000
For uncovering a great sweet-spot award: Use Alaska miles to fly LATAM business class from North America to South America, plus add a free stop-over, for only 45,000 points per person.
Food
One of the key rules of the challenge was to provide three square meals per day.  Team Tokyo was spot-on with this one (the only time we didn't have lunch, it was available, but we were too full from breakfast to eat it).  That said, other than when Tim and I went out on our own in Tokyo to get a sushi lunch, Team Tokyo never took us outside of our hotels or Airbnb to sample local foods (yes we ate local foods within the hotels and Airbnb, but that's not the same).  Meanwhile, Team SFO made sure that we experienced local cuisine at every stop and even included a home made four-course dinner with wine in Argentina.  They just rarely provided lunch.
Food scores
Team Tokyo: 20,000
For providing three solid meals per day and often very frugally (by relying on hotel breakfasts, for example).  10,000 of these points were due to finding the Airbnb which provided a private chef for breakfast and dinner!
Team SFO: 25,000
For ensuring that we always ate locally outside of hotels or airports at every stop.  I would have awarded 30,000 points, but detracted 5K for going hungry at lunch time.
Yucky Food Competition Bonus
At the Hyatt Regency Tokyo Bay, Carrie of Team Tokyo and Nick of Team SFO faced off.  The omelet station weirdly offered marshmallows as an optional omelet ingredient, and since Nick hates both eggs and marshmallows we had to find a way to make him eat a marshmallow omelet.  It was imperative.  The opportunity came when Carrie discovered that the okra on her plate was covered with something slimy and gross looking.  She simply couldn't eat it.  That is, she couldn't eat it until there was a points-opportunity knocking.  I promised 10,000 points to whoever could eat and finish their yucky food first.  Carrie won!
Team Tokyo yucky food bonus: 10,000
For Carrie finishing the okra before Nick finished his omelet
Team SFO yucky food bonus: 0
Activities
Both teams did a great job in organizing activities.  Team Tokyo lead us to what may have been the single most fun activity, teamLab Planets TOKYO, which was like an amazing playground for adults.  On the other hand, Team SFO was most successful in making dreams come true with Mural Lessons in Buenos Aires with local street artist "Luxor." (read about it here).  And when things went wrong, I thought that Team SFO was more successful in saving what was left of the day.  Plus, Team SFO piled on an incredible assortment of activities over a short amount of time: a coastal walk in San Francisco, go-cart racing in Santiago, a gourmet dining experience in Buenos Aires, the street art experience also in Buenos Aires, and multiple exciting ways to see the Iguazu Falls (helicopter, boat, walk).
Activity scores
Team Tokyo: 25,000
For organizing the excellent snorkeling adventure, and my favorite of all activities: teamLab Planets TOKYO
Team SFO: 40,000
For organizing amazing activities at every stop, and most of all, for literally making Carrie's dreams come true with the street-art experience (which was fun for all of us, by the way!)
Travel Big Picture
There are important aspects to travel that aren't covered well in the categories presented above.  Both trips were fantastic, but they felt different.  With Team Tokyo's trip, I felt taken care of as a passenger.  Even though we had some SNAFUs in Macau, I generally felt like Team Tokyo had thought through all of the logistics in advance, they scheduled plenty of time to get from one place to another, and they ensured that we had adequate time each day to work and/or rest.  With Team SFO, though, we had non-stop fun, but that part of the trip often felt chaotic and stressful.  We often rushed from one place to another for fear of missing a flight or a scheduled activity.  We often crushed 4 of the 5 of us into the backseat of small Uber cars because we couldn't get any Uber XLs to come (or when they did, they were small too).  And we rarely had time to work or rest.
Travel big-picture scores
Team Tokyo: 15,000
For making the kids feel safe during travels.
Budget Big Picture
Team Tokyo total spend:
374,500 points

262,500 AAdvantage miles
55,000 Avios
57,000 Hyatt points

$3,688
Team SFO total spend:
279,545 points

225,000 Alaska miles
25,000 Bilt points
22,795 Rapid Rewards points
6,750 Wyndham points

$2,962
Team SFO spent fewer points and fewer dollars than Team Tokyo and yet they took us to more activities, including some that you'd normally expect would be very expensive (such as the helicopter ride over Iguazu Falls).  On the other hand, Team SFO wasn't required to get us back home whereas Team Tokyo had to get us back to Tokyo.  If Team SFO had been required to get us back to the U.S. and had used the same 45K per person Alaska award as was used to fly LATAM to South America, they would have spent far more miles than Team Tokyo.
Given that I can't really do an apples-to-apples comparison of the two trips budget-wise, I'm left instead pointing out some of the budget pluses and minuses:
Team Tokyo's Airbnb was a great deal for about $210 per day.  Plus, I got a $50 gift card from the deal and earned some British Airways Avios.
Team Tokyo could have saved points or cash at a couple of hotels by booking us into two rooms instead of three.  Previously, under lodging, I gave them points for comfort and privacy, but need to detract points here for the budget.
Similarly, Team Tokyo could have saved points and/or cash by booking short economy flights instead of business class.
Team SFO wins the budget category by often choosing the cheaper path over comfort.  All flights but one were in economy and we stayed in a couple of low end budget hotels.
Budget big-picture scores
Team Tokyo: 5,000
Team SFO: 20,000
Score totals
Team Tokyo Total: 130K

Lodging: 40K
Flights: 15K
Food: 20K
Food Contest: 10K
Activities: 25K
Travel Big Picture: 15K
Budget: 5K

Team SFO Total: 130K

Lodging: 15K
Flights: 30K
Food: 25K
Food Contest: 0
Activities: 40K
Travel Big Picture: 0
Budget: 20K
Based on my scoring, the competition ended in a tie!  I think that's appropriate because both teams engineered incredible trips, but each with offsetting pros and cons.
Who won? Final Answer
On Wednesday, when I first published this article, my tentative answer was that the two teams tied, but I invited readers to convince me one way or the other.  And over the past two days, convincing arguments surfaced… for both sides.  Commenters argued passionately in favor of Team Tokyo.  Others argued fervently in favor of Team SFO.  That didn't settle anything for me!  So, I went back to my original Party of 5 post to compare the rules as laid out then vs. the trips we experienced…
In the original post, I asserted that lodging was key.  Here are two relevant quotes:
A heavy focus of this year's challenge is about finding great lodging deals.
And:
During their planning, teams should keep in mind that I care about luxury, especially when it's an awesome deal; I love going to new places and having new experiences; and I appreciate great food and I'm willing to try almost anything (see coconut worm, here). But most of all, I want to see each team uncover points & miles related opportunities that will benefit readers. In particular, I plan to be very generous with awarding points to anyone who finds a great new way to use points for lodging.
Team Tokyo took my words to heart and based most of their plans around lodging for a party of 5.  They found an amazing Airbnb property in the Philippines and built a trip around that.  No, they didn't find a great new way to use points for lodging, but the Airbnb was incredible.  Additionally, all of the rest of the lodgings on the Team Tokyo trip were comfortable and most qualified as luxurious.  Team SFO, meanwhile, put us up in a couple of anti-luxurious hotels in addition to two luxury hotels.  So, based on lodging being the primary focus of the challenge, I should give the win to Team Tokyo, but…
In the same post, I detailed ways to earn bonus points for lodging, transportation, food, and activities.  I offered bonuses for making good use of my existing points and free night certificates, especially those that are soon expiring.  I also offered frugality bonuses and novelty bonuses.  On each of these factors, Team SFO deserved more points.  They used more of my expiring certs and found more frugal lodging options overall.  They also took us to more places and activities that were novel to 3 or more of us (which was the threshold to get novelty bonus points).  So, based on my promises of how I'd award points, I should give the win to Team SFO.
Do you see my dilemma here?  Both teams should win.  And that's the final answer…  Both teams won the 2023 Party of 5 Challenge.  Is it a cop out?  Sure, but I believe it's also the right answer and that's lucky for me because after spending two weeks with this wonderful group, I really don't want to let down any one of them.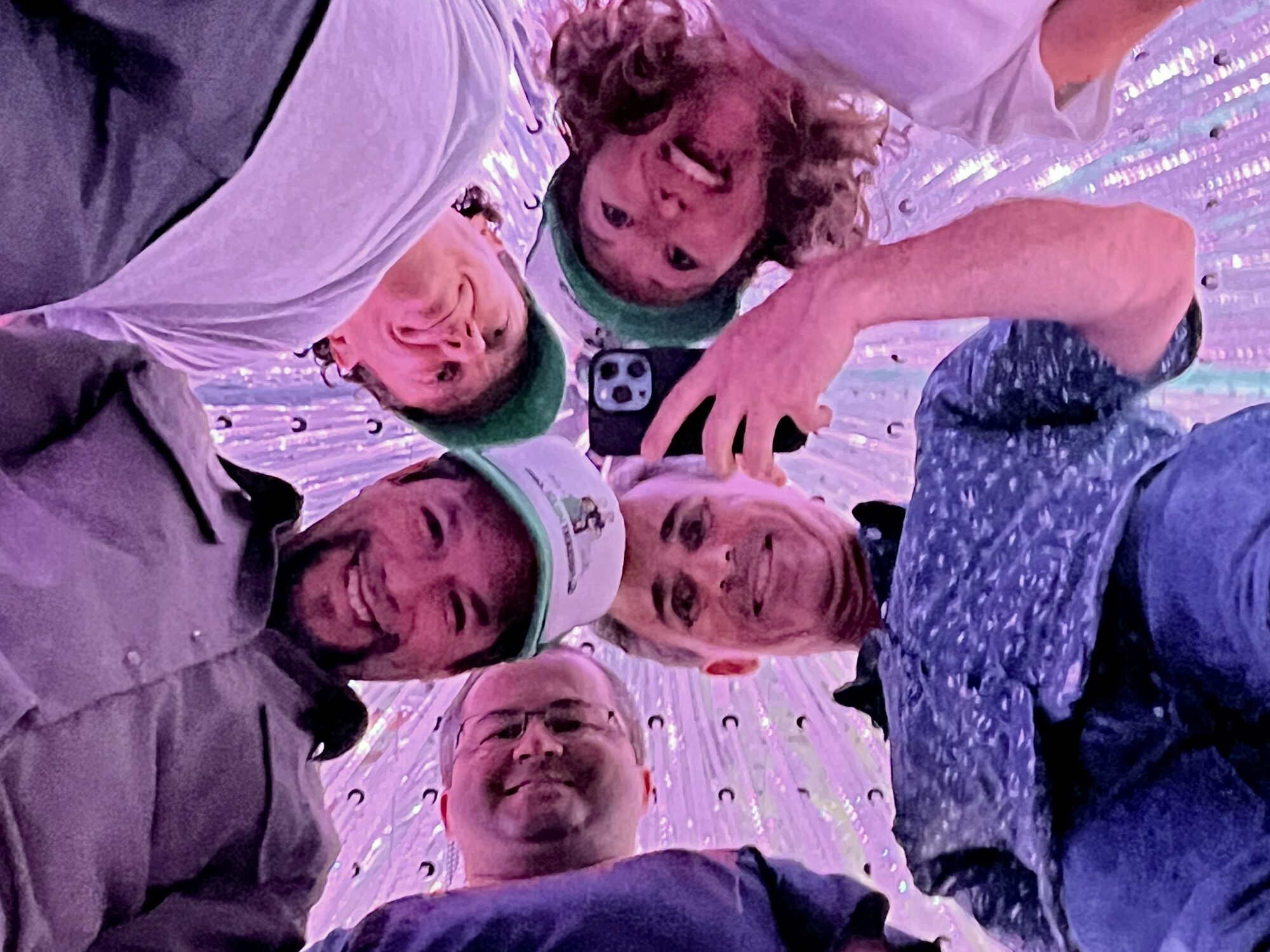 Rather than picking a single overall winner, I'll hand out some mini-awards…
Best logistics: Team Tokyo
With an exception or two in Macau, Team Tokyo did a great job of making sure we had good local transportation at every stop.  I loved that they were prepared with a van to take us from Manilla to the ferry-port to go to to Puerto Galera, and then had a Jeepney waiting to take us to our Airbnb; and the same in reverse when we left.  Additionally, for each flight we arrived at the airport with plenty of time to spare.  And, we ate well and often.  I tend to get in a mood when I get overly hungry.  To paraphrase Bill Bixby in The Incredible Hulk, "you wouldn't like me when I'm hungry."  Team Tokyo never let that happen.
Best local experiences: Team SFO
At every Team SFO stop, we had local experiences.  This included a walk, a restaurant, and a bar in San Francisco; a restaurant, a bar, and a walking tour in Santiago; and a private dinner and a street art experience in Buenos Aires.  Even though it was a whirlwind trip from one place to another, I felt like Team SFO did a great job in making sure that we really experienced a bit of what makes each location unique.
Best lodging: Team Tokyo
Our 8 bedroom Airbnb in the Philippines was absolutely amazing, and for modest extra fees it included a private chef and local transportation by Jeepney!  You can read all about it here.
Reader's choice award: Team SFO
On Wednesday afternoon, Carrie posted trip videos for those who missed them on Instagram and she included a "who won?" poll.  The results were decisive for Team SFO:
Who should win the 2023 Party of 5 Challenge?
Team San Francisco (Tim and Nick) (52%, 126 Votes)
Team Tokyo (Stephen and Carrie) (33%, 80 Votes)
Keep it a tie! (16%, 38 Votes)
Total Voters: 244

Loading ...
Best tie award goes to…
And on the blog…
Paul: "Tie seems fair. There were some great ideas from both teams."
MickiSue: "I don't know how your teams feel about it, but I'm fine with it being a tie. The goal of a vacation is to take home home fabulous memories and experience amazing things. At least, to me it is.  It appears that both teams did just that, and both very well. A tie, it is!"
 sjs: "I have to agree with the tie. Both teams did an amazing job with the constraints given and the obstacles faced. I loved following along and checked IG constantly for updates!"
Rachel: "I'm for leaving it a tie! I see amazing innovation and finds in each group. Nothing stands out as "better than the other by a long shot"…"
JeffP: "Leave it a tie…"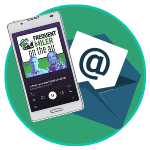 Want to learn more about miles and points?
Subscribe to email updates
 or check out 
our podcast
 on your favorite podcast platform.