On most weekdays, I publish a single post. My daily posts usually involve hours of research, writing, and editing. When the post is published, it shows up above all prior posts on my homepage (frequentmiler.net). I rarely publish more than once per day in part because I do not want my daily post to get lost in the maelstrom. As a result, many opportunities and deals have come and gone unpublished (by me). Or, when I do publish a deal, it is sometimes too late for readers to take full advantage of it.
To tackle the issues described above, I've setup a new blog page called "Frequent Miler's Quick Deals" (quickdeals.frequentmiler.net). The purpose of this new page is simply to have a place for me to publish deals without delay, and with little or no editorial content. This way, my main site remains pure while still providing timely deal alerts to readers.
How to subscribe
You can, of course, simply visit my new site at quickdeals.frequentmiler.net to read about the latest deals. If you'd like to be alerted, though, there are several options:
Instant email: I've setup an email blaster to email deals to subscribers within an hour of publication. Simply find the email box on the right side of the Quick Deals page (not this current page), enter your email address, and press the button titled "Subscribe for instant alerts >>".

You can also get to the email signup page simply by clicking here.
Newsreader: The new Quick Deals page has a different RSS feed than the main Frequent Miler page. You can subscribe to the new feed with this URL.
Example deals
Here are some of the deals I've published in the past several days:
Generally, I simply post the deal title, the dates when the deal is valid, a comment or two, and a link for further information. If the deal interests you, click through to learn more. If not, hopefully I haven't wasted too much of your time.
For some of these deals, I'll follow up with in-depth blog posts on my main Frequent Miler page. The current crop of deals are mostly about gift cards and prepaid cards, but I expect to include other types of deals as they come up.
Reader feedback
What do you think? Will this be a useful service for you? If so, how do you plan to stay up to date (e.g. email, RSS, etc.)?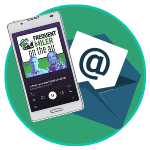 Want to learn more about miles and points?
Subscribe to email updates
 or check out 
our podcast
 on your favorite podcast platform.