In March of last year, Citibank increased the value of ThankYou Rewards points for Citi Prestige cardholders.  When used to purchase American Airlines flights, each point is now worth 1.6 cents each instead of the previous 1.33 cents (which still applies to tickets on other airlines).  Since then, I've been a big fan of the combination of the Citi Prestige card and ThankYou Rewards points for those who fly American Airlines often.  For details and a gushing review, please see: A great combination: American Airlines status plus Citi Prestige.
But then I started planning mileage runs…
OK, A little background is needed here.  Late last year, I enrolled in the US Airways Preferred Trial so that I could fly 30,000 miles in 90 days and earn top tier Chairman's Preferred status. The point wasn't really to get top tier status with US Airways, but rather with American Airlines.  I knew that when the two airlines merged their frequent flyer programs, my status would be converted to American Airlines Executive Platinum.  And it was.  This status comes with many benefits, such as 8 systemwide upgrade certificates, complementary domestic upgrades, and many waived fees.
I thought I would be satisfied with one year of top tier status, but then I flew to China on a mistake fare and spent one day there.  Between the 30,000 miles flown to qualify for US Airways status, and miles earned from the China trip, and miles earned from regular trips, I would be about three quarters of the way towards re-qualifying for 2016.  Given that I would be so close, I should re-qualify, right?  This is the sneaky way that airlines get us to fly more than we otherwise would.  I doubt I'll try to re-qualify in future years (more about that decision in a future post), but for this year I decided to go for it.
To re-qualify for AA executive platinum status, I'll have to mileage run.  Mileage running is the act of flying somewhere for the primary purpose of earning miles.  With AA, you can qualify for status with EQMs (elite qualifying miles), EQPs (elite qualifying points), or EQSs (elite qualifying segments).  In my case, I was pretty much equally close to qualifying with EQMs or EQPs, so had to make a decision as to which way to go.  For mileage runners, cheap long distance coach flights are best for earning EQMs.  And, discount premium cabin flights are best for earning EQPs.  This is especially true this year, thanks to AA's "Reach elite status faster" promotion which offers bonus EQPs for business and first class flights.
In the post "Mileage Running for AA Executive Platinum status. EQMs vs. EQPs" I stated that family travel decisions would force my EQM vs. EQP decision.  For a variety of boring reasons, that didn't happen.  Instead, I decided to attend TravelCon II in Vegas and that forced the issue…
When searching for flights to Vegas I found that an old trick I had used before seemed to still be in play.  By using multi-city search, I found much better prices than with regular round-trip searches.  I've found and booked these discounted multi-city itineraries in the past, so I had no reason to think that anything had changed.  I didn't book my flight, though, because I had found something else interesting that I wanted to explore more.  In the meantime, I published: "The multi-city cheaper flight trick still works."  That was a mistake!  It turned out that even though the prices could be found on AA.com, they couldn't be booked.  Readers reported the same with Delta.  On the plus side, one reader reports saving money with this trick with United.  So, there's that.
The thing I had found along the way was that I could fly relatively cheaply in first class from San Juan, Puerto Rico to Vegas on AA.  Prices ranged from about $700 to $800 for a round-trip flight of 7505 miles (via Philadelphia).  Thanks to the current AA EQP promo, this flight will earn 2 EQPs per mile flown.  Total expected EQPs = 15010.  At $800, that comes to 5.3 cents per EQP.  That's not the best mileage run I've ever seen, but its pretty good for one that fits into my schedule.  I decided to book it.  I'll figure out transport to and from San Juan later.
Booking the mileage run
I initially found these great prices using Google Flights, but I then clicked through to AA.com to confirm that they were bookable (they were).  Then, I tried to book the flights with my ThankYou points so that I could get the promised 1.6 cents per point value.  Here's what the ThankYou search engine suggested:
Citi wanted to charge me $1,680.60 for the same flights that I could buy elsewhere for less than $800.  No thank you!
I confirmed that the sub $800 flights were bookable through other search engines.  Specifically, I checked Orbitz and the US Bank FlexPerks flight booking tool.  Both showed the sub $800 prices and let me make my way to the checkout screen.
Trying every which way
I tried everything I could think of to trick the ThankYou engine into finding the right price.  I tried one-way flights.  I input departure times that matched ones I knew were available.  I filtered to American Airlines.  I forced the exact flights through multi-city search.  I tried routing through Dallas in case US Airways flights were part of the problem.  Nothing worked.  In all cases, I could find the exact flights that I found elsewhere.  They were just priced way higher.
I even tried other origins and destinations.  At the time, business class flights from Dublin to Hawaii were relatively cheap: about $2,000.  ThankYou couldn't see that price.  Then there were inexpensive first class flights from Los Angeles to Panama.  Again, ThankYou priced these way too high.
I should note: in situations where United has good prices, the ThankYou engine had no trouble finding those.  And, I've never had trouble finding discount economy AA flights (as long as the itinerary was fairly simple).  The problem I've been facing seems to be limited to discounted AA business and first class.
Calling for help
I hate booking flights over the phone.  It always seems to take forever and things always go wrong.  But, because I was determined to get to the bottom of this, I called.  I explained the problem and gave the travel agent the dates and routes I wanted to fly.  Unfortunately, she found the same insane pricing that I found on my own.  I then fed her the exact flight details.  She correctly found each flight, but continued to price it at astronomic levels.
The travel agent thought that I was seeing prices that aren't available to OTAs (online travel agencies).  I explained (several times) that I could see the same discount pricing through other OTAs, just not through ThankYou.  Finally, I gave up.  I begged the agent to file a support ticket in the hopes that someone somewhere will fix this issue.  I think she did so.  I hope so.
Back to FlexPerks
Luckily, "just under $800" is one of the sweet spots for US Bank FlexPerks points and I happened to have just about the exact right number of them: 40,000.  Booking through FlexPerks was a little rocky, but it worked out fine in the end.  At first, I searched for the round trip flight and found it as expected for 40,000 points.  When I went to buy it, though, the price changed.  They now wanted 50,000 points:
Um, no.
I searched again, but this time for a one-way flight.  Bingo, 20K points.  I bought it.  I then searched for the one-way return.  There it was.  20K points.  Done.
Wrap Up
While I'm still a fan of Citi ThankYou points, especially when coupled with the Citi Prestige card, I'm extremely frustrated by their crappy flight search engine.  I was lucky that the flight I wanted hit a sweet spot on the FlexPerks award chart and that I had enough FlexPerks points to make the booking.  I'm pretty much out of FlexPerks points now, though.  Meanwhile, I'm sitting on a massive pile of ThankYou points and I'd like to use them!
There is some hope.  Shawn Coomer,  author of Miles to Memories (and senior editor / contributor to this blog), was recently able to book a cheap first class flight from San Francisco to Panama using ThankYou points.  The trick he suggested (inputting departure times that are earlier than, but close to the real departure times) didn't work for me.  But, he did do it.  Somehow.  It must be possible.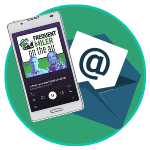 Want to learn more about miles and points?
Subscribe to email updates
 or check out 
our podcast
 on your favorite podcast platform.