There are a number of new Amex Offers out today. Here are a few that I found on various accounts:
Quick Thoughts
The last offer in the list, for $75 back on $350 or more can also be synced via Twitter with #AmexSaks. Deals We Like has an excellent post out this morning about how to use this offer as a money-maker by buying and selling gift cards. Proceed with caution, but it might appeal to some readers. Read that Deals We Like post here.
The Hampton Inn and Hilton Garden Inn offer is also available on Twitter with #AmexHamptonHGI.
It's also great to continue to see offers that include sizable amounts of Membership Rewards points. As a Business Platinum card holder, I value those points at 2 cents each as I know I'll redeem them for at least that much, and likely more if I transfer to partners. The Busch Gardens offer probably wouldn't be a great deal as you can currently buy a ticket to any Busch Gardens park for $45 via Daily Getaways.
The offer I am most likely to use is probably the Uniqlo offer. My wife and I both love their Ultra Light Down jackets. They are perfect for travel as they are very compact and come with a bag into which they can easily be folded. This past winter, we took a trip to South Africa, UAE, Singapore, Australia, and Vietnam. We flew back from our last stop to Seattle and then on to Minneapolis in February. While we didn't need any winter clothes for most of our trip, we definitely needed jackets for those last two stops. It was nice to have two jackets that took up very little space in our bags. I find them impressively warm compared to how thin and light they are, and the same thing goes for the warm-lined pants (resembling snow pants) that they sell during the winter. I have stood outside for hours during winter in those pants and stayed warm. Unfortunately, they don't seem to stock the warm-lined pants during warmer months.
Check your accounts for other targeted offers and let us know if you find anything interesting.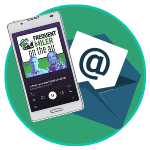 Want to learn more about miles and points?
Subscribe to email updates
 or check out 
our podcast
 on your favorite podcast platform.