I just caught a post at Heels First Travel that highlighted an airfare sale first posted at Scott's Cheap Flights with a list of great prices to Hawaii from all over the US and Canada for travel from September 2017 to March 2018 (excluding some dates around the major holidays). The standout fares to me were from Toronto and Montreal at $412-$450 (in US Dollars) round trip to Honolulu, Maui, and The Big Island (Kona). In fact, these cheap fares are even available during the Van's World Cup of Surfing (which GoHawaii.com tells me is the Super Bowl of Surfing).
I'm going to highlight a selection with links to Google Flights, but you should really go to Scott's Cheap Flights and check it out — he's done a lot more legwork in listing prices for various city fares (this sale is from a lot of cities).
The thing to know about these is that the absolute cheapest prices are bookable via small online travel agencies that you can find through meta-search site Momondo. I personally don't have experience booking with these agencies. I'm not sure that I wouldn't use them — I know that in the worst-case scenario, I can file a chargeback on my credit card if they don't provide me with the ticket I paid for — but if you do book with them, recognize that you are dealing with a less-established entity. That probably won't matter on a trip that goes smoothly — but when you run into a canceled/delayed flight or other irregular operations, it could become a challenge. I'm going to list prices both from Google Flights (which should be available both directly at airline websites and through most major OTAs like Expedia, Priceline, etc) and Momondo. Choose your own adventure when it comes to where to book.
Some examples:
Toronto to Honolulu November 28-December 7th (During the Van's World Cup of Surfing) – $428–437 
---
Montreal to Honolulu September 6-13, from $412 / $429
---
Montreal to Maui for Valentine's Day $423 / $417
---
Skip the eclipse and spend a month in Maui for a month? (Just a few dollars more if you want to spend only a week. Great use of one of a free companion fare if you recently signed up for the Alaska Airlines credit card.
New York to Maui, August 21-September 19: $591 / $577
---
Chicago to Maui, September 26-October 3: $564 / $548
---
Bottom line
These are just a few examples — there are tons of other great prices from a variety of cities, and Scott's Flight Deals has tons of examples. Whether you're looking for a fall getaway, the height of surfing season, or a romantic Valentine's Day surprise, there are plenty of deals. Don't forget the Alaska companion fare code if you've signed up for an Alaska credit card.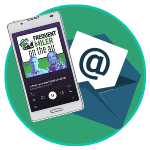 Want to learn more about miles and points?
Subscribe to email updates
 or check out 
our podcast
 on your favorite podcast platform.