If you're shopping in-store today or just want an easy double dip, the United Mileage Plus X app is offering great payouts at a number of stores this weekend — up to 10x at several. Check your app for a more complete listing as this will vary somewhat based on your location ("online" merchants should be constant, but you'll probably have a better assortment of nearby merchants than I do).
The app is showing a number of Black Friday – Cyber Monday increased payouts. Here are a few:
MPX app
As a quick review, the Mileage Plus X app (known as MPX for short) is an app that allows you to buy gift cards and earn United miles. This is one of the methods for extreme stacking that is included on our Instant Gift Card Deals resource page. MileagePlus X generally lets you choose the exact amount for the gift card and you can buy it at checkout to avoid having leftover money (while not leaving any miles on the table). I use this app whenever we're at the mall and my wife wanders into Sephora — better to get some miles on the gift card than none (and it's always kind of fun seeing how surprised the cashier is when my gift card exactly covers the purchase…I add up the items and figure the tax before we get to the register).
Keep in mind that Mileage Plus credit card holders earn an additional 25% on top of the mileage payouts — meaning that 10 miles per dollar is really 12.5x if you have a Mileage Plus credit card (which you don't need to use to pay).
Within the app, you can look at "nearby" merchants or online merchants.
It might be worth checking your nearby merchants as your list may differ some. For example, Greg had some additional 10x options such as Dave & Buster's / Dominos and 8x such as Buffalo Wild Wings / Buca di Beppo.
---
Bottom line
There are some nice opportunities to earn some miles for in-store purchases or double dip at retailers by earning guaranteed miles on the purchase of the gift card and then earning again through a shopping portal. For example, I see that cash back portals are offering as much as 11.5% back at Old Navy today. You could buy gift cards through the MPX app at 10x and then use gift cards online at Old Navy for another 11.5% back on top of whatever savings they have going on today (I haven't actually done this with Old Navy — so forgive me if Old Navy doesn't take gift cards online….do your research before you buy). MPX also offers 2 miles per dollar on Dell.com gift cards and you may also be able to get 21.5% cash back today (check to be sure cash back is paid out on the redemption of gift cards through your chosen portal) for another nice opportunity. That type of thing should make for some good stacks this weekend.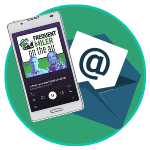 Want to learn more about miles and points?
Subscribe to email updates
 or check out 
our podcast
 on your favorite podcast platform.