If you know someone who does not yet use the shopping portal Rakuten, both you and they can receive $30 each (or 3,000 Membership Rewards points) when they sign up and spend at least $30 through the portal (which should be fairly easy). Note that the $30 bonus can obviously be triggered when the person you refer shops online, but it can also be triggered by spending $30 with in-store offers. (h/t: reader Evan)
The Deal
Shopping portal Rakuten is currently offering a referral bonus of $30 (or 3,000 Membership Rewards points) when you refer someone by June 30th and that person spends $30 or more within 90 days of signing up
If you're not a Rakuten Member and would like to use one of our referral links, you'll find them below:
Key Terms
Offer may be modified or cancelled anytime.

Qualify for a $30 Referral Bonus when anyone whom you refer (a "Referee") signs up to become a new member using your referral link or other method supplied by Rakuten during the period beginning 12:01AM ET April 1, 2023 and ending 11:59PM ET AM June 30th, 2023 ("Offer Period") and makes Qualifying Purchase(s) totaling at least $30 within 90 days of signing up.

You may qualify for a Referral Bonus more than one time.

You and your Referee(s) must reside and be located in the 50 United States, District of Columbia, or Canada and comply with the Refer-A-Friend Program Terms.

Referral Bonus(es) will be added to your next Cash Back payment, provided that your Referee(s) are Qualified Referral(s) according to the Refer-A-Friend Program Terms.

A Referee will not be a Qualified Referral if they cancel, return, or exchange their Qualifying Purchase, if their Qualifying Purchase hasn't earned Cash Back, or if their purchase is found to be fraudulent, abusive, unethical, suspicious, or otherwise inconsistent with our Refer-A-Friend Program Terms.

See promotion page for full terms
Quick Thoughts
This can be a great bonus as it means the person you refer can essentially get a $30 item for net free after cash back and you get $30 or 3,000 points for helping them do it.
Last year, I had convinced my mother-in-law, who doesn't travel and is accustomed to paying cash rather than using credit cards, to open the Platinum card with the temporary 10x gas and US Supermarket bonus (that offer ended in May). My mother-in-law doesn't typically shop online, so I hadn't thought to get her signed up with Rakuten until she and my wife were going shopping for the holidays earlier this week. Realizing that she would probably benefit from some of the in-store offers since I knew she would be buying stuff in-store, I referred her to set up a Rakuten account.
When you sign up for Rakuten, your account preference is set to earn cash back by default. I immediately helped my mother-in-law switch her earning preference to Membership Rewards points. Rakuten insisted that she enter name and address for Big Fat Check payments before setting a Membership Rewards earning preference even though she hadn't yet earned anything through Rakuten. So she entered her name and address for check payments (she doesn't have PayPal) and then immediately switched her earning preference to Membership Rewards points.
Sure enough, that same day she spent more than $40 in-store (this was during a $40/4,000 point promotion) and earned in-store shopping points. I then received the 4,000 bonus points for referring her.
However, it's had been a few days and she hadn't received her 4,000 points. Then I realized that it said in her account that she will receive a "Big Fat Check" for $40 because she "earned this Cash Back before making the switch to a Membership Rewards account".
The date and time it shows for when she made the switch to Membership Rewards was before she went shopping in-store, but I'm guessing that the referral offer counts as triggered the moment you open the account. She can't be unhappy about getting $40 without even trying really (and I'm happy to have gotten 4,000 points!) but now she had to watch out for the check and make sure not to throw it away assuming it is junk mail. That's still a great deal overall and good to know that this works whether you shop online or in-store with Rakuten in-store offers. That would make this easy to trigger for other family members as well.
Just make sure your referees sign up by June 30th. Then they have 90 days to make $30 in purchases through Rakuten, which should be very easy to do.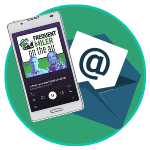 Want to learn more about miles and points?
Subscribe to email updates
 or check out 
our podcast
 on your favorite podcast platform.