Yesterday, we published a post about problems with Marriott elite status (See: No joy from Bonvoy: Ritz cardholders downgraded to Gold). Specifically, many people had been downgraded from Marriott Platinum (50-night status) to Marriott Gold (25-night status). This was primarily happening to those who opened Ritz-Carlton credit cards last year to earn old 50-night status with Marriott (formerly called Gold) under the expectation that they would keep 50-night status with Marriott (now called Platinum) through February 2020 based on what we were told by our Marriott contacts. Good news: we've been told that this has been fixed. Sure enough, reports have been rolling in over the past few hours from people whose Platinum status had been reinstated (including many in the comments on our post from yesterday), but now it appears we have official word. If your downgraded status has not yet been reinstated (and you think you should have Platinum status based on the explanation in yesterday's post linked above), I'd give it a day or two to let the dust settle before you panic — odds are looking good this has been (or is being) fixed, and that's great news indeed.
If your status is not reinstated
If you do not see your status reinstated within the next day or two and you believe that you should have Platinum status, it may be worth an email to the Marriott Lurker on Flyertalk in order to inquire for further assistance (and please comment here if it isn't resolved for you in the next few days so we can keep the pulse of the situation as well).
Kudos to Marriott on this one
While we'll certainly call Marriott out for their shortcomings (and there have been more than a few since the merger and launch of Bonvoy), it's also fair to give credit where credit is due. In this case, kudos to Marriott for a prompt fix. That doesn't absolve them from responsibility to have built a system that would work given all of the lead time they've had in launching the program, but I'm at least encouraged to see a speedy response and resolution. At the end of the day, problems will happen; a prompt response is the first step in rebuilding confidence of customers. Here's to more of that from Marriott to come.
Reminder: lock in today's prices RIGHT NOW
Final note: don't forget to book your 25K / 35K / 50K properties today. The price of admission goes up tomorrow. We don't know when peak pricing will begin. See this post for places to book now for free night certificate stays. See this post for the good news on locking in current prices with a reservation tonight. See this post for a full list of properties changing in category. Go!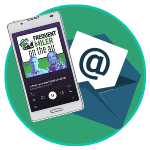 Want to learn more about miles and points?
Subscribe to email updates
 or check out 
our podcast
 on your favorite podcast platform.