In the past several months I've been telling people that one of the best deals in points & miles was on its last legs.  If they wanted to get in on it, I advised that they do so right away.  I didn't write this on the blog.  Instead, I talked about it at meet-ups and frequent flyer seminars such as Frequent Traveler University and TravelCon.
The deal that I didn't write about on this blog was the ability to fund a new Citi checking account and a savings account, with credit cards, up to $100,000 each.  That meant, combined, a possibility of up to $200,000 in absolutely free manufactured spend.  Some people got away with opening multiple savings accounts for even more free spend.  And, some people signed up for these accounts every year.
Shawn did mention, in passing, the ability to fund Citi accounts in a Quick Deal or two, but I kept it out of the headlines because I didn't want to hasten its demise.  I now think that was a mistake.
In the post "Necker Island, here we come!" I summarized how I earned 1.2 million Virgin Atlantic miles in 7 months, as follows:
8 Virgin Atlantic credit cards: ~720,000 miles
2 Citibank credit cards + 25% transfer bonus: ~110,000 miles
1 Amex credit card + 30% transfer bonus: ~220,000 miles
Other miscellaneous techniques: ~150,000 miles
Note that last bullet: "Other miscellaneous techniques".  If anyone had cared to click through the hyperlink, they would have found a Quick Deal about the Citigold Checking 50K ThankYou Points Bonus.  Within that Quick Deal, Shawn mentioned "Citi does let you fund your checking account with a Visa or Mastercard up to $100K."
In my case, I called Bank of America and asked to reallocate credit among all of my BOA credit cards.  I wanted as much credit as possible on a single new Virgin Atlantic card.  The agent I spoke with was able to lower each of my other credit limits to $500 and thereby increase the limit on this one card to over $60,000 (there was no hard pull for this reallocation).  I then opened a CitiGold checking account and funded it with this card.  Unfortunately, for some reason, I couldn't get BOA to approve a $62K charge, but they did approve $49K.  Since the Virgin Atlantic card earns 1.5 miles per dollar, this resulted in 73,500 miles earned.  About a week later, I used the card again to fund a savings account for the same amount.  I earned 147,000 miles from opening those two accounts.  If you include the card's 75K signup bonus, the total came to 222,000 easy miles.  I would have done even better if I had funded the two accounts separately with two different new credit cards (to get 2 signup bonuses), but I was worried that the Citibank funding option would soon die, so I didn't want to wait until I got a new credit card.
Now its dead
I first read about the deal's demise on this Doctor of Credit post.  Since then it has been confirmed on a number of other blogs and forums.  Citi is no longer allowing credit cards to be used to fund new accounts.  Other banks still allow this (found here), but their limits tend to be far smaller – usually $500 or $1000.  This is nice to do once in a while, but you should watch out for banks that make hard inquiries on your credit report when opening new accounts (details here).  Also, if you open too many new accounts, it won't look good on your ChexSystems report (details here).
Why I should have reported the deal
When the ability to fund bank accounts with credit cards up to $100,000 hit the headlines of several major blogs, the writing was on the wall.  At that point, the deal was surely on its last legs.  I knew that.  Staying mum was a disservice to my many readers who do not read the other blogs.  If that's you, I'm sorry.  I should have let you know about this deal before it was too late.
Deals die with or without me
Over the years, there were many deals that I kept off the blog for fear of killing them.  One by one, most have died anyway.  US Bank Buxx, TD Buxx, and Nationwide Buxx cards are good examples.  Buxx cards are prepaid cards intended for teenagers.  The cool thing about them was that it was possible to load them online with a credit card for a very low fee.  I kept these out of the headlines of this blog to try to keep the deal alive.  Maybe it worked to keep them around longer.  Maybe not.  We'll never know.
On the other hand, I often blog about deals that many wish I'd keep secret.  Recently, for example, I wrote about the ability to get 1.5% to 1.6% cash back when buying Visa gift cards from GiftCards.com.  This made these PIN-enabled cards nearly fee-free.  Soon after my posts, GiftCards.com withdrew from all portals.  Did I kill the deal?  Probably.  Would the deal have died without me?  Probably, but maybe it would have lasted longer.  We'll never know.
What I'll write, and what I won't
A couple of years ago, in the post "Blogging the Line," I tried to document my policy of what I'll write about and what I won't.  I shared these "rules":
If it crosses my personal line, don't blog it.
Don't disclose info given in confidence.
Follow my passion, not the money.
Advertised deals are OK.
Pre-published deals are fair game.
Dying deals are usually OK to publish.
Obfuscate as needed.
I published the GiftCards.com deal because it met the above criteria.  It wasn't a mistake or a secret loophole, it was an advertised deal.  If it happens again, I'll publish it again.  I know that many disagree with this approach, but I believe that it is right.  Similarly, when American Express published a press release stating that they had added Rite Aid and Dollar General to their free cash reload network, I wrote about it.  Just like the GiftCards.com offer, it had become an advertised deal.
The ability to fund Citibank accounts with credit cards actually fell into two of the above criteria: It had been heavily "pre-published" (rule 5) and I recognized it as a soon to die deal (rule 6).  I should have published it more widely.  If I had, more of my readers would have been able to benefit from it.
In December 2014, a certain toy store starting selling $500 Visa gift cards in-store and they allowed paying with their gift cards.  That was pretty amazing because there are often ways to get many extra points or save lots of money when buying those gift cards.  I had good reason to believe that the deal would soon die (and it did), so I wanted to publish it, but I didn't want to hasten the demise.  So, I followed rule 7: obfuscate as needed.  I published "An awesome new 5X (and beyond) game. Let's play…"  In that post, I gave many hints but didn't directly name the store in question.
What I'll say, and what I won't
At frequent flyer events I'm more open with the audience.  In person, I often discuss opportunities that I withhold from the blog.  These tend to be loopholes that are likely to die if widely published.  That said, I always follow rule 2: even in person, I won't disclose info that was given to me under the condition that it be kept secret.
You can always find my speaking schedule here: Frequent Miler's Event Schedule.  My next speaking engagement will be at Frequent Traveler University in Las Vegas.  The Manufactured Spending add-on is full, but general session tickets are still available.  I will be speaking at both events.  And, believe it or not, there are still many cool secrets worth sharing.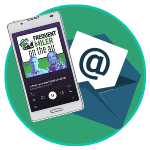 Want to learn more about miles and points?
Subscribe to email updates
 or check out 
our podcast
 on your favorite podcast platform.