Update 6/15/20: This was originally due to expire on June 12, but I just noticed that it's been extended to June 30.
~
While checking out TopCashback earlier due to the Grubhub offer for 21% cashback on your first order, I noticed that they're currently offering a 5% bonus when requesting payout on an American Express gift card for your earned cashback.
There might be limits on which of your payable transactions can earn the 5% bonus, so read on for an explanation as to why that is.
The Deal
Request payout from TopCashback on an American Express Reward Card and get a 5% bonus.
Key Terms
You must have a U.S. address to be able to request your cash back by this method.
For a limited time only, there will be a 5% payout bonus.
This bonus offer will end on Friday, June 12, 2020 Tuesday June 30, 2020 at 2 am PST (or while supplies last).
There is a $25 minimum load and a $1,000 maximum load limit per Card.
The funds do not expire but there is a $3 per month service fee after 12 months if there are still funds available on it. So, ideally you should spend your available funds within 12 months to avoid the charges.
Some states in the U.S. prohibit cards with service fees, so these ones will receive a different Card with no service fee.
You can't reload the Card, so once you've spent the available funds on it, simply throw it away and request a new one using the payout method in the Account  section of your TopCashback profile.
The Card will arrive with the available funds already on it, so you do not need to confirm you have received it before it's loaded.
The Card should arrive approximately 7-10 days after you make your payout request.
Quick Thoughts
TopCashback has offered a 5% bonus when requesting payout on a virtual Visa gift card for almost two years. That's good if you can make use of it online, but this similar offer for an Amex Reward Card is useful if you'd like an option to redeem in-store rather than online. n.b. I'm a neophyte when it comes to digital wallets, so I'm not sure if you can load virtual VGCs to Google Play, Samsung Pay, etc. to use in-store that way.
Why Are My TopCashback Payout Options Strange?
When requesting payout, you might notice something a little goofy. For example, I currently have $40.28 in payable earnings.
When going to the payout page, the amounts displayed for payment via virtual Visa gift card and American Express Reward Card are different, despite them both offering the same bonus of 5%.
Even more strangely, neither of those amounts represent a 5% bonus. A 5% bonus on $40.28 of payable cashback should come to $42.29. The Amex Reward Card amount of $41.43 suggests a payable amount of $39.46, while the virtual Visa gift card amount of $37.02 suggests a payable amount of $35.26
Those are net differences of $0.82 and $5.02 respectively. Those tie up neatly with a couple of the payable transactions on my account. There's an $0.82 amount relating to a GoDaddy domain registration fee which accounts for the difference for the Amex Reward card. The extra $4.20 for the virtual VGC appears to come from the cashback earned when buying a few discounted Outback Steakhouse gift cards on Living Social.
Why does this happen though? I noticed a similar thing when requesting a payout last month and TopCashback explained it as follows (note that the amounts listed in their reply relate to a previous payment which is why they don't match up with the examples mentioned in the post so far):
Thanks for your message. I can see how this would look confusing, but this is down to 2 of your transactions which have restricted payout methods imposed by the retailers. These transactions are for GoDaddy ($4.81) which and your Amazon gift card sign-up bonus ($15).

If you visit your Payouts page and click the pink text towards the top-left of the page, which reads "Part payout (optional)" you should see the breakdown of your cashback by retailer and you will then see the payout type restrictions of those retailers.

So when you look at this you can then select/de-select the cashback you'd like to withdraw and you can then request your payouts individually in-line with those two restricted transactions.

I know it sounds a bit confusing but I hope this makes sense. But if there's anything else we can do for you please don't hesitate to get back in touch.
As noted in their reply, some retailers place restrictions on how your cashback can be redeemed. If redeeming it as straight cashback (e.g. via PayPal or ACH), you'll get the standard amount. If you want to earn a bonus when requesting payout though, you might not be able to get that on certain portions of your cashback earned.
In my particular example, I could request payment via virtual Visa gift card or Amex Reward Card, but it would mean I'd be left with $5.02 or $0.82 payable cashback respectively on my account. For ease of use, I'll likely just request payment via ACH, but a 5% bonus on a physical Amex Reward Card will probably be worth it for some of you, especially if you have a high cashback balance on your TopCashback account.
In case you're interested, these are the restrictions that GoDaddy and Living Social place on your payout options: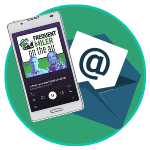 Want to learn more about miles and points?
Subscribe to email updates
 or check out 
our podcast
 on your favorite podcast platform.