A quick Free Trips & Tricks review
I've been throwing free travel tips your way for 20 weeks now if you receive this newsletter via email.  We've gone over a lot of ground in that time so I thought it would make sense to do a quick summary of what we've covered…
Overview
The easiest way to earn free travel is to take advantage of credit card signup offers. It's quite easy to earn hundreds of thousands of points & miles per year this way. And, contrary to popular belief, opening lots of credit cards can often lead to a better credit score rather than a worse one, but only if you take care to protect your credit. Always pay off your credit card bills in full and on time. See "The basics of free travel" for more information.
How to earn points & miles through credit card sign-ups
In the post "Planning your first credit card applications" I gave an overview of all of the steps required to earn points and miles through credit card sign-ups. Please make sure to review that post before signing up for a lot of cards. To get you started, I also described a "Sample credit card plan" that would result in hundreds of thousands of points in a year.
Once you sign up for cards, you need to meet their minimum spend requirements in order to get your sign-up bonus. The post "How to meet minimum spend" can help. Next, you'll need to decide which cards to keep and which to cancel. Before cancelling, it is best to review, "Credit Card Cancellation Strategy – When to cancel cards".
All about points
Choosing the best credit cards can be hard!  The value of points varies tremendously from one program to another.  For an overview of the major US based loyalty programs, please review the following posts:
If you're not interested in signing up for lots of cards, or if you simply want to earn even more points, take a look at "Other ways to earn points."
Flexible Points
For travelers, both airline miles and hotel points can offer fantastic value.  I especially love flexible point programs such as Ultimate Rewards, Starwood Preferred Guest, and Membership Rewards since your points can be moved to various loyalty programs as needed.  Take a look at the following posts to refresh your memory:
Traveling in Style
When traveling (for free, or not) it's nice to be treated well. Obtaining airline and hotel elite status is a great way to ensure just that. Airline status usually means free checked bags, priority boarding, and occasional free upgrades to First Class. Hotel status perks vary from hotel to hotel, but can include free room upgrades, free welcome gifts, free internet, free breakfast, free lounge access, and more. Here are some posts that cover how to get elite status the easy way:
Coming Soon
If you've followed the advice laid out above, you should be well on your way to earning hundreds of thousands of points and miles. Given that, our next step will be to look at how to use those points and miles most effectively. I'll describe ways to get more from your miles than you ever knew was possible. And, we'll look at specific hotel programs to see how to stretch those points further as well. To keep things interesting we'll also discuss other forms of travel including trains, boats and more.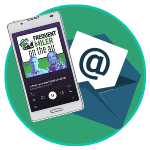 Want to learn more about miles and points?
Subscribe to email updates
 or check out 
our podcast
 on your favorite podcast platform.