In a shipping notification email from UPS this week, I noticed a link advertising "hundreds of ticket deals & offers, updated daily". Always a sucker for a deal, I clicked through and found that UPS has its own shopping portal of sorts, called UPS My Choice Deals. It's actually part shopping portal, part OTA, part local deal site, part Entertainment book, part employee purchasing program….a smorgasboard of deal sites rolled into one. I'm not sure whether or not this is totally new, but I'd never seen or heard of it before, so I decided to poke around a bit and see if there actually are any deals. While the UPS My Choice Deals site won't be my go-to deal hub, I found it fascinating that the same site offering a $3.75 discount on a Super 8 was also offering 15% off a Master's degree at a prestigious unviersity or two….
Clicking through the link in the email brought me to the UPS MyChoice Deals homepage. If you'd like to skip right to checking it out for yourself, here's a link:
UPS My Choice
UPS My Choice is a UPS service that alerts you to UPS deliveries via email. There is a free version and a premium version. The free version provides email updates like when a package is shipped to you, when it is out for delivery, and after it has been scanned as delivered. I've had this free membership for years and I find it convenient for knowing which days I should expect my UPS delivery driver. When I receive an email that a package was shipped, I sometimes find an advertisement / coupon in the email, so I often open it and take a quick look. That's how I discovered UPS MY Choice Deals — it's the ad at the bottom of this email:
UPS My Choice Deals talks a big game
When I initially started checking out the home page, it sounded pretty exciting. Under the "Cash Back" heading below, UPS claims that "We offer more cash back than any other site!".
It also sounded kind of confusing. Cash back sounds like a shopping portal. But Local & National deals sounds like Groupon. Exclusive deals sound sort of like an Entertainment book or employer program. Which is UPS My Choice Deals? It turns out it's a jack of all trades.
In terms of Cash Back, you can click here to read more about how it works (though be aware that the formatting and grammar are a little off at times).
Down the left side of the UPS My Choice Deals website, there is a long list of menus:
That's not even the entire list. I decided to start out with the claim that they offer more cash back than anyone. I quickly compared a few stores and found that while they offer competitive rates for some stores, the rates are lousy for others. For example, at the time of writing, UPS is offering 4% back at Macy's.
That didn't compare favorably to the competition via CashBackMonitor.com:
However, there were other stores where UPS compared more closely with other top payouts. None of the cash back percentage payouts that I checked exceeded what I'd seen elsewhere, though if the payouts change (as they often do with other portals), it may be worth keeping an eye on the UPS My Choice Deals site. For those curious, they have a $10 minimum cash out and they pay by check.
There were some other shopping-related deals that looked more interesting than the portal cash back deals. For example, there was a deal listed for new service with T-Mobile, offering a $100 Visa gift card with each new line activated (and they waive the $25 activation fee):
That appears to be an offer through a third-party called MWorks, but I did some looking around the net and found reports of people successfully receiving both BOGO promotions through T-Mobile and the MWorks rebates like this one. If you're thinking about signing up for T-Mobile service, getting a $100 prepaid Visa card per new line seems like a pretty decent deal.
UPS My Choice Hotel Deals
The "travel" deals section caught my eye for obvious reasons. I checked out the "hotels" section and found that UPS offers both a booking engine (powered by Getaroom.com) and coupons for discounts like "Up to 10% off".
I ran a search for a specific hotel — the Doubletree in Augusta, Georgia. UPS My Choice Deals came up with a rate of $98.80.
That did in fact beat out the best flexibile rate on Hilton.com, which was $109.
Wanting to compare the cancellation policy through UPS versus Hilton's flexible rate, I tried to click through to book on the UPS My Choice portal. Uh-oh….someone else grabbed the last room at the $98 rate. See the error below, which lead to a new price of $102.28:
Since that's still a few bucks lower than the Hilton flexible rate, I tried to book at this new rate. Apparently, I had grossly underestimated the drawing power of the DoubleTree Augusta, as someone yet again grabbed the last room at that rate in the 7 seconds that had passed…..
Maybe I just got unlucky — either that a group of people were busy booking the DoubleTree Augusta at exactly the same time or that hotel inventory just got mis-loaded at an incorrect price. I'm not sure, but in a couple of test searches through the booking engine, I didn't see anything that would cause me to forgo lotalty points, promotions, and free breakfast by failing to book direct. It's not impossible that there is a deal in there somewhere, but I didn't find the diamond in the rough.
That said, some of the coupons below the hotel search might yield actual savings. For example, I pulled up the Super 8 discount code, good for up to 20% off, because I intend to mattress run the current Wyndham promotion (See: Stay twice (cheaply), get a free night anywhere with Wyndham Rewards). I'm not sure if a coupon rate would qualify, but I checked out the rates nonetheless.
As it turns out, the discount did yield the best price and it was cancellable. The best flexible rate I saw through Wyndham Rewards was $67.50 per night. However, through UPS My Choice Deals, the rate was $63.75 and still cancellable. While $3.75 savings isn't anything exciting, the fact remains that there might be opportunities for more significant savings if you get lucky with some of the other partners….though you'll have to search for it. For the record, the coupons shown in this section seemed to closely mirror those shown in the online version of the Entertainment book that was on sale for $6 a couple of months ago (See: (EXPIRED) Cheap travel & dining coupons: $6 for 2018 Entertainment book).
UPS My Choice Deals Local Deals
The local deals section looked very much like a Groupon/Living Social type setup. I put in Phoenix, AZ and got everything from restaurant gift card deals (which turned out to be through restaurant.com) to discounts on Grand Canyon tours and hot air balloon rides.
I imagine that the deals parallel what you'll find via other local deal sites, though I didn't explore this section very much.
Oddball UPS My Choice Deal: 15% off on a Master's degree from Brandeis or GW?
As noted above, there is quite a range of categories for savings. One other category that caught my eye was "education". Under that tab, I saw discounts on a number of online-degree programs, mostly from online-only institutions that I'd never heard of. But one of the options jumped out at me: 15% off on a Master's in Bioinformatics at Brandeis University. Say what?
I clicked through, and sure enough, it claims that there is a 15% per course tuition discount on two Master's degree programs:
It does say that some additional terms & conditions apply. I have no idea what those are. I was unable to find this program when looking at the list of graduate programs on the Brandeis site. However, when I googled "Brandeis MS Bioinformatics", I did get a result directly on the Brandeis website describing this program. It's a 30-credit program, and tuition for each 3-credit class runs $3400:
If that 15% discount holds over all 10 courses required, that's a discount of $5,100. I have no idea if that would actually work out or what the value of an MS in Bioinformatics from Brandeis may be, but I certainly haven't ever seen something like that on TopCashBack or Groupon. What's more, clicking through the link from UPS My Choice Deals actually brings you to a page that offers discounts on specific programs at a number of schools — among them George Washington University, Arizona, Valparaiso and more:
These discounts (and many of the discounts through the UPS My Choice Deals portal) come from a company called BenefitHub, which looks like an employee purchasing program. You obviously don't need to be an employee to use the UPS My Choice Deals site; I don't know how it would all shake out in practice. But I'll hand it to UPS: they have an interesting portal.
Bottom line
I'm not sure when this came about, but UPS created an all-in-one deal site. It's a really strange mix and I'm not sure I see the tie-in with UPS. However, it's worth checking in on it now and then to see if cash back payouts change — and because we don't have datapoints in the Laboratory about what sites might work for a double dip through this portal. There were also rental car discounts, cruise deals, and discounts on auto and medical insurance. In many cases, similar discounts are available elswhere, but it's interesting to see a new option for comparison shopping. And since UPS is offering discounts on everything from yoghurt to Master's degrees, there's no telling what they may add. For that reason, I've got this one smorgas-portal bookmarked to re-examine in the future.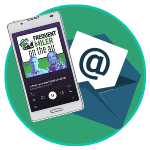 Want to learn more about miles and points?
Subscribe to email updates
 or check out 
our podcast
 on your favorite podcast platform.