In this weekend's Frequent Miler week in review around the web, we've got some details on Marriott's big data breach, how T-Mobile customers can make some extra money each year, booking that elusive LifeMiles redemption, and more. Read on for the weekend recap.
This quote from Marriott about sums this up: "For approximately 327 million of these guests, the information includes some combination of name, mailing address, phone number, email address, passport number, Starwood Preferred Guest account information, date of birth, gender, arrival and departure information, reservation date and communication preferences". Umm…wow. They assure us that credit card information was encrypted, though. I wish the security departments at these companies would realize that I'm much less concerned with a hacker's ability to use one or two of my credit cards (since I won't be liable for fraudulent charges) and much more concerned about them gaining access to my bank logins and identity thanks to having my name, phone number, email address, passport number, date of birth, blood type, fingerprints, hair follicle DNA samples, and whatever other information these companies collect and fail to protect. Krebs on Security has the details.
---
If you just can't get enough Google Fi coverage after our posts this week, see this post from SightDOING about Becky's experiences with Fi so far. One thing that stood out for me: she reports coverage at home that was less reliable than when she had T-Mobile alone. That's concerning for me, especially living in a rural part of upstate New York (I noted a few days ago that while the Pixel 3 has support for band 71 built-in, Fi does not offer band 71 coverage from what I've read). Still, she seems pleased overall and ultimately I will likely agree with her assessment that Fi makes a nice secondary service for traveling abroad. We'll see soon enough as my Pixel shipped yesterday.
---
T-Mobile has launched a new a new bank account with a nice 4% APY yield for T-Mobile customers (on up to $3K). Even the 1% APY for non-customers certainly isn't bad for a checking account that only requires a monthly deposit of $200. See this post from Doctor of Credit (and the comments on that post) for full details.
---
A couple of times recently, Amazon and Hilton have offered the opportunity to convert Hilton points to Amazon account credit at 0.5 cents each. In both instances, this died quickly after a great deal of quick excitement. Vinh at Miles per Day writes about how you should have all your ducks lined up in a row waiting for an opportunity like this. I disagree. I just didn't get excited about the idea of cashing out Hilton points at 0.5c each. Sure, the median value of Hilton points is only around 0.45c each, but the whole point in collecting a variety of types of points is so that you can cherry pick the best redemptions. The fact that the 0.45c is the median means that somewhere around half the time you'll do about as good as this Amazon cashout or better. I find a few opportunities every year to do better than 0.5c per point — I wouldn't sell mine for half a cent each. I understand Vinh's point that cashing out probably beats sitting on hundreds of thousands of points for years, but I rather tend to use hundreds of thousands of Hilton points each year to decent value so I wouldn't jump on this.
---
Last week, I included in our week in review around the web a post from The Lazy Traveler's Handbook about taking advantage of the Citi transfer bonus to Avianca LifeMiles to get good value. Andy is back at it again this week with another good post on the details of booking an award — including how to get the routing you want via email if it doesn't show up online, which might be very useful at times when the site just won't show you what you want.
---
That's it for this week around the web. Check back soon for this week's last chance deals.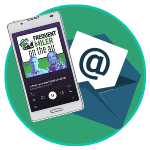 Want to learn more about miles and points?
Subscribe to email updates
 or check out 
our podcast
 on your favorite podcast platform.