The PayPal Business Debit Card is sending out targeted spending offers for  Q1 2020 that are good on spend through March 31, 2020. If you have a PayPal Business Debit Card, it's worth keeping an eye out for the latest offers.
I keep getting emails inviting me to request the PayPal Business Debit Card and I keep ignoring them because I sell on eBay now and then (sometimes quite a bit) and I'm not interested in losing my PayPal account. I've figured that the temptations on the debit card probably aren't worth the inevitable shut down.
That said, for those less risk-averse than I am, Miles Per Day reports getting a targeted offer good for $25 back on every $1,000 in purchases through March 31, 2020. While the terms indicate the promo is uncapped, at least one Miles Per Day reader reports in the comments having had their PayPal account shut down already this month after having using the promo a couple of times. Another reports a freeze on their PayPal account that has made $15K in cash sitting in the account inaccessible. Be aware that there are risks.
On the other hand, there is obviously an opportunity to earn some easy cash back. Getting 2.5% back on all purchases beats the return on many rewards credit cards — and this is a debit card. Of course, you'll only get exactly 2.5% back if you spend in exact increments of $1K, and if you buy things in exact increments of $1K, I imagine your PayPal account is more likely than not to get shut down. Again, that potentially comes with huge inconvenience if you have money in the account as PayPal is known to place a hold on funds for months when freezing / shutting down accounts. Years ago, I had thousands held at PayPal for months just because I had ramped up eBay activity faster than they liked. It was eventually resolved, but I add the warning so nobody gets in over their head.
As per Miles Per Day, here are the terms of his targeted offer:
Cash back offer valid from January 2, 2020, through March 31, 2020. Valid only on a chip-enabled PayPal Business Debit Mastercard. Your account with PayPal must be in good standing through the reward deposit. $25 cash back will be earned when you make $1,000 in purchases with your PayPal Business Debit Mastercard. An additional $25 cash back will be earned for each subsequent $1,000 in purchases. For example, spend $1,000, earn $25. Spend $2,000, earn an additional $25. Transactions that are not eligible for the cash back offer include, but are not limited to: cash withdrawals, cash advances, and the cash-back portion of any point-of-sale purchase. There is no cap on cash back earned based on required spend thresholds. Cash back will be added to the PayPal business account or PayPal Cash Plus account associated with the PayPal Business Debit Card that completed the required purchase amounts within 30 days of achieving required purchase amounts. PayPal reserves the right to cancel, suspend, or modify this cash back offer in part or in its entirety at any time without notice, for any reason at its sole discretion.
There may be other targeted spending offers out there as well, so keep an eye out for an email from PayPal if you have this card.
H/T: Miles Per Day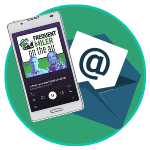 Want to learn more about miles and points?
Subscribe to email updates
 or check out 
our podcast
 on your favorite podcast platform.