Despite being in my early 40s, I've had an AARP membership for 6 years. No, I'm not Benjamin Button – you don't have to be 50 years old to become an AARP member. In fact, you can join from the age of 18.
Many of you might have done that recently when AARP ran a Black Friday promo, offering a 5 year membership for only $45 (i.e. $9 per year), with the potential to get $20 back or 2,000 Membership Rewards via Rakuten and/or a Chase Offer giving $8 back too. Considering the value that an AARP membership can provide, paying $9 per year (or $5 per year after accounting for the portal cashback) is an absolute steal and so I jumped on that offer seeing as my membership was coming up for renewal.
Off the back of that deal, a member of our Frequent Miler Insiders Facebook group asked:
With all the talk about the Black Friday AARP discount/Capital One Portal offer/Chase Offer stack, I'm now an AARP member at the ripe, old age of 36.

Any tips on benefits you really like or deals you take advantage of to maximize your membership or AARP rewards? Thanks!
With our Facebook group having many helpful readers, he got a number of replies and I added a few suggestions of my own. I'm sure he's not the only person wondering how to squeeze even more value out of a newly (or possibly oldly) minted AARP membership, so I thought I'd put together this post sharing many ways in which you can do that.
For reference, you can find a complete list of benefits on the AARP website, but here's a list of 10 AARP member benefits you might not know about.
1) Discounted Gift Cards
AARP sells a number of gift card brands at a discount. You can find all of them here; you'll need to keep scrolling down and then click 'See More Rewards' to continue seeing all of them.
Discounts range from 4% up to 20%, with members having a limit of 5 discounted gift cards per calendar month, so up to 60 per year. Many of these discounted gift card options require the completion of a few tasks like answering quizzes, watching 2 minute videos, etc. That can be worth it though for the savings on offer and points you'll earn – more about those points shortly.
You can buy gift cards for 8% off for Kroger and its affiliate stores, Albertsons and its affiliate stores and Giant Eagle. Large denomination Airbnb gift cards can be had for 4% or 5% off. The 20% discounted cards tend to be for $10 denominations, with the selection rotating each month.
In addition to that, AARP Rewards runs Daily Deals every weekday where they offer 30% off a gift card from 12pm ET to 2pm ET, with the best deals selling out quickly. Those cards are usually for $10 or $20 denominations, but can be a great way to save 30% on $50-$100 of gift cards each month for a variety of brands.
2) Discounts On Local Activities
With an AARP membership you get a free AARP Rewards account. Purchasing a membership earns you points, answering quizzes (even with incorrect answers) and watching videos (e.g. to unlock discounted gift cards) earns you points, etc.
Those points can be redeemed for select gift cards, but the redemption rate is appalling (e.g. 14,000 points for a $5 gift card). A far better redemption option is redeeming AARP Rewards points for savings on local activities and restaurants.
You can find those options here; note that you might need to change the zip code displayed as I don't think it always defaults to the zip code on your account. The great thing is that you can enter any zip code, so if you're traveling elsewhere in the US then you can look up deals for there too.
As far as I can tell, these local deals are powered by Entertainment.com, the company that produces those Entertainment coupon books that you can often buy at a discount. The great thing about the AARP Rewards Local Deals option is that you don't need to buy an Entertainment book to take advantage of these Local Deals. Instead, you can just redeem some of the AARP Rewards points you earned for free, with many options only costing 500 points or so.
Those redemptions vary depending on the attraction, restaurant, etc. Options can include BOGO tickets to museums, BOGO entrees at restaurants, $5 off $25 at restaurants, discounts at major retailers, 20% off cleaning services, etc.
3) 10%-15% Off At Many Restaurants
In addition to the discounted dining options available via the Local Deals listed above, there are a few restaurant groups where you can save 10% at their chains.
For example, Bloomin' Brands owns Outback Steakhouse, Carrabba's and Bonefish Grill and your AARP membership gets you 10% off when dining at their locations. Fleming's is another Bloomin' Brands restaurant chain, but they're not specifically listed as getting 10% off, but it might work there too.
Many Landry's chains – including Landry's itself, Bubba Gump Shrimp Co, Joe's Crab Shack, McCormick & Schmick's and more – also get 10% off. This can be stacked with Landry's gift cards bought for 20% off from Costco or Sam's Club.
Focus Brands – owner of Auntie Anne's, Cinnabon, Jamba Juice, Moe's Southwest Grill, Carvel, McAlister's Deli and Schlotsky's – gives 10% off in-store, in-app and for online orders.
Corner Bakery Cafe gives 10% off, while Denny's gives a Grand Slamming 15% off.
If you ever eat at any of these restaurants, the savings could pay for your AARP membership many times over.
4) Hotel Discounts
A few years ago, my parents visited us from the UK and we surprised them with a trip up to Niagara Falls. We stayed at the Hilton Niagara Falls/Fallsview Hotel & Suites, booking an AARP rate which saved us something like $100 on the cheapest available rate for the few days we were there.
We've used the AARP rate for a few hotel chains since then. While the savings haven't been astronomical, they've still more than covered the membership fee which has made it even more worthwhile.
When selecting the AARP rate on hotel websites, be sure to check the rate terms to make sure that you're eligible for the rate. While AARP rates are often available for all AARP members, I've come across instances where the rate details state that you have to be of a certain age (e.g. 60+) in order to book that rate.
5) Walgreens Savings & Rewards
You can link your AARP membership and myWalgreens accounts here. This partnership gives you:
10% Walgreens Cash Rewards on Walgreens branded health & wellness products
7% Walgreens Cash Rewards on Walgreens branded beauty & personal care products
3% Walgreens Cash Rewards on all other qualifying beauty & personal care products
In the past, Walgreens has occasionally run promotions giving a free AARP membership when spending $x in-store, so that can be another way to save on an AARP membership if you missed out on the Black Friday promo. I haven't heard about that being run in the last year though.
6) British Airways Savings
Somewhat curiously, AARP has a partnership with British Airways offering a discount on paid round trip flights. I say that's somewhat curious seeing as AARP is an organization for US seniors whereas BA is the flag carrier for the UK and they don't seem to have a corresponding partnership with Saga – the sort-of UK equivalent of AARP.
Anyway, the partnership saves you $65 on economy and premium economy round trip flights and $200 on round trip business class flights. A discount on just one round trip economy ticket covers the cost for five years of AARP membership or more.
I believe this AARP discount also stacks with the 10% discount available for Chase British Airways Visa Signature cardholders.
7) Discounts On Attractions
A few years ago my wife and I visited Grand Caverns in Grottoes, VA. (Side note: while the Luray Caverns are massive, impressive and pet-friendly if you can carry your pup in a backpack, the Grand Caverns were almost more impressive due to how close you are to all the formations). The entry fee was $20 per adult, but that got reduced to $17.50 per person courtesy of our AARP membership.
There are other attractions that offer discounts to AARP members, but I'm sure there might be a few employees who might raise an eyebrow at a 20-something person trying to get an AARP discount even if it is legit provided their AARP rate doesn't require that you also be of a certain age.
8) Ticketmaster Discounts: 2 For 1 & More
File this under discounts that AARP offers which even I wasn't aware of until doing some research for this post!
You can find eligible shows on this Ticketmaster landing page. There are a number of different types of deals available:
AARP Member Exclusive Offers
2 For 1 Tickets with passcode TMN241
Me + 3 4-Packs
Up to 50% off tickets with passcode TMNTX
Tickets for $40 & under
The landing page lets you filter for specific ticket types. For example, if you click on the '2 For 1 Tickets' option, it'll display a list of upcoming eligible shows. If you're into CCM, there are Chris Tomlin and MercyMe tickets available. Scott Bradlee's Postmodern Jukebox: A Very Postmodern Christmas in New York is available which I'll be keeping quiet about around my wife seeing as she likes them and I find them more painful to listen to than the Dave Matthews Band (she feels the same way when I listen to Enigma).
It's not only concerts available at 2 For 1 – there are college basketball and hockey games, comedy shows, Sesame Street Live!, the Moulin Rouge touring show and more.
9) Discounted One-Way Avis & Budget Rentals
Most car rental companies offer some kind of AARP discount rental code. Whether or not those will save you money on rentals versus using some other kind of code or using Autoslash is another matter.
Something that does seem to give a definite discount though are one-way rentals from the northeast to southeast. For example, Avis has a generic landing page offering one-way rentals from $38.99 per day or $194.95 per week for economy cars driven from select cities in the northeast to select cities in the southeast (other car sizes are available).
They have a similar landing page for AARP members. The details of the offer seem to be the same, but AARP members benefit from reduced pricing of $34.99 per day or $174.95 per week for economy cars.
10) Exxon Mobil Reward+ Bonus Points
The partnership between AARP and Exxon Mobil isn't the most lucrative of options listed in this post, but if you ever fill up at Exxon or Mobil gas stations, it's worth linking your AARP account to your Exxon Mobil Rewards+ account. That's because AARP members get 1 extra point per gallon on fill-ups and 1 extra point per dollar spent in-store.
If you don't currently have an Exxon Mobil Rewards+ account, signing up via AARP will get you 500 bonus points worth $5.
FAQs
Do I have to be old to join AARP?
Nope! You can be as young as 18 to join AARP.
How Much Does AARP Membership Cost?
It depends on several factors. A key one is membership length – subscribing for five years will give you a cheaper per-year price than renewing year-by-year. AARP often offers even larger discounts during Thanksgiving week. AARP sometimes gives discounts when opting in for auto-renewal too.
Are There Other Ways To Save On AARP Memberships?
Yes, although these can sometimes be targeted or only available at certain times of the year. Walgreens occasionally gives a free AARP membership when spending a certain amount in-store, while there are sometimes Chase Offers giving a percentage back or a fixed-dollar amount when spending $12 or more with AARP.
You can also click through from a shopping portal before subscribing to earn cashback on the membership. You can find the current portal rates here and here.
What Is AARP Rewards?
AARP Rewards is a rewards program run by AARP that offers points for performing activities such as joining and renewing an AARP membership, completing surveys, answering quizzes, watching videos and more.
Those points can then be redeemed for savings on gift cards, local deals, magazines and more.
How Can I Find A List Of AARP Member Benefits?
You can find a complete list of member benefits here. Note that while anyone aged 18+ can join AARP, some benefits are only available for members of a certain age. The 10 benefits listed in this post are available for everyone though, no matter your age.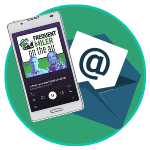 Want to learn more about miles and points?
Subscribe to email updates
 or check out 
our podcast
 on your favorite podcast platform.