Ebates is oncer again offering 10% cash back on hotel stays (which could alternatively be 10x Membership Rewards points) — this time on IHG or Choice Privileges bookings.
The Deal
Earn 10% cashback / 10x Membership Rewards points through Ebates on reservations for:
IHG Hotels:
If you are new to Ebates and want to earn Membership Rewards, you'll want to sign up via this link: www.ebates.com/american-express. (not an affiliate link)
If you are new to Ebates and prefer to earn cash back, you can sign up with our affiliate link with our thanks.
Key Terms
Likely only available today
IHG restrictions:

Cash Back is only available for commissionable IHG rates.
Specially negotiated rates such as IHG friends & Family are not eligible for Cash Back.
Rooms booked and paid for by IHG reward Club Points are not eligible for cash back incentives.

Choice restrictions:

Cash Back is not available on bookings that are made using the following rate plans: employee, friends and family, VIP, Preferred Corporate, CP Reward Night rates and on the purchase or redemption of gift cards.
Quick Thoughts
The nice thing about booking through a portal like Ebates is that you're taken directly to the hotel website to complete your booking, so your stay should qualify for all the usuals (loyalty points, elite benefits, elite credit, etc).
Keep in mind that the Ebates terms often exclude special rates like friends & family rates, but I've anecdotally found that booking the AAA rate can be an eligible rate for cash back. YMMV (a strict reading of the terms might be taken to mean that AAA rates aren't eligible, so it's always possible something could change, but it has worked for me with other chains).
Keep in mind also that there is no way to apply this to a previous booking; you would need to cancel your existing booking and re-book through Ebates today (though you'll of course want to check to make sure rates haven't increased). Cash back posts within a few weeks after completing your stay.
If you have paid bookings to make, this is a solid return and it's great to see it come around repeatedly — kind of allowing you to stack your own Hotels.com Welcome Rewards-like strategy with loyalty points.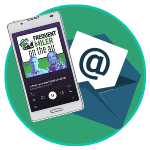 Want to learn more about miles and points?
Subscribe to email updates
 or check out 
our podcast
 on your favorite podcast platform.