I'll admit it: I'm not at all a minimalist. I'm a saver of things to a fault (as my wife, who provides the balance in this area, would surely tell you). The truth is, I could probably use a little KonMari magic in my life (if you're unfamiliar with the cultural phenomenon, KonMari refers to a minimalist approach to tidying up and de-cluttering your home that has gained fame through a book or two and a Netflix show). My wife knows I could use the help de-clutterfying my life. I recently caught her trying to send my Emirates First Class PJs to the thrift shop (Will somebody please tell her that you don't throw away 90,000-mile pajamas??!?). I negotiated an exchange for some shirts I didn't really need any more. But I draw the line at my points: I simply won't discard points based on how much joy they spark right now.
A couple of weeks ago, I read a post written by Dia Adams over at TPG Family (with input from Dan of Points With a Crew and Angelina of Angelina Travels) called, "KonMari Your Miles and Points". The basic advice was this: de-clutter your points balances by burning the points that don't bring you joy. Despite the fun and trendy idea, I disagreed with the concept for miles and points collectors. Having those points on hand for unexpected circumstances is precisely what makes for a strong miles and points strategy.
Earning and burning isn't my thing
Greg wrote a post a while back called, "The earning and burn fallacy: Shall we give hoarding and cherry-picking a try instead?". Written 3.5 years ago, it is still incredibly relevant today. And that post is why I don't feel any pressure at all to "earn and burn". Don't get me wrong, I burn lots of miles and points each year. But I don't seek out opportunities to burn points just to get rid of them in fear of the next big devaluation.
Perhaps there is a balance to consider: I don't generally recommend that people collect points aimlessly, without any idea as to how they would use them. But on the other hand, I do just that to some extent in order to stay diversified. I'd argue that holding points in many programs, even those you don't regularly use, increases the value of all of your points by allowing you to cherry-pick those top redemptions and get the most bang for your buck.
If I KonMaried my points, I'd waste opportunities
Is "KonMari" really a verb? Good Housekeeping tells me it's a made-up word, so we'll say that it can be a verb if I want it to be. According to my friends at Good Housekeeping, here are the key elements to the KonMari method:
Commit yourself to tidying up.
Imagine your ideal lifestyle.
Finish discarding first. Before getting rid of items, sincerely thank each item for serving its purpose.
Tidy by category, not location.
Follow the right order.
Ask yourself it it sparks joy.
Now I'll admit that I've never watched the show or read the book(s?). I will also concede that it makes sense to imagine your travel lifestyle and consider how you choose to collect points through that lens. Still, I think most people will be best served by collecting flexible transferable currencies that allow them the freedom to cherry-pick redemptions as best they can. I think that value gets amplified when you collect multiple points currencies and it doesn't get worse when you keep usable balances in some of the outliers as well.
I think a number of the concepts don't really make sense for award travel — tidy by category? So I should burn all of my hotel points first and then tidy up my airline miles trying to get to said hotels? Or should I do it the other way around? Truth be told, I don't like either strategy all that much.
But it's really #6 that inspired the aforementioned Points Guy post and the one with which I take issue. I don't think you should burn up the points that don't spark joy. I think those are the points most likely to surprise you with unexpected joy, which might just be the best kind.
Finding joy in dusty points
One of the tidbits of advice in the TPG post was, "Ignore Hotel Chains That Don't Align With Your Travel Patterns". On the surface, it seems hard to argue with that. For the past four of five years, if most of your award travel was to small European towns or even mid-major cities and/or you preferred more boutique-like hotel experiences, it would have been downright silly to collect Hyatt points.
Of course, now that Hyatt has acquired Small Luxury Hotels of the World, there are awesome opportunities all over Europe to use Hyatt points at good value in places that look pretty darn cool.
In my case though, Radisson points would definitely be the ones that don't align with my travel patterns. Since the end of the last-night-free era on Radisson redemptions (formerly Club Carlson), I've stayed at 2 Radisson properties — yet I still have the credit card and I spent at the big spend bonus last year of free night certificates for each $10K spent (up to $30K) despite the fact that I only had a loose plan for the points.
As it turned out, plans changed and I hadn't used the points on what I had intended. I ended up with a pile of Radisson points collecting dust. My last two Radisson award stays didn't exactly bring me joy. One was in Lisbon, Portugal. While the hotel was fine, it wasn't really close to any place we wanted to visit. If I had it to do over, I'd have stayed somewhere else.
My stay before that one was at the Radisson Blu in Maputo, Mozambique. I wasn't particularly joyful about my plans for a one-night stay (I was just en route to picking up a cheap Emirates first class fare), but it was literally the only chain hotel in the city. Being totally unfamiliar with Maputo, I was glad to have that option (and while the 70K points required for a night in Mozambique sounded outlandish to me, so did the cash rates). It turned out to be a good decision. I got held up at immigration over a visa issue (long story) and the agent wasn't going to let us enter the country. Thankfully, the Radisson shuttle bus driver walked all the way into the airport and to immigration to find us when he didn't see us at baggage claim. Luckier yet, he was a personable guy who was instrumental in smoothing things over at immigration. So I probably should be joyful that I spent the night in this bed rather than on the floor at Maputo airport.
And yet again, having some Radisson points at the ready is going to come in handy. Before Marriott's category changes last year, I booked a week at the Domes of Elounda. At the time, it was 45K points per night and I was able to buy a travel package good for 120K airline miles and a week at the Domes of Elounda for 390,000 Marriott points (travel packages have since changed dramatically, and while my opinion initially was "it's not that bad", they were pretty bad in hindsight). Today, the Domes of Elounda hotel costs 85,000 points per night (and when peak pricing takes effect later this year, it may cost as much as 100,000 at some times of the year). As it turns out, I'll be arriving in Crete a day ahead of my scheduled check-in at the Domes of Elounda. I'm sure there are some lovely AirBnB properties in Crete or local hotels I could book through the Chase travel portal, but it turns out that the Radisson Blu Beach Resort Milatos Crete isn't far from Domes of Elounda. And it looks really nice. Don't take this one picture for it, check it out on Google.
While my Radisson Rewards points haven't sparked any joy in quite some time, they sparked joy unexpectedly when I stumbled on this place. The pictures reminded me very much of what was once called the Radisson Blu Dubrovnik. That hotel dropped the Radisson brand several years ago, but I had an awesome stay there back in 2015. I'm glad I didn't burn my Radisson points on some airport hotel night just to get rid of them but rather saved them at the ready for when opportunity knocked.
A forgotten transfer bonus yields value
I have focused more energy on earning Amex Membership Rewards points and Chase Ultimate Rewards than on earning Citi ThankYou points. I used up a bunch of ThankYou points over the past year and have only recently begun building the balance back up. Now that Avianca is a Membership Rewards transfer partner, I'm less enthused about ThankYou points, so I didn't have any immediate plans for those points.
However, I have some upcoming travel that I needed to re-book. I typically fly Southwest domestically, but a change in plans meant that I need to fly to an airport that is not served by Southwest. Unfortunately, it isn't served by United at this time of year, either. That left me with Delta and American as my main options. Paid fares weren't terribly expensive — under $200 one way. Unfortunately, I couldn't fly direct, so a British Airways redemption on American would cost me 15,000 miles one-way. Delta wanted 22,500 miles. It seemed like my best option would likely be using Chase Ultimate Rewards points at a value of 1.5c each (just under 13,000 points one-way and I'd earn less than a thousand miles on the paid flight). I then considered using ThankYou points since I can redeem them for 1.25c each towards flights with my Citi Prestige card (note: this benefit will change later this year). Since most of my ThankYou points are earned at 3x or 5x, that's not a bad return. It would cost about 15K points per passenger and I thought that sounded better than using 13K Ultimate Rewards since I value URs a bit more.
However, I figured I'd take a quick check to make sure I wasn't missing a better option. I pulled up JuicyMiles to see my award options quickly. I have to admit, I'm still not sold on the JuicyMiles price point, but I've been using it quite a bit and it definitely saves me time. I was surprised to see a couple of options I hadn't immediately considered.
I quickly saw that I could transfer 14,500 Membership Rewards points (or the same number of Ultimate Rewards, not sure why it's not showing in this screen shot) to Air France / KLM Flying Blue and book the same flights that Delta wanted 22,500 miles for. While miles do expire at Flying Blue if they go unused, they often present better value for flying on Delta than do SkyMiles. I'll note that I knew I could check Flying Blue (or Virgin Atlantic) for a better deal on the Delta flights without using JuicyMiles, I was just glad to save the extra steps to search them separately as that stuff does get time consuming.
But the gem for me in this case was ThankYou points. I had once again forgotten and was once again reminded that Qantas Frequent Flyer can be useful for shorter American Airlines itineraries. Flights that worked well for me were 12,000 Qantas miles and $5.60. Better yet, I had forgotten until I logged in to the ThankYou portal that there is a current point transfer bonus of 25% from ThankYou points to Qantas. Two tickets cost me a total of 20,000 ThankYou points and $11.20. I liked that option a lot better than using ~26K Ultimate Rewards on the same flights. Saving more than enough Hyatt points to pay for a free Hyatt Category 1 night (or a few nights of a bizarro mattress run towards Globalist status) actually did spark joy. But had you asked me a week ago if the points sparked joy, I'd have said not at all. If I'd have burned them because they didn't seem useful to me at the time, it would have cost me more valuable Ultimate Rewards points yesterday.
Make sure you keep your eye on your balances
One big word of warning in holding a number of miles-and-points balances: keep your eye on your points. Greg recently wrote about his Hilton account being hacked and we hear about other similar hacks in various award programs. A real danger of hanging on to large loyalty program balances is the danger of a hacker gaining access and doing the burning for you. Unlike money in your bank account, your points aren't insured and you're likely at the mercy of the program in getting them back. Use a tool like Award Wallet to monitor your loyalty accounts regularly. Whatever joy you get from having points at the ready when you need them will quickly evaporate if you find that account empty when you need it and getting that resolved may not happen as quickly as necessary.
Bottom line
This post isn't new advice from Frequent Miler: the same hoard-and-cherry-pick strategy that Greg put forth a few years ago remains wise today. And just like Greg concluded then, the strategy of hoarding and cherry picking isn't a good one if you'll never get around to using the points. But for me, there is joy in having enough points variety to meet my travel needs without wasting points unnecessarily. I know that if I continue to pound away at this game, I'll eventually spark that joy with all of my points. I'm OK delaying gratification, especially because I know it will help all of my other points spark more joy in the knowledge that I didn't burn more than necessary by tidying up for the sake of reducing clutter. Lucky for me (and I'd argue lucky for my wife as well), the local thrift shop won't take my miles – so hopefully I'll have enough points to pick up a new set of PJs when my wife succeeds in sneaking mine off to be donated some day soon.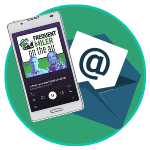 Want to learn more about miles and points?
Subscribe to email updates
 or check out 
our podcast
 on your favorite podcast platform.