Fidelity is offering a super easy $100 bonus when opening a new account (including Cash Management (like a checking account), The Fidelity Account (a simple brokerage / investment account), or a Roth or Traditional IRAs): open a new account using promo code FIDELITY100 and deposit at least $50 and get a $100 bonus. This bonus reportedly posts quickly (terms say within 25 days) and this is about as easy as it gets in terms of a new account bonus. In two-player mode, this should be an easy couple hundred bucks with very low effort.
The Deal
Fidelity is offering a $100 bonus when you open a new account (eligible accounts include The Fidelity Account, Fidelity Cash Management, Roth IRA, or Traditional IRA) and deposit at least $50 within 15 days of opening.
Key Terms
This offer is valid for new or existing Fidelity Brokerage Services LLC ("Fidelity") customers who open and fund a new, eligible Fidelity account with a minimum of $50 on or after October 18, 2021 through Fidelity.com/go/special-offer.
Offer is limited to one account per individual.
In order to receive the $100 bonus award, users must complete the following:
Register for the offer by opening a new, eligible Fidelity account on or after October 18, 2021. The eligible account must be opened through the offer link. Each eligible account has unique features which you should consider prior to opening. This offer does not constitute a recommendation by Fidelity as to which, if any, account is appropriate for your personal situation.
Use the offer code FIDELITY100 to register for the offer.
Fund the account with a minimum of $50 ("net deposit') from an external, non-Fidelity source.
The net deposit at the end of the 15 calendar days after account opening ("the qualification period") must be at least $50.
For purposes of this offer, "net deposits" shall mean total external deposits or transfers (including cash, eligible securities and/or margin debit balance transfers) minus assets withdrawn or transferred out of the accounts within the qualification period.
As a confirmation of your registration, an email will be sent to the email address you provided during the account opening process after the eligible account has been established in good order.
Eligible accounts include The Fidelity Account, Fidelity Cash Management Account, Fidelity Roth IRA, or a Fidelity traditional IRA. No other accounts are eligible for this offer.
For individuals who open a Roth or traditional IRA account, in order to be eligible to contribute to the IRA (traditional or Roth) you will need to have earned income at least equal to any IRA contribution made for 2021. Individuals who max out their contribution for the calendar year are also not eligible for the bonus award. If an individual has no earned income, they will not be eligible to make contributions to the Roth or traditional IRA and as a result not eligible for the bonus award.
Account holders must maintain the bonus award (minus any losses related to trading or market volatility, or margin debit balances) in the account for at least 90 days from the date on which the bonus award is credited to the account. Fidelity may charge accounts that fail to comply with this requirement the cost of the bonus award.
The bonus award will be deposited directly to the eligible account within 10 calendar days after the qualification period. Amounts deposited by you to qualify for the offer and by Fidelity in the form of the bonus award will be initially held in the eligible account's core position. You will be provided information regarding the available core positions for the account type you select during the account opening process. Depending on the account type you select, you may have the option of selecting a money market fund sponsored by a Fidelity affiliate as your core position.
No further investment or trading is required to qualify for the offer.
You could lose money by investing in a money market fund. An investment in a money market fund is not insured or guaranteed by the Federal Deposit Insurance Corporation or any other government agency. Before opening an account and selecting a money market fund as your core position, read the money market fund's prospectus for policies specific to that fund. A copy of this prospectus will be made available to you during the account opening process.
Quick Thoughts
After a pretty good year in terms of bank bonuses in 2020 and a decent start to 2021, I've admittedly gotten a bit lazy in the second half of 2021. This bonus is definitely going to draw me back into the fold. While $100 is on the small end for a bank bonus, this is an extremely low-effort hundred bucks: the only requirement is to open a new account and deposit $50.
You have 15 days to deposit your $50 and then the bonus will post within 10 calendar days thereafter. You must keep the $100 bonus in the account for 90 days from the date it posts to your account (but note that in an investment account you will not need to invest the money beyond the account's core position – it can sit until you are ready to withdraw).
It isn't entirely clear to me whether previous account holders are eligible. I believe they may be after some amount of time, though I'm not sure the waiting period necessary between closing and re-opening. Note that the terms do indicate that you can get one bonus per customer, so you can't open several different accounts for $100 in each.
Importantly, my understanding of the terms is that this bonus is open to current Fidelity customers who open a new eligible account. For instance, I have a Health Savings Account with Fidelity but do not have any of the qualifying account types, so I should be able to open one of the other account types and deposit $50 to get the bonus (and indeed I intend to do so).
It's worth noting that Fidelity sometimes targets customers with non-public offers on its 2% cash back Visa card. For instance, several times this year (including once again recently) I have received a mailer offer for a $150 intro bonus on that card (there is not a publicly-available bonus at the moment), so it could be worth opening an account and depositing $50 not only for the easy hundred bucks from this bonus but also for a bonus on that card if you may eventually want it.
Overall, this is an easy bonus and given the quick 25-day timeline for it to post I can't think of a good reason to pass up the easy money here.
H/T: Doctor of Credit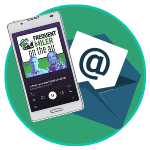 Want to learn more about miles and points?
Subscribe to email updates
 or check out 
our podcast
 on your favorite podcast platform.