American Airlines is out with a nice offer to earn up to 10,000 bonus AAdvantage miles by spending with partners.
The Deal
Earn up to 10,000 bonus miles depending on your transactions with partners
Transact with 2 partners, earn 2,000 bonus miles
Transact with 3 partners, earn 5,000 bonus miles
Transact with all 4 partners, earn 10,000 bonus miles
Partner offers
Earn up to 30 miles per dollar with 1800-Flowers
Earn miles with AAdvantage eShopping
Earn miles with AAdvantage Dining (earn up to 5x + 1,000 miles for new members)
Earn miles with Vinesse (buy 6 bottles of wine for $6.99/bottle + 1 cent shipping and get 3K miles for first shipment)
Key Terms
Promotion valid from May 1 – June 15, 2017
Individual partner terms:
1800-Flowers:
1-800-Flowers.com Qualifying Transaction: during the Promotion Period, American Airlines will market offers (a "1-800-Flowers.com Offer") from 1-800-Flowers.com through American Airlines' marketing channels (AA.com, Email, eSummary statement, etc.). The marketing communication will contain a link to a website that will allow an American Airlines AAdvantage® member to redeem the 1-800-Flowers.com Offer. A redemption of the 1-800-Flowers.com Offer will qualify as a Qualifying Transaction (provided that such order is not subsequently cancelled). American Airlines AAdvantage® members can also redeem the 1-800-Flowers.com Offer by calling 1-800-356-9377, using the promo code ADDV, providing the member's AAdvantage number and consummating the applicable 1-800-Flower Offer. 1-800-Flower Offers are subject to additional restrictions, limitations and blackout periods.
AAdvantage eShopping
AAdvantage eShoppingSM Qualifying Transaction: a minimum purchase amount of $50.00 in a single transaction.
AAdvantage Dining
AAdvantage DiningSM Qualifying Transaction: a minimum purchase amount of $25.00 in a single transaction. (New Members earn 1k bonus miles for first dine of $25 or more, 500 more bonus miles for the next two dines of $25 or more in the first month)
Vinesse
Earn 3,000 miles with your first shipment, 3,000 miles with your second shipment, plus earn 5 miles per dollar spent with every shipment thereafter.
Quick Thoughts
This isn't a bad deal to pursue. With Mother's Day coming up and a current Amex Offer for 1800Flowers, there are lots of opportunities to save big on gifts there. Note the minimum transactions for AAdvantage eShopping ($50) and AAdvantage Dining ($25). Assuming you use an Amex on the 1800 Flowers order with the $15 back on $50 Amex Offer, this means your cost would be:
$35 (net 1800Flowers)
$50 (AAdvantage eShopping)
$25 (AAdvantage Dining)
$42 (Vinesse shipment #1)
$152 spent for 10,000 miles + 3,000 miles (1st wine shipment) + shopping/dining miles
This assumes that you cancel your Vinesse wine membership after the first shipment. That's not a bad deal for buying AA miles — though, in this case, you're not just trading cash for miles — you are hopefully getting things that you would usually buy anyway. I know I would normally spend at least $50 through AA's shopping portal by June 15th. While I may not have used AA Dining, I can easily buy a gift card at a restaurant that I know I'll use eventually. I have some gifts to send, so 1800Flowers will come in handy. The only component that represents money that I wouldn't have otherwise spent is the wine — though I can accept the loss on that $42 for the overall payoff of this deal (and surely a bottle or two of that will get gifted). Whether or not it's worth collecting AA miles totally depends on your redemption patterns. If you are looking to redeem on domestic flights or AA metal in general, be aware that availability has been very poor lately. However, I find the value in AA miles is in using them for international premium cabins on partners — where there are still good values to be had on some very good partner airlines.
See the promotion page for more details on this deal.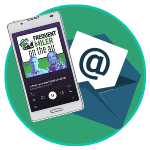 Want to learn more about miles and points?
Subscribe to email updates
 or check out 
our podcast
 on your favorite podcast platform.