Today only, the United MileagePlus Shopping portal is offering increased payouts of as much as 15 miles per dollar at a number of popular stores. Shopping portals represent one of the most lucrative ways to earn miles without flying, but are these increased offers truly exceptional? Let's take a look…
The Offer:
Earn 15 miles per dollar spent at the following list of retailers:
eBags
Old Navy
Banana Republic
Groupon
Neiman Marcus
Nike
Shoebuy
Coach
Under Armour
Sunglass Hut
Rosetta Stone
H&R Block
Sleepy's
Saks OFF Fifth
Lord & Taylor
Key Terms:
This promotion ends tonight — 1/22/17 — at 11:59pm ET.
Are the prices any good?
As always, it pays to shop around to be sure you're getting the best possible deal. If you can find a significantly better deal elsewhere, it may not be worth sacrificing your cash savings for extra miles on the dollar. That said, a price match may enable you to get both the best price and the best payout. Price matching policies and possibilities vary by merchant. Finally, remember that best practice is to do your price comparison shopping in one browser, but do your portal shopping in a totally separate browser. Avoid adding extra buttons and search bars to the browser you use for portal shopping to ensure that you get the payout from the portal you intended.
Stackable with Discover Cash? You betcha!
A number of today's merchants have gift cards available via Discover Cash. You can stretch the value of your Discover Cash beyond face value by redeeming for gift cards effectively offering the following percentages off:
Groupon & Neiman Marcus: 10% off
Old Navy, Banana Republic, and Under Armour: 20% off
Nike: At least 20% off, potentially 25% off
Sunglass Hut: 33% off
Is 15 miles per dollar special?
It always feels great earning double-digit miles without flying, but are these offers truly extraordinary? We can use CashBackMonitor to peek at the historical best portal rates for each of the 15 stores offering 15x:
Ebags.com: Not bad, but not amazing
Ebags pretty frequently has high payouts. In fact, through 3/31, the British Airways portal is also offering 15x Avios, which you may value more or less than United miles depending on your travel patterns. Payouts occasionally spike as high as 18x or 20x, though 15x seems to be the more common "special" for this merchant.
A few things to keep in mind:
1) Though gift card orders arrive instantly, the Frequent Miler Laboratory shows that in most instances, miles will not be paid out when purchasing gift cards. In my experiences, gift card purchases sometimes initially track in the portal but are later clawed back. Purchases made using gift cards usually track as expected.
2) Many portals now specifically exclude cash/miles earning on eBags.com purchases of merchandise from select brands. The United portal lists the following exclusions:
Not eligible on the following brands: AAXA Technologies, Amazon Products, Ankr, Asante, August Home, Canon, Fujifilm, iBoost, Merkury Innovations, Microsoft, Nest, Optoma, Panasonic, Rivacase, Samsung, and Seagate.
3) eBags sometimes prices items higher when you shop through a portal.  Make sure to check eBag prices from another portal before buying.
While we know that terms aren't always enforced as written, my recent experience purchasing products from several of the listed brands from eBags indicates that these exclusions are being enforced.
You may remember that Old Navy was offering 15x through Alaska MileagePlan's shopping portal the other day. That one-day offer is the only other time that Old Navy has offered 15x in the past 15 months. Normal payouts are only 3 or 4 miles per dollar. Old Navy may represent a great opportunity to double-dip! While there isn't any experience in the Frequent Miler Laboratory on the success or failure of buying egift cards through a portal, readers have pointed out that you could buy Old Navy egift cards through the MileagePlus X app. Those gift cards are delivered instantly in the app. The current payout is 10x on Old Navy gift cards in the MPX app. United MileagePlus Explorer credit card holders earn an additional 25% bonus in the MPX app for an effective 12.5 miles per dollar. Stack these deals by using those purchased GCs through the MileagePlusShopping portal for a total of as much as 27.5 miles per dollar! 27.5x on Old Navy is a phenomenal payout compared to the norm!
Very similar to the Old Navy deal above. While we did see a number of 10x one-day specials last summer and fall, the typical payout for Banana Republic is 3-4x. You can also buy GCs through the MPX app and potentially earn as much as 27.5x at Banana Republic.
While Groupon has occasionally offered as much as 12x, this 15x offer marks the highest it has been in the past 15 months. Groupon typically offers 3-6x. Improve the value of this offer with coupon code OFF for $5 off $15, $10 off $20, $20 off $60, or $30 off $100.  Earning 15 miles per dollar while saving 30% can make this deal hot for the right Groupon deal!
Neiman Marcus: Good Deal + Great Timing + Double Dip = Great Deal (maybe Smoking Deal for some)
Note of caution: Deals We Like is reporting egift card orders that were initially fulfilled and then retroactively canceled.  While I haven't yet found similar reports elsewhere, and have ordered many Neiman Marcus gift cards without issue in the past, I would suggest waiting a few days to resell if that is your intention to be sure that your orders go through successfully.
While regular payouts for Neiman Marcus are 6-8x, offers for 12-15x are fairly common with this store. However, according to data reported in the lab and my own personal experience, Neiman Marcus pays out on both the purchase and redemption of gift cards. If you bought gift cards the other day to take advantage of the 15x offer from Alaska MileagePlan (and you also got your $50 back on $200 Amex offer for Neiman Marcus), now is the time to put those gift cards to use! If you haven't yet used the Amex offer or haven't used it on all of your cards, today is a great day to take advantage of it. Even if you don't plan to purchase products today, you could buy a $200 Neiman Marcus gift card to trigger your $50 Amex statement credit and also earn 15 miles per dollar on the full $200. Then, wait for another increased payout offer to double dip on miles when you use your gift card!
Sweetening the pot further, Neiman Marcus is running a gift card event through Tuesday whereby purchases (of merchandise, not gift cards) meeting the following thresholds will earn a free gift card with coupon code NMSHOP:
Qualifying items are marked with gold type that says "Up to a $500 Gift Card".  Note that the coupon code will not work on the purchase of gift cards, but it will work in combination with the use of gift cards.  Note also that the free gift card arrives via email in approximately 8 weeks and must be used within about 60 days of the day you receive it. The expiration date of the gift card is clearly indicated on the promotional gift card and those promotional gift cards otherwise work the same as any other gift card.  In my experience, there is almost always another gift card event within the period of validity of the promotional gift card.  That is to say that if you spent $2,000 today and received a $500 gift card, you would likely get an opportunity to use that $500 gift card during an event where you could then earn another $100 gift card, etc.  These gift card events vary a bit in value and are sometimes a bit better than today's deal (e.g. Spend $2k, get $600) but rarely less.  Full terms of this deal:
ONLINE THROUGH TUESDAY ONLYEARN UP TO A
$500 GIFT CARD*Promo code NMSHOP

| Spend | Gift Card |
| --- | --- |
| $500 | $100 |
| $750 | $150 |
| $1,000 | $200 |
| $2,500 | $500 |

*Promotional Gift Card Details:

When can I use:
• Use code NMSHOP online at checkout before 01/24/17 at 11:59 PM CT.

Where can I use it:
• Domestic online orders only.

Promotional Gift Card Offer:
• The value of your select regular-price order must total at least $500 before shipping, tax, and gift packaging. Sale and reduced-price merchandise do not qualify.
• Your promotional gift card and redemption instructions will be sent within 8 weeks of the promotion expiration date via the email address used when placing the order. The card expires within two months of the issue date indicated on the award email.
• We recommend adding neimanmarcus@neimanmarcusemail.com to your contact list.
• By participating in this promotional gift card event, you agree to have your award emailed to you via the email address provided when placing your order.

Exclusions:
• Not valid on prior purchases, gift registry, NM Gift Cards®, catalog orders, Bergdorf Goodman®, Last Call®, or CUSP®.
• Canceled orders do not qualify.
• International orders do not qualify.
• GiftNow purchases are excluded from this promotion.
• One gift card per customer is allowed; amounts spent above the qualified level will not apply.
• Offer cannot be combined with other gift card offers.
• Select designers excluded. Qualifying items are marked on the site with colored type on their product page.
• Neiman Marcus employees are not eligible for this offer.
• For further assistance, please call 1.888.888.4757.

What happens if I return merchandise:
• Applicable returns will be subtracted from the qualified submitted sales, and any gift card earned may be forfeited or the value reduced. Store returns or exchanges may cause the award to be delayed or forfeited.
Nike: Good Deal
Nike often offers 15x for one-day offers like this (and the offer has reached as high as 21x), usual rates are actually about 6x.
For a chance to really stack your savings, redeem your Discover Cash for more than face value in Nike gift cards. You can currently redeem $40 in Discover Cash for a $50 Nike egift card (20% off).  Plus, Discover currently has a special offer to get a $20 Nike egift card for $15 (25% off).  I believe you can redeem multiple gift cards on a single Nike purchase, meaning that this deal allows you to stack 20% to 25% off with 15 miles per dollar for maximum savings.
Shoebuy normally offers 10-12x with occasional spikes in the 15-20x range. Tyically cash back rates are 12-15%, with offers of 18-21% coming around fairly regularly. That said, 15x is decent for this retailer.
Coach: Good Deal
While I don't know how their prices compare to what you can find by shopping around, 15x is more than double the best mileage rate offered at Coach in the past 15 months. Typical mileage payous are 3-4x. That said, Discover Deals has paid out 10% a number of times in the past year. If you are in your first year of a Discover It card, this will eventually be doubled, meaning that you can earn an effective 20% when a 10% payout is offered. However, the current Discover Deals payout is only 5% — meaning that if you intend to make a purchase now, this deal might be the best you'll see for a while.
Under Armour has offered as much as 20 United miles per dollar, but that's extremely rare. Usually they're closer to 6 miles per dollar. That said, 15% cash back via Discover Deals is fairly common, and if you're in your first year of card ownership, you'll eventually get that amount doubled. So, for those with first year Discover It cards, Discover Deals is a better deal.
Unfortunately the Best Rate History shows the Hilton portal as being best at 14X most of the time, so we don't know what the usual best airline mile rate is. We did see one day in the past year when British Airways was offering 16X and they also offered 15x Alaska MileagePlan miles the other day. The usual cash back rate is 10%, but we've seen as high as 24%.
15x is much better than normal for Sunglass Hut. Typically, the best miles & points payout is 7 Hilton points per dollar, so 15x airline miles is significantly better than average. While cash back has reached as high as 16%, it is more commonly in the 8-10% range, making this payout a solid deal.
However, the real steal here is stacking this with Discover Cash.  You can buy a $30 Sunglass Hut gift card for just $20 in Discover Cash, yielding an effective discount of 33% + 15 miles/dollar. With numbers like those, it might be a bright idea to buy some shades :-).
H&R Block: Run, don't walk! Bad deal!
British Airways typically offers more miles per dollar and is currently paying out 24 Avios per dollar on H&R Block. Cash back rates are commonly 20%. 15 miles is not a deal.
We've only seen 15x one time in the past 15 months (from AAdvantage), but typical payouts are only 3-4 miles or 8-10%. 15x doesn't come around often here.
Lord & Taylor often offers 1 day deals for 12X United miles, but 4X seems to be the most commonly available rate.
Saks Off Fifth now and then offers 15X United miles, but 4X seems to be the most commonly available rate.
Gift Cards?
Can you earn 15X miles when buying gift cards from these stores? Check for recent reader reports on the Frequent Miler Laboratory. As noted above, the MPX app gives you a reliable way to buy GCs for a doule-dip at Old Navy and Banana Republic.
Coupons?
Portals often state that the use of coupons not found on their site will invalidate the offer. In my experience, that's usually not true. With a couple of exceptions, I always try to use the best coupon I can find and have earned the portal miles anyway.
Best of luck maximizing this one-day bonus! Note that these increased payouts end at 11:59pm ET tonight!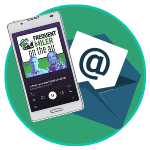 Want to learn more about miles and points?
Subscribe to email updates
 or check out 
our podcast
 on your favorite podcast platform.