A new Amex Offer came out recently that's good for 20% back on a single purchase at uShip.com up to $100 back. This could be a great deal if you have something large to ship.
The Deal
A new Amex Offer came out recently that is good for 20% back on a single purchase at uShip.com up to $100 back
Key Terms
Expires 9/30/21
Valid on a single purchase
Quick Thoughts
For years before I worked at Frequent Miler, I did a lot of product resale. I started with small items on Amazon and eBay but eventually leveled up to selling things like pellet and wood stoves, high-end grills, kitchen appliances, motorcycles, kayaks, and stuff like (and not like) that. I found that shipping that stuff was surprisingly more affordable than I expected (a couple of times I shipped things like wood / pellet stoves that were a couple hundred pounds all the way across the country for a couple hundred bucks). Sometimes it is luck of the draw in terms of who is able to bid on your job and you might not get good bids, other times you get lucky and have someone who will already be in your area who is happy to pick up a few extra bucks. The short story is that I've had many positive experiences through uShip. In fact, I've only ever had one item get damaged and it was probably my fault (I think I must not have insured it because I never made a claim). More importantly, one time I cheaped out and decided to deliver a $4,000+ item myself rather than pay someone via uShip and I didn't strap it properly and broke it en route (and I didn't find out until I arrived 7hrs away. Ugh.). Wish I had used uShip that time! Quality likely varies considerably – I always checked reviews before booking a job (though in some cases you're just dealing with a logistics company that books your item on an interline truck route and customer service can be very limited).
Note that if you have a business with a warehouse and existing relationships with trucking companies, uShip probably isn't going to save you anything most of the time, but it can be a good resource for the layman looking to ship a large item now and then (and in fact sometimes they even beat the quotes I got from local trucking companies for the same interline shipments). Getting 20% back could make for a good deal.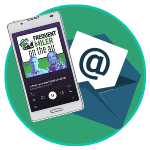 Want to learn more about miles and points?
Subscribe to email updates
 or check out 
our podcast
 on your favorite podcast platform.