Update 8/22: Several readers have correctly pointed out that, because there's no option to not get a free trial for the first month, the $9 Amex offer will expire before the first $9.99 charge hits your card. It's unknown (but contrary to the terms) whether or not the miles would be triggered by the $0 trial…but my guess is no. You can still get 2,000 AA miles/LP's by just paying $9.99 for the second month after the free trial ends, which is a good value at .5 cents per point. You can also scroll to bottom of the page and try to buy products to trigger the offer (as a couple of readers did…click here to see comments). The terms state that the offer is only good for the initial sign-up, so YMMV as to whether or not purchasing products would trigger the 2,000 miles (my guess is that this is much more likely than the free trial).
There is an easy stack out in the wild for those chasing American Airlines AAdvantage miles and Loyalty Points: the current AAdvantage eShopping payout for children's learning app HOMER gives you 2,000 miles/Loyalty Points with first purchase. A monthly subscription costs $9.99 per month — and there is an Amex Offer that should easily stack for $9 back on $9 or more up to two times, meaning that you only stand to be out $0.99 to pick up easy miles if you can complete the stack.
The Deal Part 1: AAdvantage eShopping
The AAdvantage eShopping portal is currently offering 2,000 miles when you sign up at HOMER Learning, which is a children's educational app.
Link to this offer on AAdvantage eShopping
This payout is relatively new — according to the CashBackMonitor's 15-month rate history, it looks like HOMER was only recently added to airline portals. It's worth noting though that HOMER shows up under a few different name listings at CashBackMonitor (see all three listings here) — it looks like it has been available via some cash back portals during that time (previously as high as $40 back from TopCashBack).
Still, if you're in the hunt for armchair AA status, the AAdvantage portal might make the most sense based on current payouts.
The Deal Part 2: Stacking Amex Offer
There is currently a targeted Amex Offer out that's good for $9 back on $9 or more at the HOMER Learning app (enrollment required). I have this offer on several of my cards.
The nice thing here is that this stacks almost perfectly with the cost of a monthly membership, which is $9.99.
Essentially, you should be at a net cost of about $1 to pick up 2,000 American Airlines miles / loyalty points.
Incidentally, my 4 year old has been using the HOMER app for quite some time and he really seems to enjoy it. We previously bought a year-long subscription with a different Amex Offer, but I am buying a one-month subscription again here for the miles.
Bottom line
This is an easy little stack if you're targeted for the Amex Offer, even if you don't really care about using the HOMER app. If you have kids, maybe they'll even enjoy it half as much as you do.
H/T: Reader Oren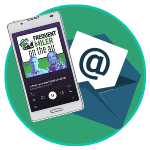 Want to learn more about miles and points?
Subscribe to email updates
 or check out 
our podcast
 on your favorite podcast platform.