Dosh has long offered 2% cashback when paying with a linked card at Office Depot/OfficeMax with a linked card. There have been limits to its daily usefulness though as cashback has been capped at $10 per day, but there's a new targeted offer that can make this earning opportunity much more lucrative.
The Deal
Earn 4% cashback when paying with a Dosh-linked card at Office Depot/OfficeMax.
If you're new to Dosh, feel free to sign up using one of our referral links. We'll earn $10 when you sign up, connect and verify your first card and make a purchase with a Dosh merchant. However, I'm not entirely sure what you'll receive as a signup bonus. It used to be $5, then they reduced it to $1, but I'm not sure if it's gone back up now or not.
Key Terms
Expires August 4, 2022.
$100 maximum cashback per day
Cash back not valid on gift card purchases
Valid only at participating locations
Offers are redeemable as long as available in the Dosh app. Check the app before making a purchase.
Quick Thoughts
This appears to be a targeted offer because I'm not seeing any listing for Office Depot on my Dosh account despite not being too far from a couple of their stores.
If you are targeted for this though, it's a great deal. Not only is the normal cashback rate of 2% doubled, but the cashback limit per day is significantly higher. With the 2% offer, you're limited to $10 cashback per day which means it's only valid on up to $500 of spend per day. With this 4% offer, the $100 cashback limit means it's good on up to $2,500 of spend per day.
This earning opportunity can be stacked in a few ways. If you have a Chase Ink Cash or Ink Plus card, linking those cards with Dosh and paying with those means you'll earn 5x Ultimate Rewards. Alternatively – or in addition to if you're targeted – there's an Office Depot/OfficeMax Chase Offer giving 10% back on up to $80 of spend, so that's an extra $8 cashback you can earn on your purchase.
The other particularly notable deal at the time of writing this post is that Office Depot/OfficeMax is currently giving $15 off when buying $300+ worth of Visa gift cards. That's a negative cost deal as it is, so add on 4% cashback from Dosh, 5x Ultimate Rewards and/or $8 back from the Chase Offer and you've got a lucrative stacking opportunity.
Be aware that buying gift cards with a Dosh-linked card does risk closure of your Dosh account though. Many people have reported having their Dosh account closed over the past year as a result of many $398.90 purchases (i.e. the cost of two $200 Visa or Mastercard gift cards during the $15 off $300 promotions when also taking into account the card purchase fees.) With this 4% cashback deal from Dosh, it might be best to throw in a few extra $200 gift cards to your basket. Although you'll only get the $15 discount once per transaction from Office Depot/OfficeMax, the 4% cashback on up to $2,500 of spend would more than offset the purchase fees of those cards, thereby still giving you negative cost 5x spending. The risk with that is that Dosh might subsequently ask for receipts of large transactions as proof that you didn't buy gift cards. If they did that, your cashback would be clawed back and your account could still end up being closed anyway, so do this at your own risk.
h/t Jordan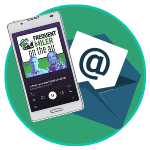 Want to learn more about miles and points?
Subscribe to email updates
 or check out 
our podcast
 on your favorite podcast platform.