Avianca is offering a 25% bonus on conversions from several partners (mostly hotel rewards programs) to LifeMiles. By transferring hotel points to LifeMiles, you would receive 25% more LifeMiles than the typical conversion with Starwood, Marriott, Hilton, IHG, Wyndham Rewards, Le Club Accor, or several foreign bank programs. You can see the full list here at the promotion page.
The Offer
25% bonus when converting certain partner points to LifeMiles
Partial List of Participating Partners
See a partial list of the transfer partners and rates before 25% bonus below.
Quick Thoughts
Most of the transfer partners do not present particularly good value, with the exception of SPG/Marriott.
SPG
SPG could be attractive due to the 1:1 transfer ratio and Starwood's automatic bonus of 5,000 miles for every 20,000 Starpoints transferred (standard with SPG airline transfers). Normally, 20,000 Starpoints become 25,000 LifeMiles. After the 25% transfer bonus, you should receive 31,250 total LifeMiles.
Marriott
The rate on smaller transfers from Marriott is downright poor. For example, 20K Marriott points become just 3.5K LifeMiles. You would be better off moving 18K Marriott points to Starwood and receiving 6K Starpoints, which could then be transferred to Avianca for 6K Lifemiles before the 25% bonus. If you're just looking to top off an account with a few thousand miles, Marriott is not the way to go.
However, Marriott Travel Packages can provide great value. We've written extensively about Marriott Travel Packages in the past and their terrific value. When there are bonuses like this, that value only increases.
Unfortunately, LifeMiles doesn't receive the best transfer ratio of the Marriott Travel Packages, but the bonus will make it a bit better than pictured:
As you can see, 270,000 Marriott Rewards points (or 90K Starpoints moved to Marriott) would get you a 7-night Category 1-5 certificate and 85,000 LifeMiles before the bonus. After the 25% bonus, you should receive a total of 106,250 LifeMiles. Along with the 7-night certificate, that's not bad. It's conversely not particularly good as you can redeem the same number of Marriott points for packages that include 120K miles with many other partners (including American, Alaska, Delta, Air Canada, British Airways) or 132K United Miles. Through June 15th, American is also having a transfer bonus, which we wrote about here (after the 25% bonus, you would receive 150K American miles). Whether or not the LifeMiles transfer makes more sense will depend on your travel plans.
Are you sure the 25% bonus is on top of the travel packages/SPG bonus?
When we post hotel point transfer bonuses, a few readers normally ask if we're sure that the 25% bonus is on top of the bonus 5K that Starwood grants when transferring 20K Starpoints or on top of the miles from the Marriott Travel Packages. I'm always hesitant to offer a guarantee on something over which I have no personal control, so the short answer is that "I'm pretty sure." As I've not heard any stories of people not getting the 25% bonus in these scenarios, I am very confident that you'll get your 25% bonus on top of the normal 5K Starpoints bonus or the Marriott Travel Packages.
Final Thoughts
If you're just looking to top off an account for an award and you have hotel points sitting around that might expire unused, transferring to LifeMiles is better than letter them expire. However, the only options to truly consider for large-quantity transfers would be SPG and Marriott. Depending on your travel plans, these bonuses could be useful.
If you plan to take advantage of this offer, what do you plan to do with the LifeMiles? Let us know in the comments.
H/T: Doctor of Credit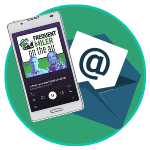 Want to learn more about miles and points?
Subscribe to email updates
 or check out 
our podcast
 on your favorite podcast platform.