Those looking to buy a new unlocked Google Pixel 3 or Pixel 3 XL can currently get $300 off through Google Express. Stacked with portal cash and/or a new user discount, that could make for a decent (though not amazing) deal on a great phone (that is fully compatible with Google Fi, which is excellent for travel).
The Deal
Get $300 off on the following Google Pixel phones via Google Express:
Quick Thoughts
I personally have the Pixel 3 XL. I bought it during Google Fi's crazy sale last winter, intending to sell it after keeping it active for the minimum amount of time (thereby getting a decent discount on some travel gift cards). In the end, my wife and I liked the phone too much to part with it. We really enjoy its camera.
It is also quite good in low light and for night time cityscapes.
And of course the Google Assistant comes up with plenty of suggested edits of its own.
But beyond the camera, the phone is plenty zippy and provides a smooth experience. As someone who over the years has owned various flagship phones from LG, Motorola, HTC, OnePlus, Huawei, and Samsung, I'd say that the Pixel 3 XL is the best experience I've had with a phone. And that's despite the fact that I've been a total holdout on buying a phone that doesn't have a microSD slot and who was turned off by the lack of a headphone jack since I sometimes want better quality audio than what bluetooth can provide.
All that said, I never would have spent a thousand dollars on a phone if it hadn't come with a thousand dollars in travel gift cards, and I'd have trouble justifying $700 on a phone knowing that I can get a "good enough" experience by buying a generation or two behind for half the cost (or less). I personally prefer to keep too much music on my phone to realistically consider the 64GB options and I just couldn't hop on board for $600 I don't think. And I think Greg switched back to his iPhone from the Pixel (See: iPhone withdrawal symptoms when switching to Android Pixel and My full retreat back to iPhone-land).
That said, if I were in the market to spend $600 on a phone, it would take a lot to convince me not to buy a Pixel after having owned mine. So take that for what it's worth. I'm a happy owner, I'm just a cheapskate. If you're a cheapskate, too, consider buying with a credit card that offers price protection. The price on these is bound to drop when new models are released and you might be able to get some money back.
Of course, some may be interested in a Pixel 3 / 3XL for the convenience of using it with Google Fi. After my last two trips abroad and using the Pixel with Fi side-by-side with phones on T-Mobile, I can firmly stand in the Fi camp. While T-Mobile has worked for me before in terms of getting an Uber or keeping up with email, there's no doubt that getting comparable speed to what you experience at home for no fee beyond what you ordinarily pay for data ($10 per GB up to 6GB, then "free" — unless you exceed 15GB, in which case you pay $10 per GB again for full speed). For more on Greg's experiences with Google Fi, see: My Google Fi Experience So Far.
As noted at the top, you can stack this deal  little bit: new Google Express customers can get 20% off their first order (up to $20 off, so you'll only get $20 off here). Further, you should be able to shop through portal Giving Assistant for 4% back. I personally haven't had great luck with that portal and typically avoid it, but it's definitely worth a shot for 4% back on a big purchase here.
H/T: Doctor of Credit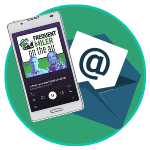 Want to learn more about miles and points?
Subscribe to email updates
 or check out 
our podcast
 on your favorite podcast platform.