Radisson Americas is offering its latest "Treat Yourself Thursday" deal today, which is advertised to be 50% off your stay of two, three, or four nights. This deal is only available in the Radisson Americas app and unfortunately it only includes select properties and it is kind of difficult to browse those locations — but if the stars align, you can probably get a good deal as long as you can book today (8/18) and stay by 9/30/22. Just skip going to the promo landing page so you can skip 20-30 minutes of wasted time (outlined below).
The Deal
Radisson Americas is offering 50% off on stays of 2, 3, or 4 nights booked in the app today only (8/18/22) for stays by September 30, 2022 at select properties
Key Terms
8/18/22 only
Must book in the app
Valid for stays until 9/30/22
Quick Thoughts
As noted above, this deal only applies to select Radisson Americas properties. For instance, while there are several Radisson properties in New York State, I don't think any are participating.
I say that I don't think any in New York State are participating because it wasn't easy to sort the list at first glance. There is one long list of properties listed alphabetically by city on the landing page or you can choose the country and then scroll a list of cities that isn't listed alphabetically or by state. On the main landing page for the promotion in the app, you can't search by city name, you just have to scroll the list, whereas once you've entered a country, you can type in a city — but it will only populate a result if there is a participating property there. And it lists the cities here also, but not in any sort of sensical order.
And there's no search radius beyond the city you choose if you search from that promo landing page. So, for example, if you search "Chicago", you won't know that in addition to the Radisson Blu Aqua, the Country Inn & Suites in Schaumburg is also participating unless you think to also search Schaumburg. You might try Charleston and see it isn't in the list but not think to also search North Charleston (where there is a participating property). I wouldn't necessarily know where I should be searching since I don't have Radisson's footprint memorized.
However, you can skip the 20 minutes I just spent being frustrated by the promo landing page by just using the main search function on the home page in the app. It is going to show you "Member" rates by default, but if you notice the "Standard" tab to the left, that will have the "50% off" rates. It looks like math isn't their strong suit when you see $66 vs $102.50 until you realize that $102.50 is discounted 10% from the standard rate — and that $66 is indeed about 50% off the standard rate (in fact slight more than 50%).
Overall, I wouldn't expect screaming deals in this sale, but you may find something decent if you need a multi-night stay at a participating property. Keep in mind these prices are valid today only (8/18), but rates are still flexible with the 50% off promotion.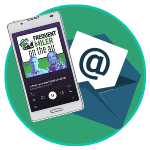 Want to learn more about miles and points?
Subscribe to email updates
 or check out 
our podcast
 on your favorite podcast platform.