We recently shared some ways you can boost your Acorns balance with some of their Found Money partners that don't require you to make a purchase.
When it comes to making purchases though, there are many other Found Money partners worth checking out. We've produced a list below of more than 60 retailers and service providers; with these partners you'll either earn the same or more cashback with the Acorns Found Money program than you would by going through a cashback portal.
You may be particularly interested in our findings regarding Airbnb, Hilton, Sam's Club, Upside and Zappos.
There are quite a few things to bear in mind before we proceed:
How The List Was Put Together
The cashback rates for Found Money partners were compared to the best rates for those same retailers on Cashback Monitor. If they matched or were higher than the best rate, they were included in the list below.
Cashback portal rates fluctuate, so there's a good chance that on any given day one or more of these retailers will have a higher rate on a cashback or miles/points portal than through Acorns Found Money. Be sure to compare rates on both Acorns and Cashback Monitor to ensure you're getting the best return.
Payable Cashback Is Better Than Non-Payable
One cashback portal might have a higher rate than another, but they might also have a minimum payout amount which could mean you'll never see your money.
I love Top Cashback as there's no minimum payout amount and they consistently offer very high rates. On the other hand, I've had ~$14 stuck in my iConsumer account for almost a year as they have a minimum $25 payout. In my opinion, a 10% cashback rate you'll definitely receive is better than a 15% rate you might never be able to cash out.
Read The Terms
It's always good to read any applicable terms and/or exclusions before using Acorns Found Money or any other cashback portal.
For example, some Acorns Found Money partners require that you use an Acorns-linked card; you'll therefore need to link that card to your account before making a purchase. That's something you don't need to do with other cashback portals, other than with in-store offers.
Non-Portal Partnerships
There are lots of different portal options out there – Acorns Found Money, cashback portals and points/miles portals. In nearly all cases, one of those portals will offer the best return on a purchase.
There are exceptions to this rule though. For example, we've listed SoFi student loans below as Acorns Found Money has the highest cashback rate out of any portal. However, there's a separate SoFi/JetBlue partnership that will likely offer a better return but which isn't a standard portal partnership.
These other deals don't show up on Cashback Monitor, so there might be similar scenarios with other retailers where you can get a better return than through Acorns Found Money. If that's the case, let us know in the comments below and we'll update the post to include those.
Ongoing Fees
Acorns charges $1 per month on investment balances under $1 million. Choosing a higher cashback rate with a Found Money partner might be worth it, but not if fees will eat up that extra cashback.
Having said that, if you already have money invested with Acorns then you'd be paying that $1 fee each month anyway. As always, calculate the best cashback return for your personal circumstances.
Points/Miles Valuations
In some cases, how you value airline miles/hotel points will affect whether Acorns Found Money offers the best rate. For example, at the time of writing the best offers for 1-800-Flowers were:
Acorns Found Money – $10
Top Cashback – 20%
United MileagePlus portal – 15 miles
For transactions under $50, Acorns Found Money offers a better return than Top Cashback. The comparison with United is more tricky though as it depends on how you value them. At a valuation of 1.4cpp (the Frequent Miler Reasonable Redemption Value), the United portal would offer the best return for transactions of $47.65 or more. Your valuation of United miles might be different though, so that'd affect the threshold for which portal would be better for a specific transaction amount.
Invested Vs Cashback Vs Miles/Points
"Cashback" you earn with Acorns Found Money is invested in whatever way you set up your account when enrolling (see Nick's post for more about this). That means the amount you earn could rise or fall with market fluctuations, something that won't happen with standard cashback or miles/points portals.
Money earned through Found Money partners therefore has less flexibility than standard cashback, but it might be a helpful savings tool if it means you're more likely to keep the money invested than spend it on other stuff.
With all that said, here are the Acorns Found Money partners with the highest/equal highest cashback rate.
1-800-Flowers – $10
This offer has a limit of $40 earned per month. As mentioned earlier in the post, clicking through from Found Money only makes sense on lower cost purchases, otherwise cashback/airline portals will be better.
Airbnb – 1.8%
The Delta/Airbnb partnership might be better option depending on how you value SkyMiles and if they're offering bonus miles.
I'm not sure yet whether transactions paid for with Airbnb gift cards track through Found Money. They always have through the Delta/Airbnb portal and I've now made a few reservations via Found Money, but those stays aren't until next month and so nothing's tracked yet.
Avon – $10
This is the same rate that you can get through ShopAtHome. At the time of writing, that appears to be the only other portal where you can earn cashback for becoming an Avon rep.
I've no idea if this is actually an option, but you might be able to earn more by being referred by an existing Avon rep.
Bespoke Post – $10
This retailer doesn't appear to be on any other cashback portal. You might be able to get a discount off your first purchase, but I wasn't able to find a promo code.
Billshark – $10
This is another service provider that's not on any other portals. Check out our guide to free money from Found Money for a bit more about how Billshark works.
Bioclarity – 10%
This is the same rate as a couple of other portals.
Birchbox – $10
This requires a three month subscription which currently costs $30, so it's effectively 33% cashback. That's far higher than any other cashback portal; the only other option that's close is British Airways Mall which offers 500 Avios.
Blinds.com – 4%
For the past year, the best rate through a cashback portal has tended to be 3%, although it has gone as high as 5%. Depending on how you value Ultimate Rewards and Amtrak Guest Rewards, those portals might offer a better return as they offer 3 points and 2 points respectively.
Blooom – $50
This partner doesn't appear on any other portals.
Blue Apron – $30
The $30 invested is double the standard highest cashback rate on other portals, although it's occasionally gone as high as $20-$22.50 in the past year. Depending on how you value miles for different airlines, that could be a better option.
Casper – $75
This retailer's only on a couple of other cashback portals, with 4% being the highest rate (although it has gone up to 6% on occasion). Keep an eye on the terms though, as there's currently a minimum purchase requirement of $500 in order to get the $75.
Commonbond – $100
The $100 is awarded when refinancing a student loan and doesn't appear on any other portals.
Deck of Scarlet – $7
You'll get a slightly higher rate with Found Money than ShopAtHome ($6) and the same as Swagbucks (700 Swagbucks = $7).
Dot & Bo – 5%
This 5% rate is the same as several other cashback portals.
Earnest – $100
Earnest is another company offering $100 for student loan refinancing and which doesn't seem to be on any other portals.
Ethos – $5
Ethos is one of the companies offering Found Money without a purchase requirement, as the $5 is payable for simply getting a life insurance quote.
Expedia – 4%
Found Money only offers the 4% on hotel stays, whereas most portals offer cashback on a range of options such as car rentals, cruises, etc. That said, 4% for hotel stays appears to be the joint highest rate you can get.
FabFitFun – $10
This is the joint highest rate you can get as Top Cashback also offers $10 back.
Fanatics – 5%
Whether Found Money offers the highest rate for this retailer will depend on what day you compare rates. That's because the rate on other portals has fluctuated from as low as 2% to as high as 10% over the past year.
FandangoNOW – 5%
The 5% rate is the joint highest rate that you can get.
Fans Edge – 5%
Most portals only offer 1-2% for Fans Edge, although Sunshine Rewards also offers 5%.
Framebridge – $15
This is the highest payout unless your order is over $375 as other portals offer cashback rather than a flat amount.
Fubo TV – $15
Fubo TV is only listed on one other portal and, at only $3, is much lower than the $15 you can get through Acorns Found Money.
Gamefly – $20
All other portals that list Gamefly offer a percentage rather than a flat amount. The $20 is much higher than you'll get through one of those portals, but it might not be easy.
That's because you won't earn the $20 for a free trial. It's not entirely clear how to subscribe without a free trial as that's the only option I could find – please share in comments below if you know how to bypass the need for a free trial and go directly to a paid Gamefly subscription.
Gentleman's Box – $15
You'll earn $15 for subscribing to a Signature Box. The only alternative cashback option is Ebates for $5 but they also have a coupon code for $7.50 off your first month's subscription, effectively giving you a $12.50 discount.
It might be possible to click through from Acorns and use the Ebates code, although there's no guarantee the cashback would track seeing as the code didn't come from Acorns.
Grammarly – $10
The $10 payout matches what you can get from Simply Best Coupons.
Haven Life – $5
You'll get the $5 without needing to make a purchase as it's awarded for getting a life insurance quote. Haven Life is on Coupon Cactus but their payout is slightly lower at $4.80.
Headspace – 10%
Headspace is a meditation app for which you pay a subscription and doesn't appear on other portals.
Hilton – 6%
For me, Hilton is one of the partners where Found Money really shines. In theory, the 6% rate is lower than a couple of other portals, but with a key factor to consider.
Ebates and Top Cashback are currently offering 12% and 10% respectively, but only for non-members or Blue members of Hilton Honors. If you have Silver, Gold or Diamond status (which most of us likely do from one credit card or another), you'll only earn 1%.
Found Money does have an important condition to consider – you'll only earn 6% for stays at DoubleTree, Embassy Suites by Hilton, Hilton, Hilton Garden Inn and Hilton Grand Vacations properties.
John Hancock Vitality – $5
This is another partner offering cashback for only getting a quote – no purchase is required. It also doesn't appear on any other portals.
Latigo Coffee – $10
Latigo Coffee is a coffee subscription service that's not on other cashback portals.
LendKey – $100
The $100 is payable for refinancing your student loans and doesn't appear to be a partner on any other portal.
Levi's – 5%
The 5% rate is the joint highest standard rate, although it frequently goes higher on other sites.
LifeLock – $25
This should result in a $15.01 profit if you cancel before your second month's payment. Having said that, the United MileagePlus portal offers 13,000 miles when you enroll in LifeLock and are earned after 31 days.
MVMT Watches – 10%
10% is the joint highest rate with a couple of other sites.
MeUndies – 20%
At 20%, the rate from Acorns Found Money is at least double that offered elsewhere.
Mizzen + Main – 10%
Similar to MeUndies, the 10% rate for Mizzen + Main is at least double the rate that other portals are offering.
MyAutoLoan – $10
This auto loan provider isn't on any other cashback sites.
NatureBox – $10
The $10 you'll earn for subscribing to NatureBox is double the next highest rate.
OppLoans – $100
OppLoans only appears on a couple of other portals and at a much lower rate – ShopAtHome for $30 and Swagbucks for $35 (3,500 Swagbucks).
Parachute Home – $25
The $25 is awarded on purchases of $200+. If you spend exactly $200, that represents a 12.5% cashback rate – much higher than the next highest rate (5% from UPromise).
Personalization Universe – $10
Acorns offers a $10 flat rate versus the percentage you'll earn from cashback portals. If your purchase is less than $66.67, you'll earn more by clicking through from Acorns.
Quip – $10
Quip only appears on ShopAtHome which offers $8.
Robb Vices – $30
Robb Vices offers various different subscriptions which pay out different amounts on different cashback portals. Found Money offers the best return for a 3 month subscription.
Sam's Club Membership – $10
This is a card-linked offer, so it stacks with other Sam's Club membership offers so long as it's bought directly from them. Greg unexpectedly earned the $10 which made his membership a moneymaker.
Sam's Club Purchases – $1
The $1 is earned on each transaction of $50+ and, so long as it tracks, could help offset fees for certain products you can buy in-store. As it's a card-linked offer, you should earn the $1 for in-store purchases or stack it with portal cashback for online purchases.
Shop NHL – 5%
This retailer's only on a couple of other portals, with 1% being the next highest alternative.
SiriusXM – $10
The $10 payout is the joint highest with other portals.
Skillshare – $5
Skillshare isn't on any other cashback sites, so $5 with Found Money seems to be the highest rate you can currently earn.
Sock Fancy – $5
Coupon Cactus is the only other portal offering cashback for Sock Fancy and they only offer 3% versus $5 from Found Money.
SoFi Student Loans – $100
This is the highest rate you can get from a portal, but can probably do better with their JetBlue partnership.
SoFi Personal Loans – $100
The only other site offering cashback for SoFi personal loans is Coupon Cactus and their payout is only $24.
Spartan Race – 10%
10% is the joint highest rate with a couple of other portals. I think I've seen some Spartan Races on Groupon in the past, so that might be a cheaper way of paying for your race entry if it's available.
Stance – 10%
Stance is on a number of different portals, but the highest rates are 7% or 5 miles.
Talkspace – $40
$40 is double the next highest rate available from BeFrugal.
Ticketmaster – 1%
The 1% rate is only for primary ticket sales and matches the rate you'll get on pretty much every other cashback portal that has Ticketmaster as a partner.
Tommy John – $10
The highest rate on Top Cashback is 2%, so Found Money will give you the highest return for transactions under $500.
Uber Eats Driver – $10
$10 is the most you'll get from a portal, but there might be better options elsewhere – see this post for further ideas.
Upside Business Travel – $100
Nick's written about this offer before, so check that out for more details about how Upside works.
Warby Parker – 10%
5% or 5 miles per dollar is the next highest rate, so 10% is a good offer.
Winc – $20
There are three separate listings for Winc on Cashback Monitor, but that shows that the $20 from Acorns is the current joint highest.
Zappos – 2%
Considering it's such a popular retailer, it's surprising that Acorns seems to be the only portal offering cashback.
Zipcar – $10
$10 is the joint highest rate unless you're after a Business Account, in which case you'd earn more going through Top Cashback.
Referral Program
If you'd like to sign up for Acorns then feel free to use one of our links below. You'll earn $5 as will we:
Question
Are there any other Acorns Found Money partners that stand out to you that aren't listed above? If so, let us know which ones and why in the comments below.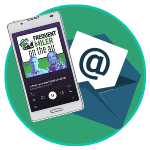 Want to learn more about miles and points?
Subscribe to email updates
 or check out 
our podcast
 on your favorite podcast platform.