Update 2/12/22: Use caution when deciding whether or not to do this Verizon prepaid offer via the American Airlines shopping portal because they've started clawing back bonus miles. See this post for more: American Airlines eShopping clawing back miles for Verizon orders.
~
The American Airlines AAdvantage eShopping Portal is now offering 6,200 miles for new Verizon service. This includes prepaid service, which can be a fantastic deal here since a single prepaid line can cost less than $40. This can be stacked with either an Amex Offer or a Chase offer to earn miles for next to nothing. Note that these miles also count as Loyalty Points. I recently opened a Verizon prepaid line and I'll be opening more today for easy Loyalty Points.
The Deal
The American Airlines eShopping portal is currently offering 6,200 miles for select Verizon services including prepaid service. This can be a great way to generate miles and Loyalty Points at low cost thanks to stacking offers.
Key Terms
Not eligible on business orders made through Verizon Business Markets, contract renewals (upgrades) and gift cards.
Not eligible on Verizon Fios orders.
Only eligible on new phone service plan contracts and add a line once Verizon has confirmed your order payment has been processed and service has been activated.
Please note that this merchant can only research missing rewards for 60 days past the order date.
Not eligible on purchases made with coupon or discount codes that are not found on this site.
Not eligible on gift cards, gift certificates or any other similar cash equivalents.
Purchases made with a gift card may be ineligible.
Not eligible on any free products, trials, services, memberships, subscriptions and retailer marketing subscriptions.
Stacking for easy status points
This is obviously a terrific deal if you actually want Verizon prepaid service. Personally, I'm happy to get this deal just for the miles, though with my recent car shopping having a burner line to give to car dealers is nice.
I recently did this deal myself for only 3700 miles and I can confirm that a prepaid line worked. I had the miles in my American Airlines account in just a couple of days. I don't yet know for sure that it can be repeatedly infinitely.
Here's how to stack it:
Chase Offer
There is a current targeted Chase Offer for $30 back on $40 at Verizon prepaid. I used this offer on my first prepaid line. Since the total for a single line on the cheapest plan was initially $39.40, I turned off the autopay to take away that $5 discount and paid $44.40. That triggered the Chase Offer, so my total out the door was a net $14.40 (I received the email alerting me that I had qualified for the Chase Offer about a week after buying prepaid service).
Getting 6,200 miles for $14.40 is a stellar deal of less than a quarter of a cent per mile and Loyalty Point.
Amex Offer
There is also a targeted Amex Offer on some business cards for $75 back on $75 or more at Verizon for business. Despite the terms indicating that it only works on business services, people have reported the offer being triggered by other types of Verizon charges. Note that the terms of the offer say that it is only valid when spending $75 or more at one time. I don't know for sure whether that will be enforced or if two separate orders adding up to $75 will work. I will report back on this.
Assuming the offer wording is being enforced, that would mean you would need to buy the most expensive prepaid plan, which is the $75 Unlimited Plus. After $75 back from Amex, you'd be out of pocket even less for 6200 miles. I believe the taxes should be about the same as above, so you'd be on the hook for about $5 for 6200 miles.
If my experiment of charging two separate prepaid lines works, I'll double up the miles on this offer.
Is this worth it without an offer?
Opening a prepaid line might be worth it even if you don't have an offer to stack and don't really care about Verizon service. At $39.40 for a prepaid line for a month, you'd be paying just over six tenths of a cent per mile to pick up 6200 miles and 6200 Loyalty Points. Again, I don't know that this could be repeated endlessly, but if you can open multiple lines for this bonus, clicking through and opening a line for $39.40 each time would get you 124,000 American Airlines miles for 20 lines at a cost of $788. That's just 1,000 miles short of Platinum Pro / oneworld Emerald status, which you could easily complete with the Babylist offer for no additional cost.
Is Platinum Pro worth about $800? I'm not sure that it is, but I'm not sure that it isn't.
Keep in mind though that while the redeemable miles come through pretty quickly, Loyalty Points won't begin posting to your account until March. You therefore wouldn't get elite status until at least March (and I'm not sure how quickly everything will post over on the Loyalty Points side).
Again, I don't even know that it is possible to do this with 20 lines. For starters, I don't know that you'll get the bonus again and again. Verizon also asks for an IMEI number (from the phone you will use). I don't know if you can re-use the same IMEI for multiple lines. I furthermore don't know that Verizon will let you add endless individual prepaid lines. I once got banned by Straight Talk (and as an extension from Walmart.com) for years for buying too many prepaid lines. I imagine it wasn't worth it for them to figure out whether I was reselling phones and service cards or I was really a drug smuggler / other criminal, so they just banned me. I had to go to Walmart to buy a physical Straight Talk service card to pay my bill as neither Straight Talk nor Walmart would take any of my credit cards online (I obviously switched service eventually). Thankfully, after some number of years, Walmart let up on that. My point here is that if you also have Verizon postpaid service and you don't want a big hassle, it's probably worth going easy with a line or two.
Bottom line
If you're playing the AA loyalty status chase game with us, this is an offer to take up while it's available. I wouldn't wait on this as I noticed the payout increased yesterday and just didn't have a chance to get it published until now. I wouldn't count on this lasting for a long time. It certainly might last for days, but I'd want to take advantage sooner rather than later in case it doesn't.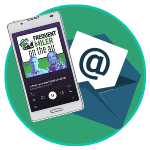 Want to learn more about miles and points?
Subscribe to email updates
 or check out 
our podcast
 on your favorite podcast platform.