An easy way to find the best Amex signup bonus offers is to visit Frequent Miler's Best Offers page.  But, that page focuses on the best publicly available offers.  This post details a number of ways to get targeted offers that may be even better.  American Express doesn't offer signup bonuses to those who have had the particular card before, so it is especially important with Amex to signup only for the very best offers.
Another advantage to seeking targeted offers is that some of these offers do allow you to get a bonus even if you've had the card before.  Double and triple check the fine print.  If your targeted offer does not say something like "Welcome bonus offer not available to applicants who have or have had this product" then you can get the bonus again!
1. Call Amex
If you're an existing Amex customer it's worth calling Amex to ask if you qualify for any special signup offers.  If you're aware of good targeted offers, ask specifically about those as well.  This simple technique often works surprisingly well.
2. Check for pre-qualified offers online (personal cards)
Amex lets you look for pre-qualified offers online.  Browse to AmericanExpress.com, click "Cards", then click "View all Personal Charge & Credit Cards".  Unless Amex remembers previous browsing sessions, you should then see something like this offering to let you "Check for Pre-Qualified Offers:"
You may be able to skip all this by simply clicking this link within a new private browser window. You should then see a screen like this:
Fill out the form and see what happens.
3. Check for pre-qualified offers online (business cards)
Browse to AmericanExpress.com, click "Cards", then click "View all Small Business Cards" (or, go to this link from a private window).   Scroll down and look for the option to "see if you qualify for a special offer:"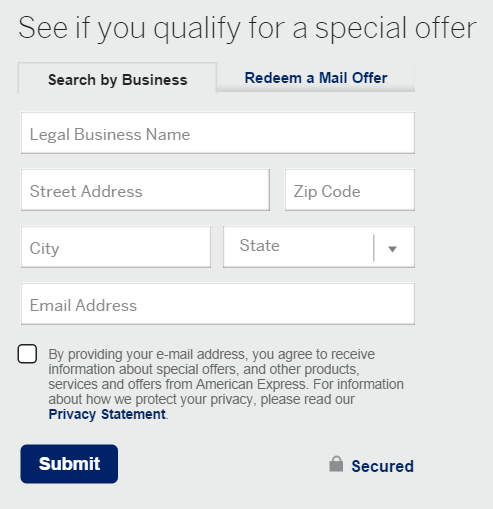 I haven't personally had any luck getting better offers this way, but it's worth a few minutes to try.
4. Amex Offers
Sometimes Amex will offer a signup bonus through Amex Offers.  Simply log into your Amex account and scroll down to look at your available Amex Offers.  For an example, see: Bet You Didn't Know: Amex Business Card Apps Without a 12 Month Wait.  Personally, I have yet to see one of these offers, but it can't hurt to look.
5. CardMatch Tool
Click through this link to see if you are targeted for any good offers.  People often report finding offers of up to 100,000 points this way.  For example, a couple of years ago, my wife signed up for a 100,000 point Amex Platinum offer that she found through this tool.
Note that this is an affiliate link.  In other words, if you click through to the CardMatch Tool from here, and successfully sign up for a credit card, I'll earn a commission*.
6. Enroll in Loyalty Program
Amex partners with brands such as Delta, SPG, and Hilton.  You may be able to find a better signup offer for their co-branded cards by signing up for a loyalty program.  For example, this Reddit thread describes how to possibly get a better SPG card offer by signing up for a new SPG account.  And, even if it doesn't work to get a better offer, you might get a great offer for free nights, as described here: SPG: Two free nights (cat 1-5) after two stays!.
7. Offers by mail
Often, the best American Express offers are delivered via regular mail:
8. Upgrade instead of applying new
Amex often offers bonuses for upgrading from one version of a card to another.  For example, a common offer is 50,000 points to upgrade from the no-fee Hilton card to the $75 Hilton Honors Surpass.  These offers don't tend to be as good as new signup bonuses, but they have some advantages: 1) You keep your existing account number; 2) There is no new account on your credit report; and 3) There is no credit inquiry involved in upgrading.  Read more here: How to find Amex upgrade offers online.
Don't apply for an inferior offer expecting a bump
With some card issuers you can apply for an inferior offer and then call or send a secure message to ask to be bumped up to a better offer.  According to Doctor of Credit, though, Amex will not match higher signup bonuses.
* Note: I don't usually include credit card affiliate links within blog posts. One exception is when a post, like this one, is intended to become a permanent resource page on this site.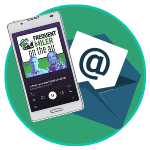 Want to learn more about miles and points?
Subscribe to email updates
 or check out 
our podcast
 on your favorite podcast platform.