The quick answer to how to find the best Chase signup bonus offers for credit cards is to visit Frequent Miler's Best Offers page.  But, that page focuses on the best publicly available offers.  This post details a few ways to get private targeted offers that are often even better.
Note that in all cases presented below, you should compare the offers you find online, in branch, over the phone, etc. to the ones found on my Best Offers page.  In some rare cases the Best Offers page will have better offers.
1. Dummy bookings
Chase has quite a few hotel and airline branded credit cards.  In many cases, you can qualify for an improved offer simply by going through the steps of booking a stay or a flight.  Look for an improved offer on the final confirmation / payment screen.  For example, I logged into my son's IHG account and found this standard offer for the IHG credit card:
Then, I went through the steps of booking a hotel stay.  On the final confirmation screen, I saw this:
The second offer is for the same number of points but it now includes a $50 statement credit after first purchase.  There is no need to complete the reservation in order to get this offer.  The same trick often works with airline cards as well.
2. Elite status
Those with airline or hotel elite status are often targeted with better offers than the general public.  For example, thanks to my Marriott Platinum status, I have United Silver status (see: Shortcuts to earning and renewing Marriott elite status).  The current public offer for the United MileagePlus card is 30,000 points:
As a Silver elite member, though, I frequently receive offers for 50,000 miles.  For example, this offer showed up in my email recently:
Similarly, the current standard offer for the IHG credit card is for 60,000 points (as shown above in the "Dummy Bookings" section).  But, I have IHG Gold status.  I originally had Platinum status due to having the IHG credit card. I cancelled that card with a plan of signing up again, but haven't done so yet. As a result, IHG has "soft landed" me down to Gold status.  So, when I log into my IHG account, I see an offer for 80,000 points:
This stacks with the Dummy Booking trick.  When I go through the steps of booking a stay, I see this on the final confirmation screen:
The dummy booking trick again gets me $50 additional bucks.  I originally wrote about this approach here: How to find the best IHG signup offer: 80K points plus $50.
If you don't have status with an airline or hotel program, you may be able to get status by seeking a status match or challenge.  Contact the hotel or airline's loyalty program to ask if you can qualify for a match based on similar status with other hotel or airline programs.  In many cases, especially with hotels, they'll grant you low level elite status along with a challenge to get to higher level status.
3. Call Chase
Chase reps sometimes put forward better offers over the phone than what you'll see online.  For example, a reader named Matt said that his in-laws called to sign up for the IHG card and they were offered 80,000 points instead of the 60,000 point public offer.  Doctor of Credit reported this recently as well.  While I've never tried this with Chase, I've had similar experiences with American Express, so this may be worth trying in general.
4. Direct Mail and email
Keep an eye out for direct offers through mail and email.  Carefully compare these offers to those found on my Best Offers page.  In some cases the targeted offer may be better than the public offer.  For example, my business frequently receives 60K offers for the Chase Ink Plus card.  On the surface it appears to be the same as the public 60K offer, but there is one big difference: my targeted offer waives the first year $95 fee.  The public offer does not.
5. In-branch
Sometimes in-branch offers are better than public online offers.  Wander into a branch to find out.
6. Business checking
If you have some form of a business (rental property, consulting, reselling, blog authoring, etc.), consider signing up for a business checking account with Chase.  I believe that this will increase your chances of receiving good targeted offers for Chase business cards.
7. Private Client
This is intended for high net worth clients.  However, if you're invited to the Chase Private Client program, I strongly recommend accepting the offer.  Private Client customers sometimes have access to better offers than everyone else.  For example, while the public offer for the Sapphire Preferred card is currently 50,000 points plus 5,000 for adding an authorized user, Private Client members can qualify for 60,000 points plus 5,000 for an authorized user.  See: Chase Private Client and Sapphire Preferred 65K.
8. Apply for lesser offer then ask for match
Chase has been known to match people to better offers.  The key is to call or send a secure message within 90 days of applying.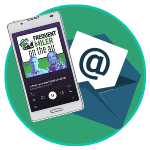 Want to learn more about miles and points?
Subscribe to email updates
 or check out 
our podcast
 on your favorite podcast platform.