Card Details and Application Link
Wells Fargo Choice Privileges Mastercard Select

FM Mini Review: Worth getting for the welcome offer and keeping for the 30,000 anniversary points. The 5x categories could also be interesting for some.

---
Card Type: Mastercard World Elite
<!–– qBaseq -->
<!–– qGasq -->
<!–– qGroceryq -->
<!–– qPhoneq -->
<!–– qBrandq -->
Earning rate: 10X at Choice Hotels ⚬ 5X at gas stations, grocery stores, home improvement stores, and phone plans ⚬ 1X everywhere else
Noteworthy perks: Automatic Platinum status ⚬ 30,000 bonus points each card anniversary ⚬ Cell phone Protection ($25 deductible, $800 max per claim)
Overview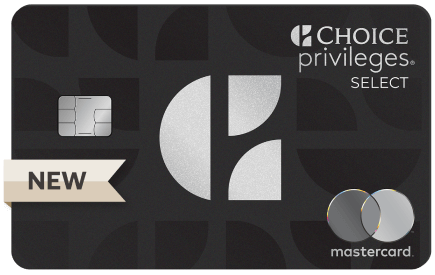 The Wells Fargo Choice Privileges Mastercard Select is a keeper for folks who are interested in and can use Choice Privileges points. The card offers 30,000 bonus points when renewing the card each year, which are easily worth more than the $95 annual fee. The 5x bonus categories could be useful for some, but there are much better choices for everyday spend.
Perks
The Wells Fargo Choice Privileges Mastercard Select offers the following perks:
No foreign transaction fee
Automatic Choice Privileges Platinum Status
Cellphone protection when bill is paid with card ($25 deductible, $800 max per claim)
Yearly bonus of 30,000 Choice Rewards points every account anniversary
20 elite night credits per year

$100 credit towards TSA Precheck/Global Entry fees once every four years
Earning Points
This card earns 3 Choice Privileges points per dollar at gas stations, grocery stores, home improvement stores and phone plans. It also earns 5 points dollar on spend with Choice Hotels. Everywhere else, the card earns 1 point per dollar.
Card Info Name and Earning Rate (no offer)
Choice Privileges Elite Status
This card comes with Platinum Elite Status in the Choice Privileges program, as well as twenty elite nights per year.
Below you'll find a summary of the benefits you can earn from the various tiers of Choice Elite status.
Choice Privileges Elite Status
Member
Gold
Platinum
Diamond
Elite-Qualifing Nights Required
0
10
20
40
Points Bonus
0
10%
25%
50%
Early Check In Late Check Out
N
Y
Y
Y
Elite Reserved Parking*
N
Y
Y
Y
Rollover Nights
N
Up to 9 nights
Up to 19 nights
Up to 39 nights
Priority Customer Hotline
 N
Y
Y
Y
Welcome Gift*
N
Y
Y
Y
Complimentary Avis Preferred Plus Status*
N
N
Y
*not available outside of the US and Canada
Partnership with Preferred Hotels and Resorts
Preferred Hotels & Resorts is a collection of over 650 high-end independent hotels around the world.  Not all Preferred Hotels are bookable with Choice Privileges points, but many are and point prices range from 25,000 to 55,000 points per night. We've found this to be one of the most valuable (and luxurious) options for redeeming Choice points, although the booking process can be…challenging. You can read the our full post describing the process here.
Wells Fargo Application Tips


Bank first: Wells Fargo usually requires having a bank account open before you can apply for a credit card.


16 month rule: Limit of one signup bonus per 16 months


Get Same Card Again: No known rules against getting same card & bonus again.



Hard inquiries are combined into 1 when approved same day.


Check application status here.
If denied, call reconsideration here: 1-866-412-5956 (consumer) or 1-800-231-9244 (business)