Frequent Miler is part of an affiliate sales network and receives compensation for sending traffic to partner sites, such as CardRatings.com, but we always show the best public offer even when we don't earn a commission . This site does not include all financial companies or all available financial offers. For additional details, see our Advertiser Disclosure.
Card Details and Application Link
Chase Iberia Visa Signature® Card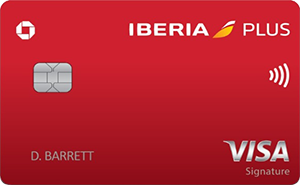 FM Mini Review: Good choice for a nice signup bonus. Unless you fly Iberia often or intend to go for the big spend bonus, though, I don't see it as a compelling card to keep past the first year.

---
Card Type: Visa Signature
<!–– qBaseq -->
<!–– qTravelq -->
<!–– qBrandq -->
Earning rate: 3X British Airways. Iberia, Aer Lingus, and LEVEL ⚬ 2X hotel accommodations booked directly with the hotel ⚬ 1X elsewhere
Big spend bonus: Every calendar year you make $30,000 in purchases on your Iberia Visa card, you'll earn a discount voucher good for $1,000 to use toward two tickets on the same flight
Noteworthy perks: 10% off on Iberia flights when you use your Iberia Visa to purchase at iberia.com/Chase10 ⚬ No foreign transaction fees ⚬ $10 monthly GoPuff credit (through 12/31/23)
Application Tips

Chase Application Tips

Shut-Down Caution: Signing up for new Chase cards can lead to Chase reviewing your accounts. This may lead to Chase shutting down all of your accounts if you appear to be a credit risk. See this post for details and recommendations: Why Chase shutdowns have increased and how to avoid them.
5/24 Rule: With most Chase cards, you won't get approved if your credit report shows 5 or more cards opened in the past 24 months. Details here.
24/48 Month Rule: With most Chase cards, you can get the same card and bonus again 24 months after having received the bonus as long as you no longer have the card open. With Sapphire cards, you must wait 48 months. No wait is required for Chase Ink cards.
30 Day Rule: It is tough to get approved for more than 2 Chase cards within 30 days
Get Same Card Again: You can get the same exact card and again if you first cancel the older card and follow the 24/48 month rule. Ink cards are OK to get again without cancelling previous card if you apply with a new business.
Better Offers: You may be able to get a better offer than the best available public offer. Details here.
Hard inquiries combine into 1 when approved same day (not always true when mixing business and personal)

Call (888) 338-2586 to check your application status
If denied, call reconsideration here:1-888-270-2127 for both personal and business cards
Related Cards (Iberia Avios)