JW Marriott Masai Mara has had quite some buzz around it lately. It's Marriott's first entry into the world of luxury game lodges/safaris and is located just outside the renowned Masai Mara Reserve in Kenya. The property is all-inclusive, including game drives, and offers lodging in luxury tents with jacuzzi-topped decks that overlook the river. Rates have been hovering in the ~$2000-3000/night range, making it a terrific deal on points.
Since the property just opened up this year, there's not a ton of reviews about it, outside of short Tripadvisor summaries. Recently, FM reader Allyson was able to spend a week at the property and she sent us a full rundown of her experience. We asked if she'd be ok with us publishing it and she graciously agreed. We've lightly edited her review for clarity, but all the words, pictures and thoughts are hers. Note: Allyson refers to getting award nights for 23,000 Bonvoy points each. That seems to have been a mistake fare and prices are currently hovering at ~100,000 points/night.
JW Marriott Masai Lodge Review
How we booked it
In February 2023, the JW Marriott Masai Mara was preparing to open and I came across an extraordinary redemption. I jumped at the opportunity and booked 7 nights for 138,000 Bonvoy points (23,000 points per night with the 5th night free) and then I booked 5 nights for 92,000 Bonvoy points so our daughter and my sister could join us (a second room for 7 nights wasn't available at the same time so I booked the 5 night stay that would coincide with our trip). Honestly, this was like finding a seldom seen mythical creature. When I posted about it, no one believed me and I began to doubt that it would actually happen. At the time of booking, the 8 days for our king suite had a cash value of $30,000 and the 5 day booking for the double room was valued at $21,000. This was an incredible redemption!
How we got to JW Marriott Masai Mara
My sister only had Alaska Miles and we were able to find her a flight on Qatar within her points budget by using Point.me. Basic economy was 100k points. She flew Portland-Seattle-Doha-Nairobi.
For our tickets, I booked 3 one-way economy tickets using United at 46k points and $31.48 per person (transferred from Chase Ultimate Rewards). We flew Lufthansa and Egypt Air via Washington Dulles-Munich-Cairo-Nairobi. It was a full 24 hours of travel. Our flights were around $1400 each if paid for with cash.
Once we arrived in Nairobi, we took an Uber over to the Wilson airport and met my sister within seconds of her arrival. We all flew AirKenya flights that had been booked in advance via the Marriott Masai Mara for $400pp/roundtrip. It was nice having the lodge get our bookings and paying them directly. During our stay we saw others arrive by bush plane, rental car and even a helicopter dropped off guests on the property.
Masai Mara reserve fees
We pre-paid our fees to be in the reserve. It was $80 per person per day (not per night) so $1280 for our 8 days for my husband and I and an additional $800 for the 5 days my sister and daughter were with us.
Arrival at JW Marriott Masai Mara
We arrived in the Masai Mara after a short 40 minute flight and were met by our guide. He greeted us with refreshments. It was 8:30AM and even though 3/4 of us hadn't seen a shower in over 24 hours, we were eager to game drive our way to the lodge. We saw loads of animals and birds. Our guide was very attentive and a skilled driver and guide. We eventually made it to the lodge where a Masai welcoming ceremony greeted us. We were offered delicious non-alcoholic drinks (we had informed them of this preference prior to our arrival). We were warmly greeted the GM and met several assistant managers who wished to attend to any needs we might have. We were then ushered into the Canon photography "library" where we checked out an awesome Canon camera, lens and camera bag after signing a waiver. My husband had brought his own camera but having 2 meant double the awesome pictures!
JW Marriott Masai Mara Luxury Tents
We were assigned tents 16 and 17 which sit on the River. My sister and our daughter had a suite with 2 double beds while we had a king suite. Our views were amazing and we saw wildlife while sitting in the outside jacuzzi. The rooms were beautiful and the showers were the best I've ever experienced! There were two showers per room, one inside and one outside.
The tents had no air conditioning which was a little uncomfortable between game drives. Early mornings and late evenings were cooler, so it really only felt uncomfortable between noon and 4PM. At night we heard the sounds of animals on the hunt: lions, hyenas, baboons and more. When a hunt took place, all animals went nuts screeching and inviting every hyena in the area to join in. After about 3 nights we decided that earplugs might help us get some sleep. Our room attendant picked up and returned freshly laundered clothes each day, that was so nice!
The lodge provided re-usable insulated water bottles that had our names on them when we arrived in our rooms which were nice to use on the drives. Our rooms were fully stocked with beverages and snacks that we enjoyed. We brought bug repellent but there was some provided in our room as well as sunscreen in the vehicles.
Dining at JW Marriott Masai Mara
During our stay we were well fed. In addition to dining at the Fig Tree, we enjoyed a Bush Breakfast, Sun Downer and a lunch in the garden. A few times we had a meal delivered to our room or the pool. It was all wonderful. The chef provided a variety of tasty 3 course meals and spent time with each guest encouraging us to order anything we wanted so he would make it. The bartender made the best mocktails for us. He brought us something new to try every time he saw us
Game Drives at JW Marriott Masai Mara
The game drives did not disappoint. We saw something different every time and we never tired of doing them. We did two drives each day and saw remarkable wildlife on every one. Twice we drove out to the Mara river to see if the wildebeest were crossing. On the second trip we saw them run into crocodile infested waters while trying to cross the river. It was a sight! The great migration happens in July and August so we were fortunate to witness it.
Our driver and guide was with us for the entire trip. We discussed all the things we hoped to see and he made it his mission to help us achieve it. Each evening we discussed the next day's game drives and meet up times. The vehicle was stocked with our favorite beverages before each game drive. There were also freshly prepared snacks like cookies, chips and cashews for us to enjoy.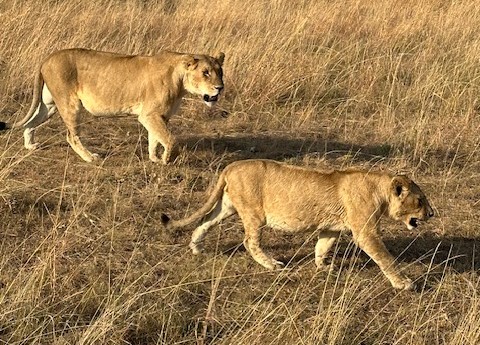 FAQ and Tips
Did you do any activities outside of game drives?
We opted to visit the Masai village which was $40 per person, payable in cash. It was an interesting experience. We also booked a hot air balloon ride which was fun. We took advantage of spa treatments in between game drives. The ladies working there are awesome! One thing I really enjoyed was visiting the spa to use the steam, sauna and cold plunge pool.
What did you use for phone service/data?
After passing through immigration in Nairobi, we went directly to SafariCom, as they are inside the airport. We got 5 Gig of data for each of us for $12 cash per person. The worker loaded them onto our phones and we had data in just a few minutes!
How did you handle gratuities?
We pre-planned our tips and brought small denominations so we could show our gratitude to everyone. We planned $20 per person/per day for the daily game drives. Sometimes we gave more because our driver was amazing. We planned $12-$15 for our room attendant each day and $10-$15 per person/per day for our server with more given at the bush breakfast and Sun downer. There were Masai security that escorted us everywhere after dark and I wish had brought more to give them a few dollars for their help.
Did you get any vaccinations?
Marriott informed us ahead of our trip that we would not be in an area known for Malaria. We skipped the Malaria pills. We looked up information on the CDC for yellow fever and while it was recommended, it was not required. We decided to pass on it and bought a year of travel medical insurance instead. So far, no issues.
Did you need to get a visa in advance?
We did get eVisas for Kenya which were $55 each. Those were completed online about 30 days prior to our trip.
Any other tips?
A couple for my fellow female Frequent Milers: Roads are crazy bumpy, plan accordingly and pack some athletic underwear (you can thank me later). The bathrooms have amazing views – some are inside your tent and some are in the Mara behind a bush. Just go for it and embrace squatting on game drives.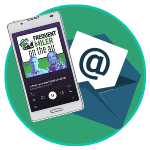 Want to learn more about miles and points?
Subscribe to email updates
 or check out 
our podcast
 on your favorite podcast platform.