Earlier this year, I decided that the time had come to relieve myself of the Alaska Airlines Visa Signature card's annual fee. However, rather than cancel the card altogether, I called to see if it was still possible to product-change from the Alaska card to Bank of America's no-annual-fee Cash Rewards Card (sometimes called the "3-2-1 card"). It was quick and easy to make that change (and I even got a refund of the annual fee I had just paid on the Alaska card). After yesterday's news from Bank of America announcing changes to the card coming on January 14th, I'm feeling really good about that decision.
Current earning structure
The Bank of America Cash Rewards card currently earns 3% back at gas stations and 2% back at grocery stores and wholesale clubs on up to $2500 in combined purchases (gas/grocery/wholesale) each quarter (then 1%) and 1% cash back everywhere else. While it has no annual fee, it's a fairly ho-hum cash back card since it's easy to get 2% cash back everywhere with no annual fee and one could get as much as 5% cash back at gas stations with no annual fee with other cards from our Best Category Bonuses page.
Things, however, get interesting if you have $100,000 or more in investments/deposits with Bank of America / Merrill Lynch. That would get you Platinum Honors status with Bank of America and therefore a 75% bonus on rewards. With that bonus, cash back at gas stations increases to 5.25% and at grocery/wholesale the return is 3.5% — again, capped at $2500 in total purchases each quarter. While wholesale clubs are occasionally a rotating quarterly bonus category good for 5x/5% on other cards (as they are this quarter with the Chase Freedom and Discover IT cards), 3.5% is otherwise a great return for wholesale clubs and 5.25% at gas stations is terrific as well – again, considering the fact that this is cash back and the card comes with no annual fee.
While the Premium Rewards card is likely more interesting as an "everyday" card for those with $100K on deposit, the Cash Rewards card isn't a bad complement to have in the wallet.
Big changes coming
Yesterday, Bank of America announced the following changes coming on January 14, 2019:
Card holders will be able to choose their own 3% back category from the following options: gas, online shopping, dining, travel, drug stores, or home improvement and furnishings.
Card holders can change the 3% category (for future purchases) once each calendar month
When redeeming rewards, there will be no minimum amount required when depositing your rewards into an eligible Bank of America account.
Most other card details are expected to remain the same: the $2500 quarterly cap will still apply to combined purchases in your chosen category and grocery/wholesale, it will carry no annual fee, etc.
Why that's awesome
First of all, the flexibility to choose your own rotating category monthly is pretty awesome. If you regularly spend a lot in one of those categories, you could enjoy it as a 3% category all year long or you would have the freedom to rotate to choose whatever fits your needs each month (which coincidentally ought to make it easy to test what works without being locked in for more than a month or two waiting to find out). The ability to have a rotating 3% cash back card with no annual fee where you get to choose your own category is pretty cool.
But this of course gets really interesting if you have Platinum Honors with Bank of America. Keep in mind that the $100K required for Platinum Honors includes things like an IRA or an old 401k account, so even those who aren't looking to move their entire investment portfolio to Bank of America / Merrill might be able to meet the requirements for Platinum Honors without massive changes.
With Platinum Honors, this card becomes pretty awesome for a no-annual-fee card as you'll essentially be choosing your own 5.25% back card. It is of course capped at $2500 per quarter — though that's a higher cap than the other rotating-category cards on the market and with this one you get to pick your own category. That's $525 in cash back per year if you're able to max out the cap on your chosen category(ies).
While the drug store category could be useful for some, the online shopping category also looks particularly interesting. We don't yet know what will code as online shopping, but I expect it will likely at least include most major retail websites. If it includes popular gift card sites and/or things like eBay/PayPal, it could stack very nicely. For instance, gas gift cards occasionally go on sale at eBay for 6% off (typically $100 for $94). If you're able to also earn 5.25% back on the purchase of the gift card, it would amount to nearly 11% off the retail price on gas (net $89.07 for $100). Alternatively, those who purchase Visa Gift Cards from online sites could see the cash back more than offset activation fees, especially when stacking with a shopping portal. Again, the caps aren't huge — but you could easily come out a few hundred bucks ahead each year, which is nothing to ignore on a no-fee card.
Furthermore, since this card is a Mastercard, it would be a great card for paying the mortgage or other bills via Plastiq (See our Complete Guide to Plastiq credit card payments), especially during promotions. Last year, Plastiq ran a promo that continued for months (across two quarters) where Plastiq payments of $250 or less made with a Mastercard were fee-free. They followed that with a short-term targeted promotion whereby you could net a 1.25% fee. Even paying the normal 2.5% fee, you'd still come out 2.75% ahead — a profit of $275 on the year if you made exactly $2500 in purchases each quarter (and of course if Plastiq codes as online shopping). Any promotions would be gravy.
It's even pretty good if you're only able to hit Platinum status with Bank of America (rather than Platinum Honors). Platinum only requires $50K in deposits and comes with a 50% bonus, turning your 3% category into a 4.5% category. For things like online shopping, drug stores, and even dining/travel, that's a pretty good return especially considering the flexibility. You could alternatively get 4% back on dining and travel with the Uber Visa; the advantage here is in being able to change your chosen category monthly (and of course in getting better than 4% back with Platinum Honors or higher — albeit with a side dish of foreign transaction fees on the BoA Cash Rewards card, so you won't want to use this one overseas).
Bottom line
I product-changed my Alaska Airlines Visa Signature card to the Cash Rewards card mostly as a no-fee placeholder in case a more interesting product change opportunity came along. With the ability to choose your own rotating categories monthly starting next month, I might have to consider moving my IRA over as the annual return on this card might just be too much to pass up.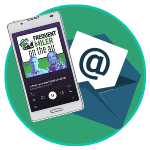 Want to learn more about miles and points?
Subscribe to email updates
 or check out 
our podcast
 on your favorite podcast platform.