In frequent flyer communities, you'll get laughed out of town if you ask which is better: American Airlines or Delta? Obviously, AA is better. Unlike Delta, AA still rewards flyers with miles based on distance flown; AA has a very generous award chart and they continue to publish it for the world to see (Delta has taken away their award charts); AA lets you put awards on hold for up to 5 days; AA lets you book international first class with miles (Delta allows only economy or business class); and AA has a few outstanding partners with which you can spend your miles (Cathay Pacific anyone?).
The problem with the above "analysis" is that it is really a comparison of the airlines' frequent flyer programs.  It has little to do with the airlines themselves, and not much to do with each airline's elite status benefits. Let's concede outright that AA offers better rewards for flying: you'll usually earn more miles and the miles are more valuable. But, here's the thing… I want to know which airline is actually better to fly on. Which one offers the best in-air experience? Which airline offers better upgrade options and availability? And, which airline offers the best elite benefits and recognition?
I'm currently in a good position to start answering the above questions. I live in Ann Arbor, Michigan which is close to the Detroit airport – a major Delta hub. So, I have had years of experience with flying Delta, but only spotty experience with American Airlines. Late last year, though, I took advantage of an opportunity (no longer available) to earn top tier AA status by undertaking a US Airways challenge: fly 30,000 miles within 90 days to get top tier status (details here). I completed the challenge mostly flying US Airways and with only a few AA flights. And, now that AA and US Airways have merged their frequent flyer program into one, I now have top tier AA Executive Platinum status through February 2016. Since I already have over 30,000 elite qualifying miles for the year, and have booked trips that will earn quite a few more, I've decided to fly AA and partner airlines enough this year to re-qualify for Executive Platinum status for 2016 (Executive Platinum status requires earning 100,000 elite qualifying miles in one year).
My expectation is that the act of re-qualifying for top tier AA status will give me enough experience with AA to make some meaningful comparisons to flying Delta. Meanwhile, I will continue to fly Delta when it offers the best routes, prices, and times; and I'll continue to qualify for near top tier Delta status (Platinum: which requires 75K medallion qualifying miles) through manufactured spend (see: "How to manufacture Delta elite status"). And, my wife will continue to qualify for top tier Delta Diamond status (125K medallion qualifying miles) the same way. This will give me a good view over the next eight months or so of flying with top tier status on both airlines.
A biased view
My observations of the pros and cons of flying AA vs Delta will necessarily be biased by a number of factors:
Flying out of a Delta hub: Since most of my flights will be to and from a Delta hub, I will be more likely to experience Delta's updated aircraft with back of seat in-flight entertainment, new seat covers, etc. Meanwhile, AA aircraft flying out of Detroit will not be anywhere near AA's top of list for equipment upgrades. On the other hand, complementary upgrades from economy to first class should be easier with AA since, with Delta, I'll be competing with many other elites.
No (or few) Transcons: Airlines have been battling for the lucrative Transcontinental market: flights between JFK and LA, for example. The major carriers have introduced premium cabin overhauls that make these flights similar in quality to international long-haul flights. It would be interesting to compare AA to Delta on these routes, but I'm unlikely to fly those routes anytime soon.  Luckily for all of us, Eric at Travel Codex has already completed this comparison (found here).
Flying with status: The experience in flying with top (or near top) tier status is very different than flying without it. Any experiences I have, good or bad, may not apply to those with no status or lower status.
Personal preferences: Things that matter to you may not matter to me, and vice versa. For example, I rarely drink alcohol while flying, so if good wine or cocktail choices are important to you, you won't find that information here. Conversely, I really enjoy the experience of being served a full meal while flying so I will pay attention to which carrier offers better food and food service. If you prefer to bring your own or to pickup food in the airport, then you may not be interested in what I have to say about this topic.
History: I have a long history (both good and bad) of flying Delta, but only a spotty history with AA. While I will try not to be biased by this history, I know that people have a hard time doing so. Something to keep in mind.
AA / US Airways merger: American Airlines will be heavily focused throughout the year on completing their merger with US Airways.  Usually, when airlines merge, there are significant bumps in the road.  And, if nothing else, AA can be forgiven for focusing more on the merger than on improving the flight experience over the next  year or so.  The result of all of this is that my comparison will be a bit unfair to AA.  Delta, after all, has had years to recover from their merge with Northwest.  C'est la vie.
Comparison Categories
My current thought is that I'll compare the airlines along the following lines:
Flight experience
Upgrades
Other?
"Other" is a placeholder for other categories that I may (or may not) add going forward.
Current Impressions
Overall, I don't feel qualified as of yet to rate American Airlines since my experience is limited, but here are my impressions so far:
| Category | Which is better? | Details |
| --- | --- | --- |
| Boarding process | Tie | Mostly similar, but: Delta Diamonds board with 1st class; AA Exec Plats board after 1st class. |
| Seats (domestic) | Not enough experience to rate | Newer Delta seats too tight in economy, but very good seats in 1st. Limited experience so far with AA but from what I've experienced so far, I'd give Delta the win for 1st class and AA the win for economy. |
| Seats (international business class) | Not enough experience to rate | Delta's lie-flat seats feel cramped (to me) when trying to sleep, and there is little storage space. Otherwise, they're comfortable. |
| Service | Tie | I've experienced both good and bad service on both airlines.  Usually its somewhere in the middle. |
| Food | | Delta provides pretzels and/or peanuts in regular economy; real snacks in Comfort+; and tasty meals in 1st class.  AA offers large, but not great meals and delicious/warm chocolate chip cookies in 1st; and provides free snacks in economy to Exec Plat customers. |
| In-flight entertainment | | I have yet to fly a AA or US Airways flight with any in-flight entertainment.  Delta flights are often equipped with seat-back entertainment.  Almost all flights provide streaming movies and TV through your own device (phone, tablet, laptop, etc.). |
| Delays and cancellations | Not enough experience to rate | Delta does provide snacks (and sometimes meals) at the gate when flight is delayed. I haven't experienced a significant delay with AA yet. |
Upgrades
Category
Which is better?
Details
Domestic upgrades: policy
Delta has the edge here because they allow unlimited complimentary upgrades even on award flights.  Also, Regional Upgrade certificates (available as a Choice Benefit to Platinum elites) can be used to upgrade at time of booking or (more likely) increase your chance of an upgrade closer to departure.
Domestic upgrades: success rate
Not enough experience to rate
Since gaining Executive Platinum status, I'm batting only 50/50 with AA (out of only two flights). I think that my success rate is higher with Delta but I haven't kept close records.  I'll do better going forward 🙂
International upgrades: policy

Both airlines provide upgrade certificates to their top tier elites that can be used to upgrade international flights booked in almost any fare class.  AA automatically provides 8 certificates to Executive Platinum.  These systemwide upgrade certificates can be applied to anyone's flights.  Also, AA certificates can be used to upgrade from business class to first class.

Delta gives Diamond Elites the ability to choose 4 global upgrade certificates as a Choice Benefit.  Upgrade certificates can only be used for the member's own flight and/or a companion on the same flight.  Delta does not have 1st class, so these certificates can only be used to upgrade to business class.

International upgrades: success rate

My wife has had excellent success with her Delta global upgrade certificates. She has successfully been upgraded with 7 out of 8 certificates at the time of booking.  With the one exception she was wait-listed, but she was then upgraded just a few weeks later.

I have limited experience with AA so far: I tried to apply two of my systemwide upgrade certificates to my flight to Beijing.  My flight was booked in business class but my hope is to fly first class.  At this time, I'm confirmed in first for the return flight, but still waitlisted for an upgrade for the outbound.
So, those are my current impressions.  Overall, Delta definitely has the edge at the moment, but I'll be very happy if AA changes my mind going forward.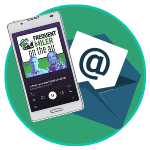 Want to learn more about miles and points?
Subscribe to email updates
 or check out 
our podcast
 on your favorite podcast platform.