Micro-investing app Acorns is offering a bonus of $500 when you invite 3 friends who sign up and deposit $5 between 3/7/21 and 3/13/21. I haven't written about Acorns in quite a while because the fees are relatively high and they haven't offered an exciting promo for some time, but this deal is easy enough to trigger that it might make sense for some families. For example, if you can sign up your P2 and two other family members (perhaps adult children or a sibling or two), it could make for a nice family windfall that requires very little effort.
The Deal
Refer 3 new members to Acorns and get a $500 bonus (in addition to the $5 you earn from each referral).
If you're new to Acorns, you can make the most profit by singing up the first member through Swagbucks. You'll currently get 4,000 Swagbucks (worth $40) plus $5 from Acorns upon funding your account with at least $5 (direct link here). Then, you should be able to refer 3 other people and come out nicely profitable.
Alternatively, feel free to use one of our referral codes with our thanks – you'll get $5 as will we when you invest at least $5:
Key Terms
Friends must sign up between 12:00am PST 03/07/2021 and 11:59pm PST 03/13/2021 and each have a verified account in good standing and make their first successful investment by 03/31/2021.
Bonuses are paid out by 04/15/2021.
Referees and Referrers who: (i) close their account before 04/15/2021, (ii) have not made at least one successful investment before 04/15/2021, (iii) make an investment that results in a reversal from their bank, or (iv) have Acorns accounts that are otherwise not in good standing will not qualify for the promotion.
Referral awards are made at the sole discretion of Acorns.
All referrals must be made in accordance with the Acorns Referral Agreement and Referral Promotion Terms and Conditions.
Limit one Bonus per Referrer. View Referral Promotion terms here.
Quick Thoughts
I've written a number of posts about Acorns in the past. If you're totally new to Acorns, here are the key points:
It's a micro-investing app targeting small-time investors (there is no requirement to sign up for repeating investments, but they try to sell you on the idea of depositing like five bucks a week or rounding up the change from purchases on your debit or credit card and depositing that)
You can choose the aggressiveness of your portfolio, but not the individual funds (My "aggressive" portfolio funds are all basic Vanguard Index Funds though – stuff I'd be investing in anyway, just balanced in a mix to be more stock-heavy. I expect that someone who picks a less aggressive style will get a more bond-heavy mix of the same funds)
It's expensive as far as brokerage accounts go. They charge $1 per month for balances under $5,000 and 0.25% for balances over $5,000. Considering that you can buy the same funds with neither of those fees from apps like Robinhood, SoFi, Webill, etc, there is little point in paying $1 per month long-term
It's a brokerage account, so you'll need to give them the same personal info that you would give for any brokerage account (SSN, name, DOB, etc)
Expect a 1099 (not positive whether they issue it for a bonus under $600 like this)
That said, a bonus like this mitigates the fee for a while, so the $1 per month may not be a huge concern immediately if you're able to hit this promotion. More on my thoughts about Acorns and for whom it might make sense (and why it might not make sense for you) in this post: Acorns: Low-hanging fruit, but does it grow?
The bottom line here is that if you've got a few adults in your circle, this is a decent offer in terms of not requiring many referrals and offering decent bang for your buck, though if you're serious about investing you'll probably want to eventually move the investments out of Acorns to avoid their fees.
H/T: Doctor of Credit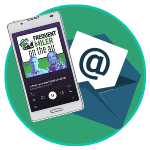 Want to learn more about miles and points?
Subscribe to email updates
 or check out 
our podcast
 on your favorite podcast platform.