Yesterday, Virgin America spilled the conversion ratio beans.  Thanks to the upcoming Alaska merger, as of January 9th 2017, Virgin America customers will be able to convert Elevate points into Mileage Plan miles at a rate of 1 to 1.3.  So, 1,000 Virgin America Elevate points will convert to 1,300 Alaska Airline MileagePlan miles.
Boy was I wrong.
In April, I had predicted that points would convert 1 to 2 (see: How to play the Alaska / Virgin America deal).  And, I think I made a pretty good argument.  That is, it was a good argument until SPG undermined it by releasing the ability to transfer points to Virgin America 1 to 1, which is the same ratio as transfers to Alaska.  In other words, SPG saw the two currencies as roughly equal.
Unfortunately, the powers that be at Alaska / Virgin America sided more closely with SPG's view than with mine.  They recognized that Virgin America points were more valuable than Alaska miles, but only by 30%.
Still, a 30% bump is much better than none at all.  Thanks to JetBlue's amazingly generous summer Points Match deal, my wife, son, and I are each sitting on slightly over 50,000 Virgin America points.  If we have a chance to use those points for Virgin Australia business class flights, we'll take it.  Otherwise, we can each convert our points over to Alaska so that we'll each have 65,000 more Alaska miles than we started with.  Considering that Alaska charges just 70,000 miles for a one-way first class flight to Asia on Japan Airlines, I'd say that's a pretty good outcome.
Changes to Alaska Airlines MileagePlan program
Yesterday, Alaska Airlines announced several mostly positive changes to their program (details here):
Cheaper awards on Alaska flights: You can now book short distance flights for fewer miles.  One-way flights 700 miles or shorter will cost 5,000 miles; flights between 701 and 1400 miles will cost 7,500 miles; flights between 1401 and 2,100 miles will cost 10,000 miles; and longer flights will cost 12,500 miles (as before).
Alaska Airlines award flights are now eligible for complimentary elite upgrades.
You can now opt to earn Alaska miles on Virgin America flights.  Mileage earning will be distance based, so you may do better earning Virgin America miles on short expensive flights.
Earn more miles with partner flights, especially business or first class.
Delta will no longer be a partner as of April 30th, 2017.  After that date, you won't be able to earn Alaska miles on Delta flights, and you won't be able to spend Alaska miles to book Delta flight awards.
The loss of the Delta partnership will be a big negative for many.  The rest of the changes seem pretty good to me.
New options for getting Alaska Airlines miles
Citi ThankYou Rewards and Amex Membership Rewards
Both Citi ThankYou Rewards and Amex Membership Rewards offer point transfers to Virgin America, but not to Alaska Airlines.  With the ability to transfer points from Virgin America to Alaska 1 to 1.3, we will now be able to convert ThankYou points and Membership Rewards points to Alaska miles.
Unfortunately, both Citi and Amex transfer to Virgin at a paltry 2 to 1 ratio.  So, the transfer ratio to Alaska will be 2 to 1.3.  2,000 Citi or Amex points will transfer to 1,000 Virgin America points and then to 1,300 Alaska miles.
SPG (Starwood Preferred Guest)
A much better approach is to convert SPG (Starwood Preferred Guest) points indirectly to Alaska.  Already, you can transfer 20,000 SPG points to 25,000 Alaska miles.  But, now you will be able to do better.  You will be able to transfer 20,000 SPG points into 25,000 Virgin America miles, which will then transfer into 32,500 Alaska miles!  That's a transfer ratio from SPG to Alaska of 1 to 1.625!
Suppose you want to book a first class Japan Airlines (JAL) flight from the US to Asia.  Alaska charges 70,000 miles one-way.  40,000 SPG points would get you most of the way there:  40,000 SPG = 50,000 Virgin America =  65,000 Alaska miles!
Marriott Travel Packages (nope)
I've argued before that Marriott Travel Packages are the best options for transferring SPG and Marriott points to miles, even if you foolishly throw away the hotel portion of the package.  Astute readers may be wondering whether they should use those packages to get Virgin America miles.  The answer is no.  Marriott Travel Packages already offer Alaska miles at a very good rate, but they offer only half as many Virgin America miles for the same number of points.
SPG Wins Again
SPG points have always been valuable, but it's interesting to see that two new mergers have made them much more valuable than before.  First, the Marriott SPG merger opened the way to 1 to 3 transfers from SPG to Marriott.  Next, the Alaska Virgin America merger is opening the way to 1 to 1.625 transfers from SPG to Alaska.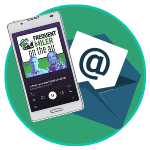 Want to learn more about miles and points?
Subscribe to email updates
 or check out 
our podcast
 on your favorite podcast platform.