Update: This post references an American Express Business Platinum benefit that has changed. As of June 1, 2017, the pay-with-points rebate has changed to 35% for your chosen airline or any airline in business or first class. Additionally, there is a cap of 500,000 rebated points annually.
Last year, Amex introduced an awesome new benefit for Amex Business Platinum cardholders: Get a 50% rebate when you pay with points for airfare with your selected airline, and when you pay with points for business or first class with any airline.  The 50% rebate means that points are worth 2 cents each when used this way (the old 30% points rebate led to ~1.43 cents per point value).  All you have to do to take advantage of this benefit is to book through Amex Travel.
Sometimes, though, booking through Amex Travel isn't an option.  For example, I recently used my Delta Reserve card's annual companion certificate to book two first class tickets for the price of one.  The price for the first ticket was $609.40.  The second passenger was charged just $28.40 in fees.  To use the companion certificate, I had to book through Delta.  I paid with my Business Platinum card.
I didn't know if it would work, but I waited until the charge was no longer pending then called Amex to ask if I could retroactively pay with points and get the 50% point rebate.  I was told "probably not", but was transferred to the Membership Rewards department.  The very nice woman who took the call told me that you generally must book through Amex Travel, but that they offer a one time exception.
She looked at my account and saw not only the $609.40 charge, but also a $260.26 Delta charge (which happens to be an award booking fee).  She offered to offset both of those charges with points at 1 cent per point, and she promised that I would receive the 50% point rebate.  Sure enough, I did:
The point rebate showed up immediately, but (despite the date listed below), the statement credits took two days to appear.  Not surprisingly, the $28.40 in fees for the companion were reimbursed by the Platinum card's $200 per year airline fee reimbursement:
I love that Amex is so accommodating with things like this!  Not counting the airline fee reimbursement, I just paid a net total of 43,483 points for $869.66 worth of travel.  That's a great deal.
Economy flights on a non-preferred airline
I bet that it is common for people to use points to book economy flights through Amex travel with the expectation that they'll get the 50% rebate even when they book a non-preferred airline.  After all, it's easy to forget the somewhat complicated details of this point rebate benefit: you can get the rebate with any airline as long as you book business or first class, but only for your preferred airline when you book economy.
So, my guess is that this one time exception was created for the scenario where a person books economy with an airline other than their selected preferred airline.
Reader experiences
I'm interested in hearing from readers about this.  Have you tried to get an exception for the 50% rebate rule?  If so, how did it go?  Please comment below.  (hey, that rhymes!)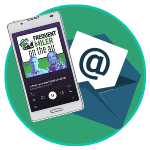 Want to learn more about miles and points?
Subscribe to email updates
 or check out 
our podcast
 on your favorite podcast platform.