Exactly 9 weeks ago, Amex lowered the boom on many Bluebird and Serve cardholders. While they didn't outright shut down accounts, they did bar them from loading new funds.  Most people with frozen accounts had been using the cards to indirectly increase credit card spend.  The basic process involved buying Visa or MasterCard gift cards with credit cards and then using those gift cards as debit cards in-store to reload Bluebird or Serve.  Then, the Bluebird or Serve account was used to pay bills that can't usually be paid by credit card (e.g. mortgage, rent, or even credit card bills).
Some people had their accounts frozen even though they weren't using the card to increase spend.  The one common denominator I could find was that most people who were shut down did not use the cards often in place of a credit card for regular purchases.  Merchant fees earned by Amex on purchases are the primary way that Amex makes money on these cards, so they appear to simply be eliminating unprofitable customers.
Wave 2 (9 weeks after wave 1)
Today, March 4 2016, reports are coming in from email, Twitter, and elsewhere that Amex has sent out email notifications again.  The subject heading is "Termination Of Funds Loading Capabilities on Your Bluebird® [or Serve] Account."
As before, the emails state that "…we have observed unusual usage patterns on your Bluebird [or Serve] Account. Because of this, effective immediately, you will no longer be able to add money to your Account."
Check your Spam folder
With the last set of account freezes, many people reported that their accounts could no longer be loaded even though they didn't receive an email.  It's possible that Amex messed up and didn't send some of the emails.  We do know, though, that many of these emails were flagged as spam and hidden away.  Check your spam folder.
A pattern?
Wave 1 occurred on Friday January 8th.  Wave 2 occurred on Friday, March 4th.  It's too early to know for certain if there's a pattern here, but I see two likely possibilities (assuming there is a pattern):
Amex is sweeping through accounts once very 9 weeks; or
Amex is sweeping through accounts every two months, on the first Friday of the month which is not a holiday.
If either of these patterns is right, May 6 will mark the next Birdpocalypse.  After that, the 9 week pattern brings us to July 8 whereas the every 2 month rule brings us to July 1.  Time will tell.
See also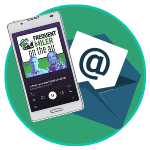 Want to learn more about miles and points?
Subscribe to email updates
 or check out 
our podcast
 on your favorite podcast platform.