In the points & miles world, Amtrak (yes, Amtrak) offers some of the best bang for your buck when it comes to redeeming points.  Currently, points can be transferred from Chase Ultimate Rewards, SPG, or Diner's Club to Amtrak, and from there you can book sleeper car trips for as little as 25,000 points for two people – all meals included.  Another great option is to spend only 1,500 points for Amtrak's special routes.  Due to these terrific (and very easy to obtain) redemption options, Amtrak is one of a few great travel options highlighted in my post "Easy Wins".
Tonight, via Twitter, Paul Druce (@ReasonRail) announced that Amtrak's Guest Rewards program will go revenue based, and he linked to a presentation containing details:
Amtrak will relaunch Guest Rewards Jan 2016, eliminating fare zones and aligning redemption with fares, book online https://t.co/2ZyW2EdEyu

— Paul Druce (@ReasonRail) August 13, 2015
What this means
Today it's possible to get tremendous value for your points with Amtrak.  With today's program, its not at all unusual to get 4 cents per point value, or more.   Starting in January, though, the number of points you need for a trip will be tied directly to the cash price of the trip.  It's likely that point values will be fixed at perhaps 2 cents per point or less.  Depending upon the redemption rate they land on, Amtrak points may or may not still represent good value, but it will no longer be possible to get great value.
It looks like it will be possible to book Amtrak rewards under the current system through the end of the year.  And, as long as the trip is booked before January, it should be fine if the actual travel is after the switchover. If you're interested in Amtrak travel, especially via sleeper cars, I'd suggest booking soon.
New credit cards
Also of interest from the presentation is news that on September 12th Amtrak will launch two new co-branded credit cards with a new issuing bank (read: not Chase).  Hopefully we'll see some nice signup bonuses…
My bet is that we'll no longer be able to transfer Chase Ultimate Rewards points to Amtrak due to this new bank relationship.  The real question is how long we have.  Will Chase cutoff transfers by September 12th?  By the end of the year?  I don't know.  However, if you know that you'll be booking an Amtrak trip and you plan to transfer points from Chase to do so, I'd recommend doing that right away.
UPDATE: Transfers from Ultimate Rewards to Amtrak will be allowed until December 7th 2015.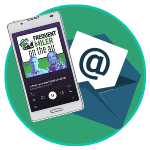 Want to learn more about miles and points?
Subscribe to email updates
 or check out 
our podcast
 on your favorite podcast platform.