I recently traveled west from Ann Arbor, Michigan, with a group of family and friends to visit a number of national parks: Arches, Bryce, Grand Canyon, and Zion.  We used Amtrak points (transferred from Chase Ultimate Rewards) to make the journey west from Ann Arbor, Michigan.  The first leg of our trip was in business class on the Wolverine route to Chicago.  The next leg was aboard the California Zephyr where we enjoyed private sleeper cars — all meals included.  We detrained in Utah and visited the parks by way of rental cars before finally flying home from Las Vegas.
Points and Zones
Amtrak has announced that their rewards program will change dramatically on January 24th 2016 (details here).  Until then, they will continue to price awards under their old zone based system.  In the zone based system, the country is divided into four zones: western, central, eastern, and northeast.  This map shows the zone boundaries:
When using points to book Amtrak travel, point prices depend on how many zones you will travel through.  Prices are one-way and do not include stop-overs.  Here are a few relevant award prices:
One Zone:
Coach: 5,500 points (4,000 points in northeast zone)
Business class: 6,500 points
Roomette: 15,000 points
Bedroom: 25,000 points (20,000 points in northeast zone)
Two Zones:
Coach: 8,000 points
Business class: 10,500 points
Roomette: 20,000 points
Bedroom: 40,000 points
You should be able to book Amtrak awards using the above prices through January 23, 2016.  A complete list of award prices can be found on the Amtrak Guest Rewards website.
In my recent trip, we crossed two zones and most of us stayed in bedrooms, so we paid 40,000 points per room.  That price covered train fare and all meals for two people per room.  We also booked two roomettes for only 20,000 points each.
Bedroom
When booking Amtrak bedrooms online, there's plenty of information available to give you an idea of what it will be like.  For example, Amtrak provides a pretty handy interactive Superliner 3D Tour.  The tour shows the train's layout and lets you click on different room types to see what they look like.  And, once you select one, you can click around to see different features of the room.  Cool stuff.
Despite all of the information readily available, I still didn't have a sense of how big or small each room really was.  This video might help:
Route
While on the train, I plugged in our starting location on the California Zephyr (Chicago) and our end point (Green River, UT) and selected the train icon as the mode of transportation.  Google found the California Zephyr and mapped its route for me.  This turned out to be handy because we often had no cell service during the ride.  Since GPS works without cell service, Google Maps was able to show me where we were along the route at any time.
Dining
The train departed Chicago at around 2pm and arrived in Green River a bit after 6pm the next day.  On the first day, dinner was our only meal on the train.  On the second day we had all three meals on the train.  Time zone changes as we traveled west helped make our 5pm dinner seem just right.  Keep in mind that we started early on Saturday morning from Ann Arbor, which is in the eastern time zone, so 5pm mountain time felt like 7pm to us.
In general, the food was pretty good!  It certainly wasn't gourmet restaurant good, but we enjoyed most of our meals.  The full menu can be found here.
Favorites:
Lunch: Chef's Marketplace Special (chicken)
Dinner: The Amtrak Signature Steak
Dinner: Seafood Catch of the Day (salmon) [I didn't try this one, but others in our group said it was very good]
Dessert: Most in our group favored the chocolate tiramisu over the cheesecake or the Haagen-Dazs vanilla ice cream.  I wasn't particularly impressed with any of the choices.
Sightseeing
The California Zephyr has a Sightseer Lounge car with large panoramic windows.  Seating is first come, first serve.  We didn't have any problem finding seats when we wanted them, but I expect that during more popular travel times it will get very crowded.  As we left Chicago, farm land views were pretty enough.  We then slept through much of the Midwest and awoke as we neared Denver.
In Denver, a couple of National Park volunteers boarded and essentially ran a tour of the Rockies as we passed through.
  This is called the Trails & Rails program.  More information can be found here.
While the Trails & Rails program was very nice, things got interesting in a weird way when the track neared the Colorado River.  There, rafters and boaters of all ages dropped their shorts and mooned the train as we went by.  Apparently, it's the thing to do.  Sorry I didn't take any good pictures of this strange phenomenon.
Review
Amtrak bedroom travel is a strange kind of luxury.  Bedroom interiors were old and run down, but there was plenty of space for lounging and sleeping. And, having your own private bathroom is fantastic, even if it is tiny.  Each sleeping car has an attendant who makes coffee and tea, helps with luggage, prepares your room at night, replaces wet towels, etc.  We made sure to tip our attendant generously at the end of our trip.
When the room was changed to a bedroom at night, the bottom bed took up almost all available walking room.  This made it quite challenging to get around or to use the in-room sink, especially whenever the train swayed.  Sleeping on the top bunk felt cramped, but the bottom bed was fairly spacious – almost full-bed sized.  Most in our group had no problems sleeping on the train, but at least one top-bunker had a restless night.
On-train dining was a pleasure.  Meals are included with the sleeper cars, but it is a good idea to tip the wait staff.  There is also a snack car below the Sightseer Lounge, but those snacks are not included.
The Sightseer Lounge was a great place to spend time during the day.  You can choose from chairs facing the window for dedicated sightseeing, or booths where a group can hang out together and play card games.  More room for the latter is available downstairs in the snack car.
Overall, I loved the trip.  I found the train ride far more pleasurable than flying.  I enjoyed the passing scenery and the ability to "hang out" with my family and friends during the ride.  I was glad, though, that we had booked only a single night on the train.  There isn't much opportunity to get exercise during the trip.  By the end of the second day I was glad to get off the train and to start exploring Moab.
Would I recommend this for others? Definitely!  Keep in mind, though, that there is a real risk: Amtrak trains are known to experience large delays.  In our case, the train was never more than 10 minutes late, but I've heard horror stories from others who experienced massive delays.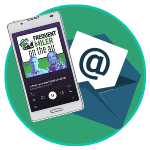 Want to learn more about miles and points?
Subscribe to email updates
 or check out 
our podcast
 on your favorite podcast platform.