On a recent episode of Frequent Miler on the Air, we featured a question of the week about phantom award space. The short version of the story is that the reader had found award space that appeared bookable, but after transferring miles to an airline program to book it, he discovered that his desired itinerary wasn't bookable after all. In response to the situation, he asked what he could have done differently. In that reader's specific circumstances, the answer wasn't necessarily clear, but there are several techniques I typically use to try to avoid the same trap.
What is phantom award space?
Simply put, phantom award space is when an itinerary appears to be bookable as an award ticket but isn't. You may search a route and see seats available, but when you attempt to proceed with booking them you get an error saying that the seats are no longer available or are otherwise not bookable. In some cases, we can cross-reference with other sites to know that the award availability being displayed is not correct but rather "phantom" space that will not actually be bookable.
American Airlines is notorious for displaying phantom space on Finnair, but AA is not alone in sometimes showing phantom space. Overall, instances of phantom space are the exception more than the rule. Still, phantom space represents an award booking problem for those who would transfer flexible credit card points into a specific airline program in order to book. Miles transfers are a one-way street: once you transfer from your flexible currency to a specific airline, you generally can't reverse that transaction even if the space you wanted to book ultimately turns out to be phantom space. It makes sense to do what you can to avoid this pitfall in advance.
The frustrations of phantom space
Beyond being really annoying, phantom space can cost you flexibility and lock you into holding an award currency that you didn't otherwise want to have.
The situation our reader now faces is a perfect example. He was trying to book a flight to India on Air India and Singapore Airlines was showing available business class award space for travel on Air India. After transferring his Amex Membership Rewards points to Singapore KrisFlyer, he got an error during the booking process. He called Singapore and agents were similarly unable to book the seats that appeared to be available.
Obviously the primary problem is not being able to book the seats he wanted, but the secondary (and now perhaps even more significant) problem is that the reader formerly had Membership Rewards points, which are transferable to a multitude of award programs across alliances, but now has Singapore Krisflyer miles, which can only be used to book travel on Singapore and its partners (mostly just Star Alliance). Singapore's award chart has few standout values; the best use of Singapore miles tends to be to fly business or first class with Singapore since they so rarely release premium cabin space on their own flights to partners. If our reader wants to fly Singapore Airlines sometime in the next year or two, that may be good news, but if he didn't have that in mind then the loss of flexibility here hurts.
Worse yet, Singapore miles expire 36 months after being earned regardless of activity. Our reader went from having Membership Rewards points, which are transferable to multiple airlines in each major alliance and which do not expire as long as he keeps a Membership Rewards-earning card active, to now having Singapore miles that will expire in 36 months, use 'em or lose 'em. I know that's a situation faced by many who have had cancelled plans during the pandemic, but it is nonetheless very disappointing to go from flexible points to inflexible miles without even having booked something at the start.
Therefore, it is best to avoid phantom space if possible.
Ways to avoid phantom award space
While there isn't a magical catch-all method to avoid the scourge of phantom space, there are a few techniques you can use to try to avoid getting burned by the phantom menace.
Cross-reference space with other airlines
The first and most common technique I use is cross-referencing award space with other airlines. If I have any reason to doubt the legitimacy of the award spacer I am seeing, I will cross reference the award space to make sure it shows up on multiple partner airline websites.
For instance, see this search result showing 3 business class award seats from Milan to New York on Royal Air Maroc during a midsummer date.
As you can see, American Airlines shows two available itineraries with three seats each. That seems very unrealistic to me for peak summer travel dates about 6 weeks in advance of travel.
When I cross-reference those seats on the British Airways website, I see that they are not available.
Since American Airlines, British Airways, and Royal Air Maroc are all members of the oneworld alliance, any Royal Air Maroc seats that are available to partners should be available to both AA and BA. Since these seats are not available via British Airways, I would expect that they are phantom space — seats that aren't actually available to book. Qantas is another good site for cross-referencing oneworld availability.
Sure enough, when I tried to move forward in the booking process with American Airlines, I got an error that those seats were no longer available.
That can be really frustrating, particularly in cases where you transfer miles planning to book your award, so when possible it's always worth trying to cross reference availability with another airline in the same partnership before transferring.
In the case of our reader who had found Air India space, he shared that only Singapore KrisFlyer showed that space available. Other Star Alliance partners did not show this space as available. He had other reasons to think that maybe Singapore Airlines had expanded access to Air India inventory, but cross-referencing made it clear that this was not space available to all Star Alliance partners. In that case, transferring to book can be a gamble. That said, it isn't unprecedented: Virgin Atlantic often has access to more Delta award space than other airlines and I recently wrote about Aeromexico having expanded access to Delta awards. Still, cross-referencing will be helpful most of the time.
Good sites for cross-referencing availability
Each alliance has multiple sites that tend to show availability on most partners across the alliance.
Star Alliance
United.com, AirCanada.com, and ANA tend to be the sites I use for cross-referencing availability. ANA is my last choice since award searches require logging in and you must search round trip, making it far less convenient (though it is fairly reliable). United does sometimes show phantom space on a partner or two, so it's worth at least double checking at AirCanada.com before transferring miles to United to book. If you're looking to book via a program like Turkish Miles & Smiles, it may also be worth checking their website to see if your desired award is bookable online for ease of use, though the Turkish website is famed for not showing all of the available space, so it isn't a good site for cross-referencing whether you're looking at phantom space (the fact that Turkish Airlines doesn't show an itinerary isn't an indication that the space is phantom). If you find something available via both United and Air Canada, it is at least slightly more likely than not that you could get it booked via email with Turkish.
Oneworld
American Airlines is prone to showing some phantom space, so your best bets for cross-referencing oneworld space are BritishAirways.com and Qantas.com. Qantas is probably the most reliable; British Airways frequently has problems finding and booking American Airlines award space that should be bookable with partner miles. With either British Airways or Qantas you'll need to log in to your frequent flyer account to search.
SkyTeam
Delta.com is a good resource for SkyTeam awards. I am not aware of widespread phantom space issues with Delta.com. I believe that AirFrance.us should also be a reliable tool for searching for SkyTeam awards.
Award Holds
Some airline programs allow award holds. When this is possible, I always prefer to put an award ticket on hold before transferring miles to ticket the award. While this doesn't completely eliminate the possibility of getting burned by phantom space, an airline being able to put an award ticket on hold is a good sign that it should be bookable in most cases.
Some programs that allow award holds include:
American Airlines (hold an award for up to 5 days, can be done online)
Air France (hold an award for 3 days)
Cathay Pacific (hold an award for up to 3 days)
Singapore Airlines (YMMV, I don't believe that Singapore has an official policy, but I've been able to put an award on Singapore metal on hold over the phone in the past. Note that Singapore does not allow holds on partner awards, only on Singapore-operated flights.)
Turkish Airlines (Hold for up to 72hrs. Note that YMMV — some readers have been told that the hold is for 48 hours or when held within 7 days of travel the hold is for 24hrs, though in some cases readers have found that the hold lasted a bit longer than advertised).
Virgin Atlantic (24 hours)
Note that there is some element of variance at play. I once held an award on either Japan Airlines or Cathay Pacific with American Airlines (I can't recall which) and when I called back to ticket the award the space had disappeared overnight. American Airlines told me there was nothing they could do as it was a partner flight and they couldn't guarantee it. However, that type of instance seems relatively rare.
Generally speaking, booking via the above airlines gives you a way to lock in a valuable award before you transfer miles.
Book directly with the airline with which you want to fly
The final way to avoid phantom space that is worth a mention is to book with the airline with which you want to fly. While it may not give you the best award price possible, it does virtually eliminate the risk of running into phantom space.
For instance, if you are looking to book a flight operated by Singapore Airlines, there is virtually no risk of running into phantom space if you're booking that flight via Singapore KrisFlyer. Transferring to Singapore to book a flight on Singapore (particularly if you have called to place a hold on the award in advance) is a relatively safe proposition. Of course, in the specific instance of Singapore, I would still recommend calling to put the award on hold first since miles do not transfer instantly to Singapore and you don't want to be stuck with miles that expire in 36 months.
However, the same general concept can apply with plenty of other airline programs.
By the same token, you are likely to see more award space available when booking directly with the operating carrier. Again, conventional wisdom tells award enthusiasts that an airline's own program does not always offer the best price on award tickets for that same airline's flights, we have also seen more airlines offer greater amounts of award space to members of their own program. You are more likely to find awards on Singapore via Singapore Krisflyer or on Cathay Pacific via Asia Miles. Furthermore, with programs that offer variable pricing, you may find a reasonable deal on that program's own flights that isn't available to partners. This often happens with Air France / KLM Flying Blue.
Keep in mind that in the case of irregular operations, an airline can not force partner airlines to open award space. However, they can open additional space on their own flights for you. For instance, if you were scheduled to fly from New York to Tokyo on Japan Airlines but Japan Airlines cancels your flight, an American Airlines agent may be able to open award space on an AA flight that either gets you to your destination or another gateway to pick up Japan Airlines. This isn't always going to be possible and you'll want to be nice on the phone when you need a favor, but it is worth noting when it can be done and when it can not be done. American Airlines isn't going to be able to get Japan Airlines to open award space on another flight or get Cathay Pacific to open award space that gets you to Japan, etc.
Again, booking directly with the airline with which you want to fly certainly isn't always ideal — they may not have the best price or the most frequency of service to your desired destination among many other reasons why it might not be a good idea. It's just one option to consider if phantom space is a problem on your desired route.
Bottom line
Phantom award space can be quite frustrating, particularly for beginners who don't immediately recognize the threat (for instance, a seasoned award booker would question whether Royal Air Maroc really had 3 seats available in business class for a peak summer travel date, but someone who has never booked a partner award would likely assume that if AA shows a product and a price it must be available for sale). Before you transfer miles to book an award, it often makes sense to cross-reference that availability in order to increase your chances of success. When possible, award holds are a great tool. May the force be with you in eliminating the phantom menace.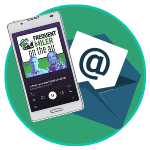 Want to learn more about miles and points?
Subscribe to email updates
 or check out 
our podcast
 on your favorite podcast platform.