A standard benefit of American Express Platinum cards is the $200 per calendar year airline fee credit. The stated purpose of this credit is to reimburse the traveler for "incidental air travel fees" such as checked bag fees. American Express' terms & conditions explicitly exclude certain charges from this benefit:
Airline tickets
Upgrades
Mileage points purchases
Mileage points transfer fees
Gift cards
Duty free purchases
Award tickets
Many blogs have written that, despite the explicit exclusion of gift cards, you can still get reimbursed when purchasing them. For example:
A nice twist is to use United's gift registry:
Award fee reimbursements
Given how often I write about gift cards it's a bit ironic that I prefer not to buy gift cards to get my $200 credit. Instead, I know that I'll book lots of awards anyway, so why not use the credit to reimburse those award fees?
I can't guarantee that this works with other airlines, but I've been using my $200 reimbursements each year to pay for the fees associated with booking Delta awards. Many awards cost only $5 in fees, but to certain destinations (e.g. England) or with certain Delta partners, larger fees come into play. In my experience, Amex will reimburse most of those fees as long as Delta is your chosen airline and you pay for the fees with your Platinum card. By obtaining my credits this way, I achieve the same savings without having to deal with gift cards.
Finding the fee price point
Last year I discovered that a very large award fee ($386) was not reimbursed [Don't cry for me: I ended up canceling that award anyway and got all of my money back from Delta thanks to my Platinum status]. This is consistent with gift card findings: with each airline there is a different price point above which Amex will not reimburse gift card purchases (for details, see these FlyerTalk threads: Alaska, American, Delta,Southwest, United, and US Airways).
With two Platinum cards in-hand (mine and my wife's), I set about trying to determine the price point at which Delta awards would be reimbursed. Here were my initial findings (including results from prior years):
$59.30 (yes)
$82.30 (yes)
$105.30 (yes)
$133.20 (yes)
$163.70 (yes)
$258.70 (no)
$386 (no)
Note with the above results that the total reimbursements within a calendar year never exceed $200 (per Amex Platinum card). So, when I say that a certain fee was reimbursed, it might not have been 100% reimbursed. For example, if I already was reimbursed for a $150 award fee, then I would only receive $50 reimbursement for the next $150 award fee within the same calendar year.
My guess from the above findings was that Amex would reimburse Delta award fees as long as they were less than $200. So, I found and booked an award costing $200.90 in fees. I expected that it would not be reimbursed. Result:
The fact that a $200.90 award fee was reimbursed proves that my "less than $200" guess was wrong. Instead, I'm now thinking that the rule may be that award fees under $250 get reimbursed. Unfortunately, I've already used up my $200 reimbursements for this calendar year so my personal experiments are at an end for now. If you try booking an award with fees above $200.90 and less than $258.70 please let me know the results!
A nuance
One award that I booked last year cost $133.20 per person, and I booked three people on the same itinerary. Surprisingly (at least to me), Delta charged $133.20 three separate times rather than combining the charge. This was great since it meant that the charges came under the cap.
Has anyone tried this with other airlines? Please comment below.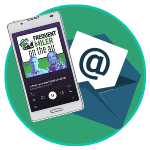 Want to learn more about miles and points?
Subscribe to email updates
 or check out 
our podcast
 on your favorite podcast platform.