A few days ago, MileValue declared that Delta had the best award space to Asia that he's ever seen. He showed that saver-level business class awards were wide open on quite a few routes to Asia. This was quite remarkable since Delta is generally believed to have the worst saver-level availability of the major airlines.
View from the Wing responded to MileValue's post by saying that Delta's award availability is great if you don't like your spouse. He confirmed that business class saver-level award availability to Asia is great for one person, but virtually non-existent for two. In reply, MileValue suggested booking one seat in business class and one in economy. I guess that's a good solution if you just kinda like your spouse, but what if you actually want to sit together? Here's something else to try…
Step 1: Book for one
Find the award you want and book it for one passenger. You have until midnight the next day to cancel for a full refund. As both MileValue and View from the Wing found, award space for one is remarkable wide open. Here's an example showing wide open saver-level business class award from Seattle to Shanghai in July:
Step 2: Try to book the second award the next day
Wait until the next day after booking the first award and then search for the same flights to see if new award space has opened up. If you do the search too quickly (i.e. immediately after booking the first award) it will appear that the seat is available for the second person, but you'll get an error if you try to book it. That's why I recommend waiting until the next day.
If you find an available saver-level award on the same flights, then book it. If that works, then you're done.
Step 3: Cancel (if step 2 didn't work)
If you have Delta Platinum or Diamond status, award changes and cancellations are free up until 72 hours before your flight. So, you can repeat step 2 every day for quite a while to wait for new award space to show up. If it doesn't show up eventually, then cancel the first award (or book the second person into economy).
If you do not have Platinum or Diamond status, then cancel the first award before midnight the day after it was booked. You should get a full refund of both miles and award fees.
No guarantees
Obviously I can't guarantee that the above approach will work for you. I have used it successfully a couple of times in the past so I do think it is worth trying. That said, I've used my Platinum status to eliminate the risk of booking awards prospectively and to give me more time to find extra seat availability. Without Platinum or Diamond status, I can imagine that the above approach may be riskier since you might forget to cancel the first award in time.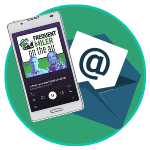 Want to learn more about miles and points?
Subscribe to email updates
 or check out 
our podcast
 on your favorite podcast platform.